The favourite quote tool for comparing and booking minibus rentals and coach hires in Spain for places like Malaga, Madrid, Seville, Barcelona, Palma de Mallorca, Bilbao and all other provinces and cities in Spain. Plan your bus with driver hire for transfers, day trips and tours around Spain.
About coach hires and minibus with driver rentals in Spain
Ground transportation by private and chauffeured coaches or minibuses have a long tradition in Spain.
A country with 1 bus and coach hire operator for every 2 places
Spain has around 4000 bus rental companies in a total of about 8000 locations (different cities/villages/other places). We can say that Spain has 1 coach hire company for every 2 destinations. Although most of the bus operators focus their business on students, worker transportation (business commuters), and bus lines. In the last couple of years an increasing percentage of them are shifting part of their attention towards the tourist market.
Bus and coach companies in Spain opt more and more for minibuses
Traditional fleets with nothing but large 50-seat buses are being replaced with smaller vehicles for small and medium-sized tour groups. Quite a few bus rental operators in Madrid and Barcelona also include as part of their service 'black car' and taxi service.
Receive competing price quotes for your chauffeured coach hire in Spain 
Use our compare and reservation tool to get competitive quotes for coach and minibus hires in Spain.

Visiting Santa Maria de Montserrat (Barcelona) owned by "Autocares Nevada" the Scania Irizar i6 tourist bus with 67 seats
Photo credit: Autocares Nevada
Group airport transfers with a minibus with driver rental
In spite of the fact that Spain has more than 45 airports, there are very few companies that specialize specifically in transportation to and from airports. Most of our associated minibus and coach hire operators also have some smaller vehicles dedicated to airport transfers.

Mini bus Mercedes Benz Unvi for 16 passengers in the Cortijo el Esparragal - Gerena (Sevilla) from -Bus Banet- in Madrid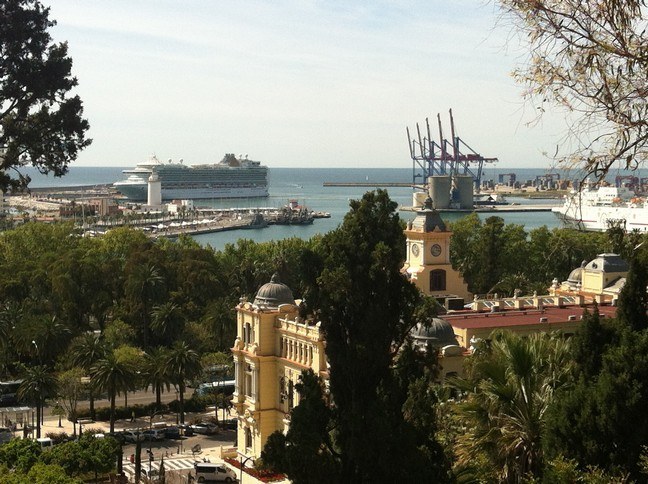 Does your service cover the whole of Spain with coach and minibus hires?
Yes, we have the whole of Spain covered with bus and coach hire operators, so we are able to provide you quotes for any trip or tour that you are planning in Spain. Please note that minibus and coach trips are often planned weeks and months in advance and that a lot of bus operators are fully booked during several months of the year.

With 59 seater the executive coach Scania Irizar from the bus and mini bus with chauffeur hire company "Transports Mir" in the Real Palace of Olite (Navarra)
Register your Spanish coach hire and minibus with driver rental company in our directory
If you're a local bus and coach hire company in Spain or in any other country we want to hear from you. Through our site, you can promote your coach, and bus hires with driver business in our directory for free. We'll help connect you to travel professionals and clients you currently don't have access to. On our website, you can add your business details to your country and region directory and create your own company profile with detailed information about all your services, photos, and various backlinks to your own website. Contact us and start receiving bus rental quote requests from tourist professionals and private clients