Compare coach & minibus hire companies in Rome! Use our reviews and comparison grid for insights in making the best choice. We allow you to compare multiple offers from various Rome based bus rental with driver companies. We'll help you to find companies that match your bus transport needs. We list all kinds of mini-bus and coach rental companies from those specialized in transfers by vans to those with fleets of only full size motor coach busses. Companies specialized in local transfers and day trips in Italy or companies touring across multiple countries.
Rome - coach and minibus hire companies
According to the Yellow Pages, Rome has about 40 companies of rental buses and minibuses, of which approximately half are based in the same city. The rest is located in nearby towns, a few kilometres from the capital of the country. All of them provide bus with driver services for tourists and most of them also have options for business trips and some of them are also operating public bus service lines between Rome and other locations in the region. The transportation of school groups and groups competing in sport tournaments is also an important part of their regular business.
The coach and minibus hire company 'Todde Bus' was founded in 1950 by Orazio Todde when he left his native Sardinia to seek his fortune in the capital. They organize transfers and day trips for tourist groups and it also provides transfers to and from the airport of Rome and services for businesses and school transportation. They have a fleet of minibuses and larger coaches up to 60 seats. Todde Bus is located in Via Milano 49, in Rome.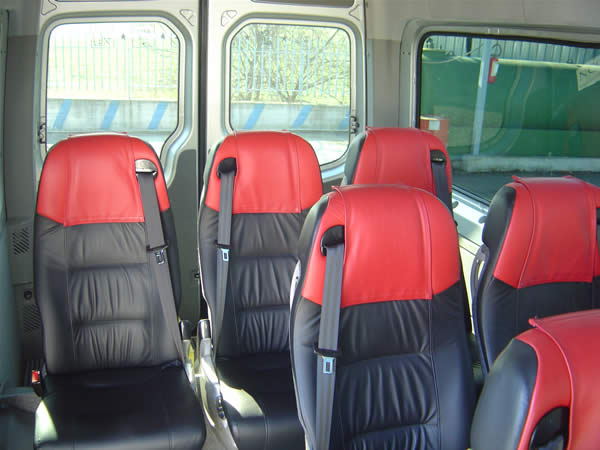 Minibus 8-seater Mercedes Sprinter from Grassinibus in Rome
In spite of its name 'Seatour Company' is also a family run coach and mini bus operator. It has it's headquarters in Via Carciano 29 in the capital. It's history goes back to 1929 when Vito Ferri founded the Società Esercizio Autolinee. Years later, the company changed to its current name and is currently run by the grandson of the founder. It has a fleet of Mercedes and Man buses of 25 to 55 seats.
A bit younger but still over 35 years operating the 'Luberti Bus Company' has been working in the province of Rome since 1979 in the area of the bus and minibus rentals with driver. It owns an extended fleet of buses and minibuses that goes from the 7-seat Lancia Phedra to the Neoplan of 75 seats. Liberti Bus is in Ascoli Piceno, two hours away from Rome. Would you like to rent a bus in Alicante? You can find a selection of bus rental companies with their profiles on our bus rental Rome page.
Rome mini-bus hire and coach rental companies with driver and minibus hire companies with driver
More about Rome mini-bus and coach hires and tours
Would you like to discover more about bus rental in Rome and coach hire with driver, tours and tourist attractions? Want to have an indication of price ranges for rentals of buses in Rome? Check out our pages about: