Your easy tool for Italian minibus and coach hires. Compare competing quotes for 'noleggio pullman' or bus with driver rentals on price, quality, number of seats and service for group transport in Italy.  Via our portal you can easily book minibus with driver rentals and coach hires for cities like Rome, Milan, Venice, Florence, Verona, Tuscany, Naples and other destinations in Italy. Plan all your coach and minibus hires in Italy for group transfers, day trips and tours.
Complete the form and start getting quotes for all your chauffeured bus rental needs in Italy.
Coach and minibus with driver hires in Italy
Chauffeured coaches and mini bus rental companies in Italy are very popular, specially if you're travelling in large groups.

Autoservizi Pasqualini in the Imperial Castle of Nuremberg, (Germany) with the 51 seater coach Irizar Scania
Photo credit: Autoservizi Pasqualini
A country with 3700 coach hires companies and more than 30.000 coaches
There are about 3700 chauffeured coach rental companies in Italy, of which 1500 are in the south of the country. With an average of 7 coaches per company, there are about 30,000 coaches serving the country, connecting even the most remote pizzeria or gelato ice cream shop.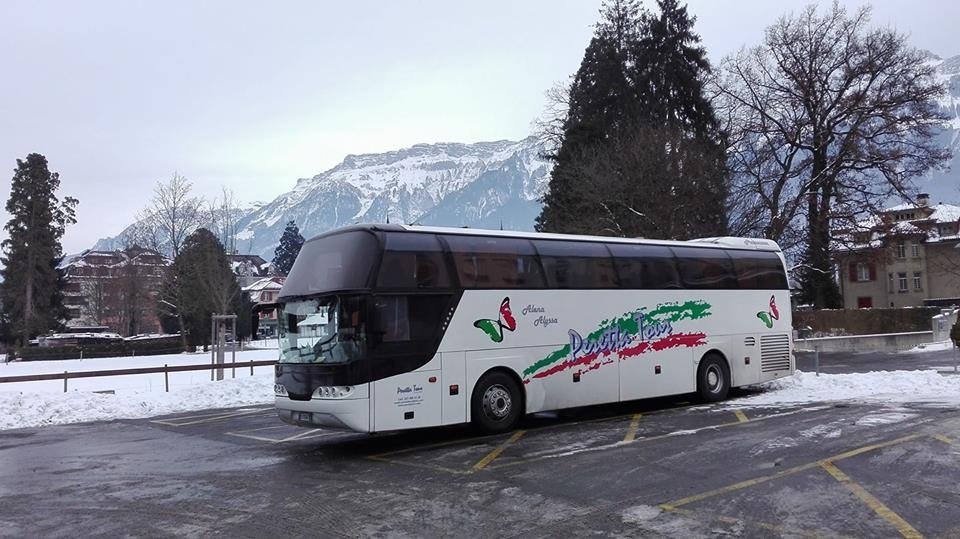 55-seater executive bus Neoplan from 'Peretta Tour' of Roccasecca dei Volsci (Lazio) parked near Rome
Photo credit: Peretta Tour
Most Italian coach hire companies service both tourist and local clients
Although most of the Italians prefer to travel by car, there is an upward trend towards hiring private transport, especially for school trips and guided tours. The coach industry works across a variety of sectors, including students, bus lines, business and worker transportation, and tourism.
Mercedes minibuses and Fiat cars
There are many different types of coach available - depending on the length of the journey and the number of passengers. They ranging from a small 7 seater minibus to big coaches accommodating s 70 people. Ferrari? Lamborghini? Italy has some famous automobile brands but they've never been designed with passengers in mind. Except for one. The trusty Fiat is the local coach on Italian roads, but you're also likely to find the big German brands like Mercedes and BMW.
Visiting Bardonecchia (Turín) with the Iveco Urbain 16-seater mini-bus driven by Bellando Tours of Piemonte
Photo credit: Bellando Tours
Hire a coach via the quote tool
If you decide to hire a chauffeured coach or minibus you'll be charmed by both the Italian driver and the landscapes. Meander through the gorgeous Italian countryside, waving at the farmers and admiring the lush landscape. Or check out the locals in their designer clothes and wonder just how much they've spent on Gucci and Armani. Use our tool to start comparing quotes from local minibus and coach rental providers and book the best deal.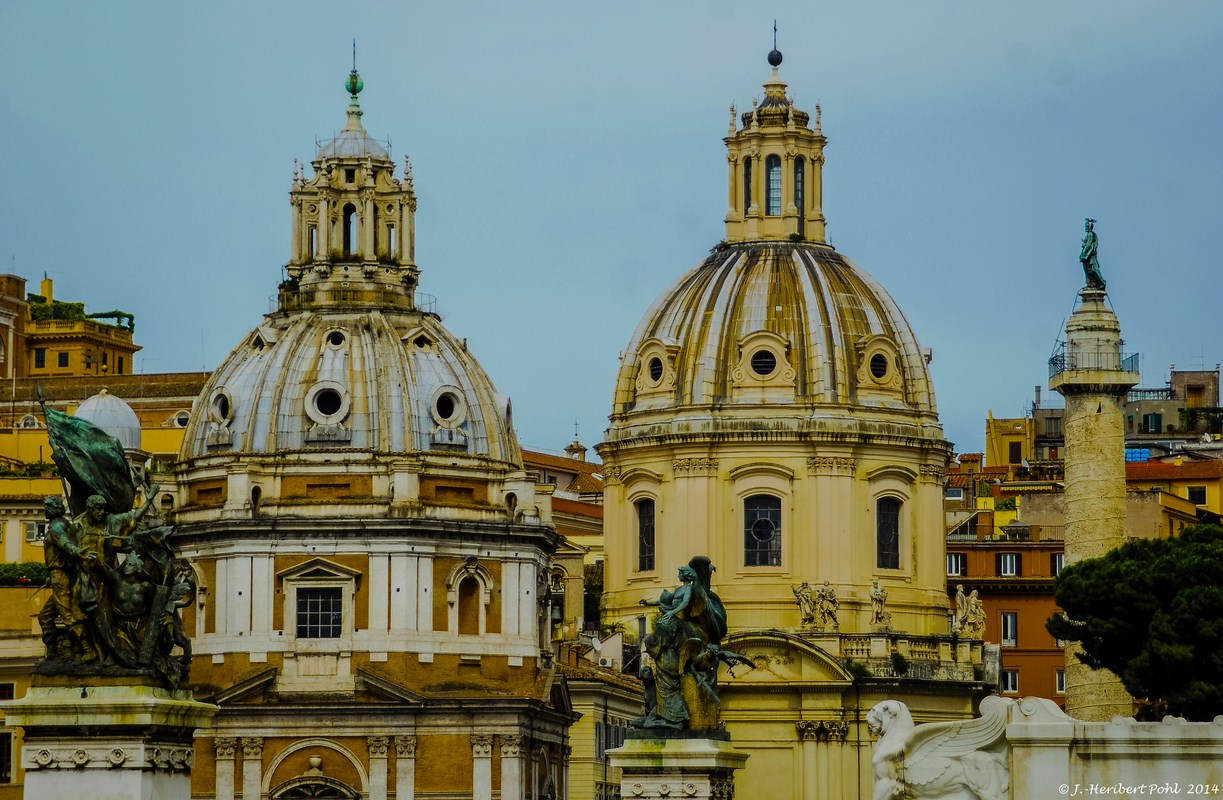 Group transfers from/to Italian airports 
With over 130 airports Italy has enough entry points. The main airports are Roma Fiumicino, Roma Ciampino, Napoli Capodichino, and Milano Malpensa, and there are a range of different airport group transportation options when you land. Tasty and exported all over the world, Italy has some things that you simply can't wait for. Like coffee, ice-cream, gladiators, and pizza. So skip the queues, and take the fastest option which is a pre booked bus for your group airport transfer. 
Do you cover the whole of Italy with coach hires and minibus rentals?
While at the moment we don't cover all of Italy, our network is growing and if we don't cover your destination then  contact our customer service who will be happy to help you with your requests.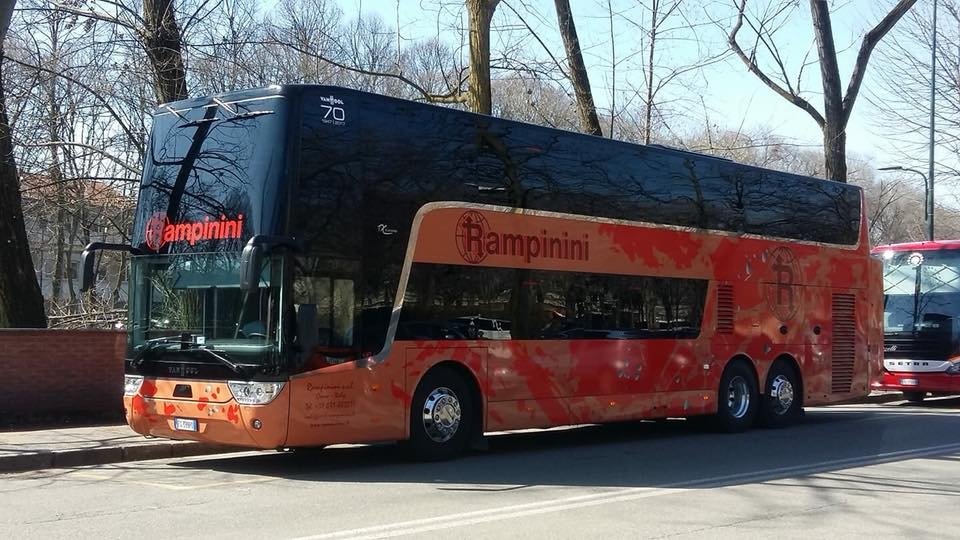 Bus and mini bus with driver hire company "Rampinini Ernesto" and his double decker coach Van Hool Astromega with 82 seats
Register your Italian coach hire and minibus with driver rental company in our directory
If you're a local bus and coach hire company in Italy or in any other country we want to hear from you. Through our site, you can promote your coach, and bus hires with driver business in our directory for free. We'll help connect you to travel professionals and clients you currently don't have access to. On our website, you can add your business details to your country and region directory and create your own company profile with detailed information about all your services, photos, and various backlinks to your own website. Contact us and start receiving bus rental quote requests from tourist professionals and private clients.
Provinces in Italy with coach hire and minibus with driver rentals