This interview with Else Kloosterman van Rossum (EKR) is taken by Veerle Valentijn (VV) student at the NHTV in Breda. Else works in the sales department at bus and coach hire company HTM Special. This interview was taken at the 23th of May.
VV: Can you tell me, how you started in the bus and coach hire sector?
EKR: I achieved my drivers license D (bus) in 2005. It was a dream to have this license. I achieved my license when I was 44 years old.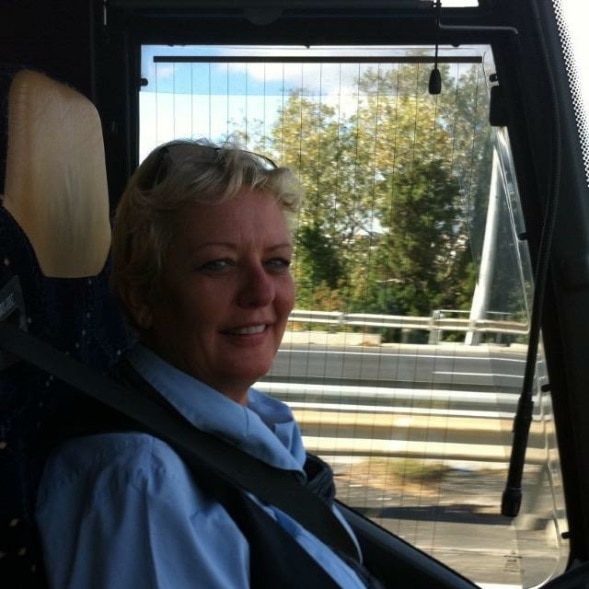 Else Kloosterman driving for HTM Specials bus rentals and coach hires in The Hague
VV: Did you work at other coach hire companies before you started working here?
EKR: I have done several things before working here. I started as a qualified swimming teacher. I did not liked that. I have worked as a dentist assistant for nine years. I have my pedicure diploma. When my kids were older, I wanted to do something else; I wanted a new license and started working as a bus driver at Vreugde Tours, Maasdijk. Within three months I had my regular customers and days. I was asked to come to work in the office in 2007. I have done that. I stayed two days driving and two days in the office. Meanwhile, I do the ISO certification for two tour and bus rental companies: HTM Specials and Vreugde Tours and I do the TX choice for the taxi.
I got my middle management and have made the transition to mainstream education, namely the Rotterdam University where I study Business Administration EIS at this moment. I am at the end of the second year and have all the points. I will start in August as a third-year student and I am watching what direction I want to go to graduate. It will probably be the economic side.
VV: Can you tell me about the history of HTM Specials?
EKR: HTM Specials is part of the HTM Personenvervoer NV, a public transport company. HTM Specials and Vreugde Tours are both private transportation companies. HTM became a separated department for school swimming transport. This is the main reason for the start of HTM Specials, because it did not was a public transport company. The city of The Hague is the owner of the bus hire company.
VV: What was the first and the second bus/car of the company?
EKR: That were busses that HTM rode with. This were Berkhoff busses, for 50 persons. The real tour busses were purchased later. This was a Van Hool bus, for 57 persons.
Motor coach -Bus 56 seater by Van Hool, 2005.
VV: How many busses do you have now?
EKR: We have 15 busses at this moment.
VV: How many bus and coach drivers do you have?
EKR: There are 18 regular bus drivers and there are 20 part timers.
VV: When you are buying new tour busses, do you prefer a special brand?
EKR: I think you mean if there is a particular preference for one type or brand.
This depends entirely on the purposes for which the buses are deployed. The Van Hool brand is very popular when it comes to wheelchair transportation.
In terms of luxury and comfort, everything is for sale and it also depends on where the company emphasizes.
The ergonomics for the driver is important.
We now have recently and transport chosen MAN on the basis of price-quality ratio. These buses will be delivered next month.
Van Hool 56 seater by bus rental company HTM specials Photo credit: Wim Michiels
VV: Can you tell us about the type of customers you serve for bus tours?
EKR: We are driving all type of customers. For example: school trips, business trip and trips for the invalid people.
We are also permanent drivers of the football clubs Sparta Rotterdam and ADO Den Haag. We also work for tour operators.
VV: Are the bus rentals and tours mainly focused on large or small groups?
EKR: We provide transport for small and large groups.
School trips, excursion trips, conferences, fairs, shuttle services and swim transportation for the various suburbs of The Hague. Furthermore, we also ride a funeral coach. This is a special bus that is used for cremations and funerals where the deceased also on this bus is transported along with the immediate family.
VV: Are there only Dutch customers or are there international customers too?
EKR: We do have international customers. Most of the time the busses are rented for international business tours.
VV: Can you tell me about the type of bus drivers that work for you? Are the drivers speaking other languages?
EKR: All the drivers are different. A funeral driver is another type of driver of school trips. Every drivers has its own speciality.
All off our drivers speak English. We have worked a lot with the British and Americans in the past. This was because of the big cruise liners moored at the Wilhelmina Pier in Rotterdam. From there, day trips were organized to the most diverse places.
VV: How do you distinguish yourself in it from other companies?
EKR: Quality is our top priority and we would like to keep it that way.
VV: What are the most driven bus trips for your company?
EKR: This is hard to say because each group has its own needs and we do not operate a personal inscription. In the groups is currently the greatest demand for Elburg. Especially the elderly activities are often trips to local garden centres.
VV: Do you often have multi-day tours?
EKR: We drive or multi-day trips, but that"s not really our job. The multi-day bus tours that are driven by us is often commissioned by ministries, schools and football clubs (for example a training camp for the youth). I did an excursion trip with a school in Rome. This lasted for a week.
VV: What is the most funny or remarkable story you"ve experienced while working as a coach driver?
EKR: This question is very difficult.
The trip to Rome with a school in The Hague, it was for me a highlight in my "career" as a coach driver. A nice group HAVO / VWO (secondary school) pupils from 15 to 16 years.
We have had a very nice week (my colleague and I).
VV: Are you present with a bus rental profile on social media?
EKR: To tell you the truth ... We have never been really busy with social media. That would be done once, but we are busy with other things. There are plenty of reasons for that: it very busy. We think the quality and good service for the customers is more important than social media.
VV: Say something positive about a bus and coach rental competitor: Who"s doing well? Which company, just like yours of course you, does good things for or sector?
EKR: We work very closely with other bus rental companies. We also need each other with transport. When it's very busy, we hire another bus company to help us. It are general the companies with a 9001 certification. A really important thing is that the customers having a good, whole and well-groomed bus and nice trip.