Useful tips for Barcelona bus groups with 'what to see' and 'what to do' items and  'bus- friendly' or must see tourist sites in Barcelona. Check our list of attractions before planning your bus tour with a stop or departure in Barcelona. Let us know if your favourite attraction or 'bus-stop' is not there and you think we should add it to our list of Barcelona highlights.
Parking your bus or coach in Barcelona
When touring from another city with a group on a bus, the bus rental company should make arrangements with the hotel as to where to park the bus.
Although parking a bus or coach in front of a hotel is normally not permitted, you can ask the bus driver to drop your group and their luggage off at the main entrance. Depending on the size and type of hotel you have reserved, there may be luggage porters or concierges to take care of your bags. Some hotels or hostels don"t have concierges or luggage porters but do have luggage carts which clients can use. If you are carrying a lot of luggage without wheels, then check with your hotel before you book to see if they can accommodate you.
Tour Barcelona by video
In this video clip you'll start with a view over Barcelona and the Sagrada Familia, see the Palau Nacional (National Palace) and a crowd of people on Barcelona street. Dive in the beach life of Barcelona or get your new boat registered at Old Barcelona Port Authority Building. Tell your minibus driver to make a photo stop in front of the Agbar Tower and check for a spectacle or performance in the 'Arenas de Barcelona .For lazy planners among you just tell the bus driver of your coach hire company to follow the route of the official 'hop on hop off tourist bus' in order to visit mayor Barcelona touristic sites like for example Park Guell.
What to see during your tour in Barcelona with a hired midibus
Since your trip goes through Barcelona, we have some suggestions for stops to include in your itinerary.
The Enchanted Forest (Bosque de las Hadas)
Here you can enjoy some food or just a coffee in a setting right out of a fairy tale. Upon entering this place, you'll feel a mysterious sensation, something that isn't easy to explain, as if you've entered a world of magic. This forest is considered one of the most beautiful places in Spain. With wooden tables and chairs, soft, pleasant lighting, a little waterfall, trees that seem to be alive, and a big surprise in the interior that leaves every visitor breathless, a storm simulator. The Enchanted Forest is located on C/Passatge Banca.
The Gothic District
Go back in time to medieval Barcelona. You can get lost in a labyrinth of dark, narrow stone alleyways with arches and streetlights. The façades of the houses are made of stone with "bruixa," which are decorations on medieval water outlets. There are also a lot of plazas where you can relax and enjoy the atmosphere. Your minibus driver can also have a little relaxing time.
Horta's Labyrinth Park
Is the oldest, most classical park in Barcelona. It dates from the eighteenth century and it has a number of gardens with roses, plants, trees, flowers, a famous maze, a theme park, an artificial waterfall, and a canal with boats and swans. A number of movies have been filmed here, which has helped the city council to maintain the park.
The Magic Fountain of Montjuic
A fountain with multi-colored water that shoots up to the sky and dances to the rhythm of music. It was built in 1929 and is situated on Maria Cristina Avenue.
Bar La Xampanería (Champagne Bar)
A famous bar just feet from the Port Vell of Barcelona, that can be reached with a rented minibus. Very popular with tourists and also foreign students who come to the city to learn the Spanish language. The bar offers a varied selection of tapas (Spanish appetizers and snacks) and cavas (Spanish sparkling wine) at reasonable prices. In the summertime you need to arrive early if you want to get a spot on the terraces.
City Tourism in Barcelona
If you are a tour operator and you like to take groups to Barcelona, you probably know that after finishing the guided tour to the tourist points of interest by bus, often the best idea is to provide some free time and make some suggestions to your travelers about what to see and do. Would you like to rent a bus in Barcelona? Get minibus and coach hire with driver quotes via our form.
Barcelona Museums
We recommend that you visit some of the museums such as the Joan Miró Foundation (Fundación Joan Miró); the Picasso Museum (el Museo Picasso), where you will find Picasso's art from the period of 1890-1957; the Joan Miró Foundation Museum (el museo Fundación Joan Miró), located in Parc de Montjuïc; the Basilica of the Holy Family (la Basílica La Sagrada Familia), designed by the architect Antonio Gaudi, a very unique building in the history of art; The Milá House (La Casa Milá), another work of Gaudi better known as The Rock (La Pedrera); The Batlló House (La Casa Batlló), also by Gaudi, the columns of which are shaped like plants; and the spectacular Güell Park (Parque Güell), another interesting work of Gaudi, which is a huge garden with architectural elements located in the upper part of the city.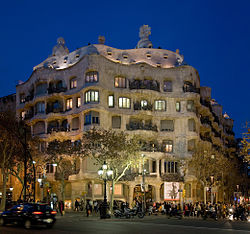 Walks around Barcelona City
For those who want to take a walk and enjoy the fresh air while visiting little shops, painters, and street performers, we suggest a tour of Las Ramblas (The Avenues), which connect La Plaça de Catalunya with the ancient port while also giving a nice view of buildings like the Liceu Theatre (el Teatro Liceu), home of the Barcelona City Opera, the Palau de la Virreina, one of the greatest examples of baroque civil architecture, or the Boquería Market (el Mercado de la Boquería), located next to the gates of the medieval city, where you can buy all kinds of local and exotic fresh produce.
Drive the bus to the Tibidabo mountain
This hill is considered to have the best vistas in Barcelona. On top of the mountain there is an amusement park and The Church of the Holy Heart (la Iglesia del Sagrat Cor) as well as Collserola Tower (Torre Collserola), which was designed by Norman Foster. The bus will drop you off to take the tram or the cable car to access the mountain, where you can also take a walk through The Botanical Garden (el Jardín botánico). A visit to Tibidabo makes a great day trip.
Visit the old city of Barcelona
If you"re looking to take beautiful, relaxing trips throughout the city, you can take a bus or taxi to downtown Barcelona to visit Citadel Park (Parque de la Ciudadela), where the Catalonian Parliament (el Parlamento de Catalunya) and the Barcelona Zoo (el Zoo de Barcelona) are located. You can also admire some of the new parks, such as the one located on the grounds of the The Universal Culture Forum (Forum Universal de las culturas) or the Diagonal Sea of Miralles (el Diagonal Mar de Miralles).
The very interesting multicultural locations throughout Barcelona can be admired better on foot or bicycle than by coach. For example, there"s the Grace neighborhood (el barrio de Gracia) with its main thoroughfare, calle Verdi Ilena, which is blessed with the vitality of a mixture of cultures in its bars and restaurants, which offer delectable cuisine; and don"t miss El Raval, where you can enjoy what was once Chinatown or the Gothic Quarter, opposite La Rambla, which is a seaport city.

Beach life in the city of Barcelona
No holiday in Barcelona is complete without a few visits to Barcelona"s famous beaches. If you"re looking for a little bit more than peace and quiet, we suggest taking a bus to Barcelona"s beaches, among which la Barceloneta stands out because it has places to eat and enjoy snacks. Nevertheless, there are other centrally located beaches where you can relax, such as Sant Sebastiá, Nova Icária, Bogatell, Mar Bella, and Nova Mar Bella, which has an area for nudists. If you don't mind take a train for about 40 minutes you can travel to the beaches of nearby Sitges and have a day out of town.
Restaurants
To enjoy a wonderful meal, we suggest visiting Restaurante Ca La Yaya on calle Valencia or Restaurante Celler Can Mateo on Paseo Sant Joan. Great local food is just one more reason why so many people choose to spend their holidays in Barcelona.
Bus travel and trips around Barcelona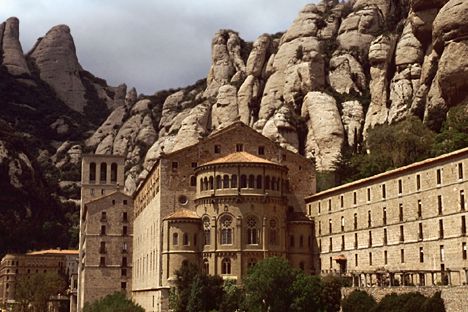 The nature parks can be visited by yourself or in a group tour organized independently or by a travel agency or tour operator. Adventure sports such as trekking in the snow, hiking, and rafting. If you are interested in water sports, you can rent a boat on your own or with a guide. There are many different boat rides for enjoying a day on the ocean. You can also make a bus trip to la Costa Brava de Girona, Sitges or Costa Dourada de Tarragona.
The artistic and historic heritage of the prsurroundings of Barcelona offer a great opportunity for guided tours or an interesting bus ride. You can travel to the Montserrat Monastery (Monasterio de Montserrat) which is 40 miles (60km) from Barcelona or take a tour of Romanic Churches.
Ski Travel in Barcelona
For ski tours Barcelona has Rasos de Paguera in Berga, and then there is the possibility of a day bus trip to the trails in Pirineos in Lleida, Girona or Andorra. Nature Park de la Serra d'Ensitje-Rasos de Paguera in the Comarca del Berguedá is another place where you can travel to for good skiing.
Beaches in Barcelona
Some of the beaches that you can visit either in bus or taxi are Castelldefels, Sitges with its 17 beaches with fine and golden sand, Cala Ginesta next to Puerto Ginesta, Playa del Garaff which is a nude beach that is also rustic and mountainous or travel to Playa de la Fragata where you can have a boat tour or take long walks on el Puerto Náutico.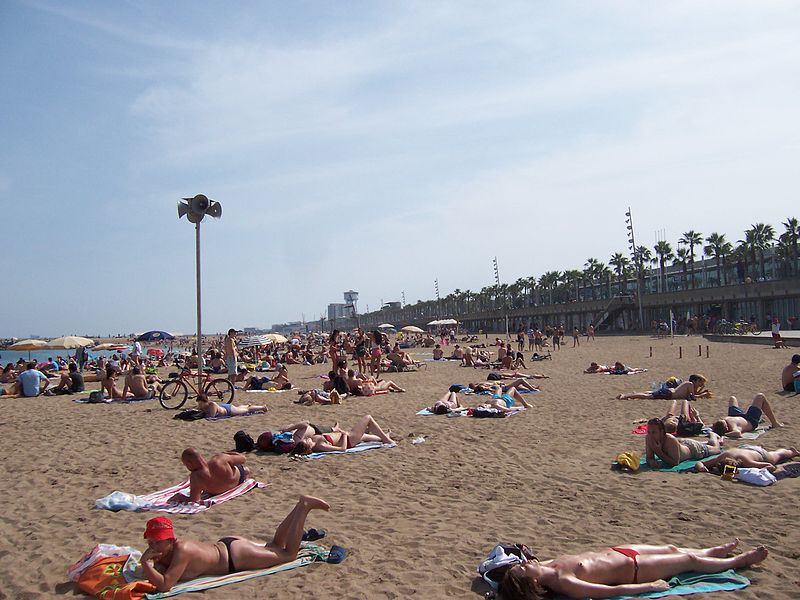 Bus trip to Nature Parks around Barcelona
Nature Park de la Serra del Cadi Moixaró
Is shared with Lleida, Girona and the Comarca del Berguedá and is the most visited park. There you can do mountain sports, make excursions and hunt. It is ideal for a tour. This park has a varied climate that has flora and fauna that is worth a visit.
Paraje Natural de Interés Nacional del Massis Pedraforca
Has interesting flora and fauna and is shared with Lleida. It has rock formations that are from both the Triassic and Jurassic eras and is considered the most climbed mountain in the province of Barcelona. It also offers beautiful areas such as Castillo Medieval de Saldes from the seventh century, Pre-Romanic and Romanic churches and the Sancturary of Gesolet ( Santuario de Gesolet) that was built between the eight and seventh century. They are all great for guided tours.
Nature Park of the Montaña of Montserrat (Parque Natural de la Montaña de Montserrat)
That spreads over four municipalities is located in the south of Barcelona in the central part of the cordillera prelitoral (parte central de la cordillera prelitoral) and is 33 miles(50km from the capital and is accessible by bus or taxi on highway N-11(la autovía N-11) In this park you'll find The Benedictine Abby of Mare de Deu de Monserrat ( Abadía benedictina de la Mare de Deu de Montserrat) patron saint of Cataluña. There is a festival on April 27 that celebrates her. During this day people walk up the mountain or travel in bus or taxi to participate in the festivities of this day. Also at this time people can listen to children sing.
Nature Park of Lorenc de Munt il'Obac (Parque Natural de Llorenç de Munt il'Obac)
Dates back to the Tertiary era. Its formation was due to erosion from water that came from the rivers. It is ideal for a guided tour if you want to see flora, fauna, Iglesias, caves and interesting restaurants,
Nature Park de Montseny (Parque Natural de Montseny)
Is located in the southeast of Barcelona, and is easily accesible by bus or coach on Highway AP-7 (autovía AP-7). This park is great for hiking, mountain climbing, and mountain biking. You should take a tour of it.
Nature Park de Montnegro el Corredor (Parque Natural de Montnegre i el Corredor)
Is accesible by highways C-32 and C-61 (autopistas C-32 y C-61) and also offers activities such as hiking and mountain biking. It has extensive flora and fauna and archeological remains from the dolmen, Neolithic and Iberian periods.
Nature Park de Garraf
Can be reached by bus on highway N-340 (Ctra. N-340). There you can do astronomy, spend time in a bird observatory and hiking among other activities.
Periurbano de Colcerola Park
This park is the lungs of the city and is where you can do different sports such as climbing the Mountain (Montaña) Tibidabo.
Trips to attraction parks in Barcelona
Attractions Tibidado Park (Parque de Atracciones del Tibidado)
Is more than 100 years old and has spectacular panoramic views of Barcelona and the sea. On the top of the mountain you can find The Church of the Sacred Heart (Iglesia del Sagrado Corazón) built in a neogothic style. If you take the blue trolley or go in a coach or bus, you can reach the cable car that takes tourists to the park.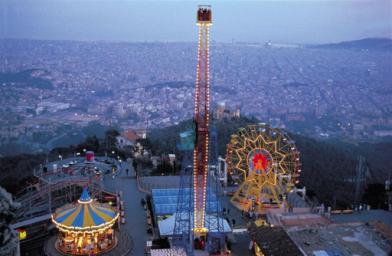 Park of the Spanish Town (Parque del Pueblo Español)
Is situated on the Monjuic Mountain (Montaña de Monjuic) and it has reproductions of villages, monuments and buildings best known in Spain. It is where you can see artisans making their crafts.
The aquarium
That is in the Puerto Moll de la Fusta is considered the biggest one in Europe. It is divided into six different areas of interest and has fish from the four continents.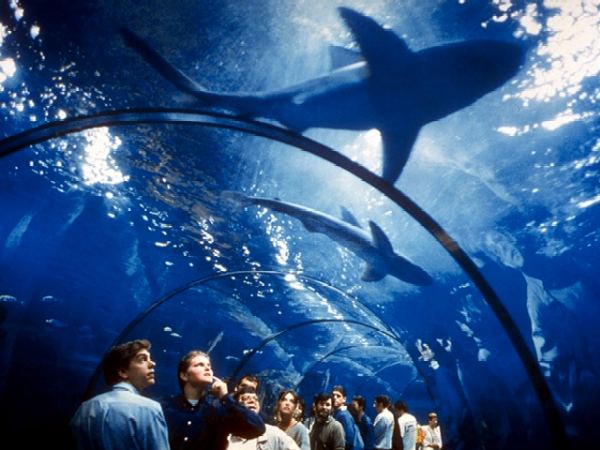 Other things to do around Barcelona
Wine tours in Barcelona
Wine lovers can go on a guided tour that is organized by a travel agency or tour operator or make a visit on their own. To visit and taste wine there are the wineries such as Bodega Marfil Alella with its classic wine Marfil, Bodega Augustus Forum with their wine Augustus Forum, Bodega J. Miguel Jané with their wine J. Miguel Jané or Bodegas Freixenet with their wine Freixenent. In addition you can walk in the areas around the wineries and eat delicious food.
Restaurants
The province also offers a great variety of restaurants some of them are Restaurante Can Fabes in Sant Celoni, Restaurante San Pau en Saint Pol de Mar and Restaurante L'Esguard in Saint Andreu de Llavaneres de Mataró.
None