Portugal's minibus and coach hire quote tool. Compare bus with driver rentals on price and quality in Portugal. Rent a bus coach with driver in places such as Lisbon, Porto and Faro. Plan your bus with driver to tour, have transfers, organize day trips around Portugal.
Receive minibus and coach hire quotes for Portugal by filling out the bus quote form.
Coach, Bus and Minibus with driver hire in Portugal
Coach and bus travel is well-established in Portugal, with over 120 companies providing coach and bus hire with drivers.
Most bus with driver rental companies are in Lisbon, Porto and Faro
Most companies are focused around the main large urban and regional centers. The three main centers with international airports and arrival points for visitors to Portugal are the capital Lisbon (LIS), Porto (OPO) in the North and Faro (FAO), which is the district capital of the globally renowned southern region of the Algarve.
Many of these operators now provide charter bus and coach hire with driver for groups visiting Portugal for leisure or business .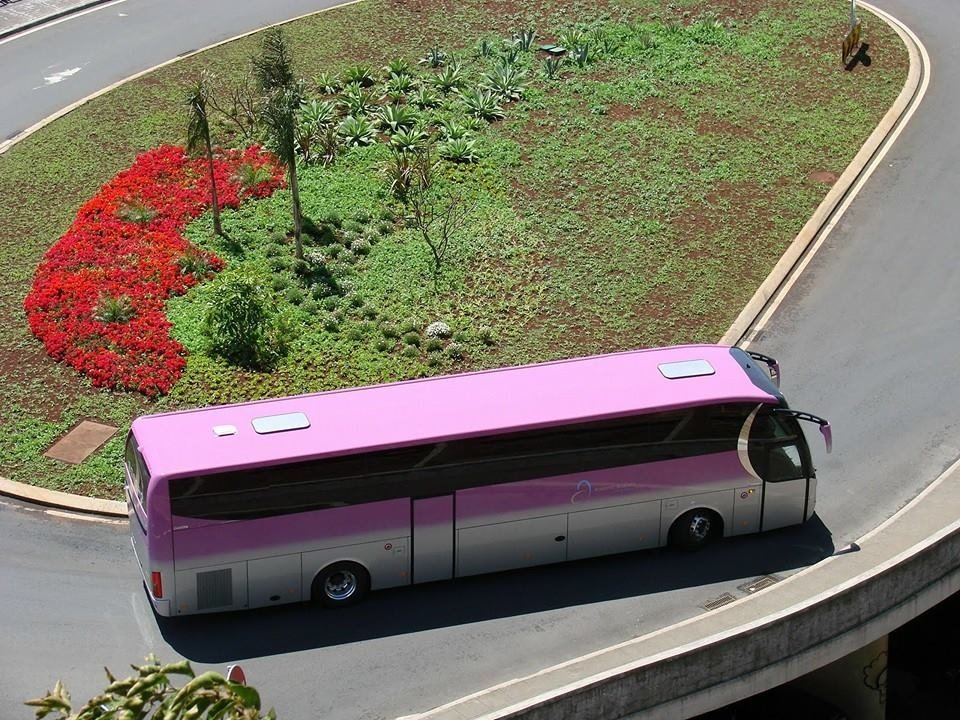 59 seater coach Volvo B 9R Irmaos Mota Atomic 3 from "António Atalaia Viagens e Turismo" in the island of Madeira
Photo credit: António Atalaia Viagens e Turismo
Vehicle size in Portuguese bus and coach rental fleets
Traditional bus and coach fleets with vehicles of over 50 seats are, increasingly, being supplemented by, smaller vehicles of between 9 and 25 seat capacity, as companies enhance their capacity to provide services to small and medium size groups of leisure and business travelers.
Coach, Bus and Mini-bus services with driver are the ideal way to meet your ground transportation needs in Portugal. Why not complete our bus rental quote form to receive competitive offers for your coach and bus hire requirements in Portugal?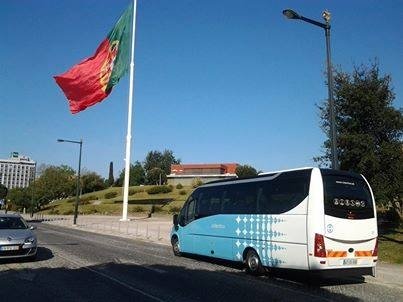 In light blue and white the 22-seater mini-bus Atomic Mini Tur Iveco from ´Cisterbus´ de Alcobaça
Photo credit: Cisterbus
Portuguese bus and coach rental companies are very price competitive
Coach and minibus rental companies in Portugal are competitive with prices being relatively low in comparison to those in other European countries. This explains why many Portuguese coaches can be seen transporting groups of tourists from Asia or the Americas around Europe. Portugal is a great departure point for ground-based travelers and groups from outside Europe.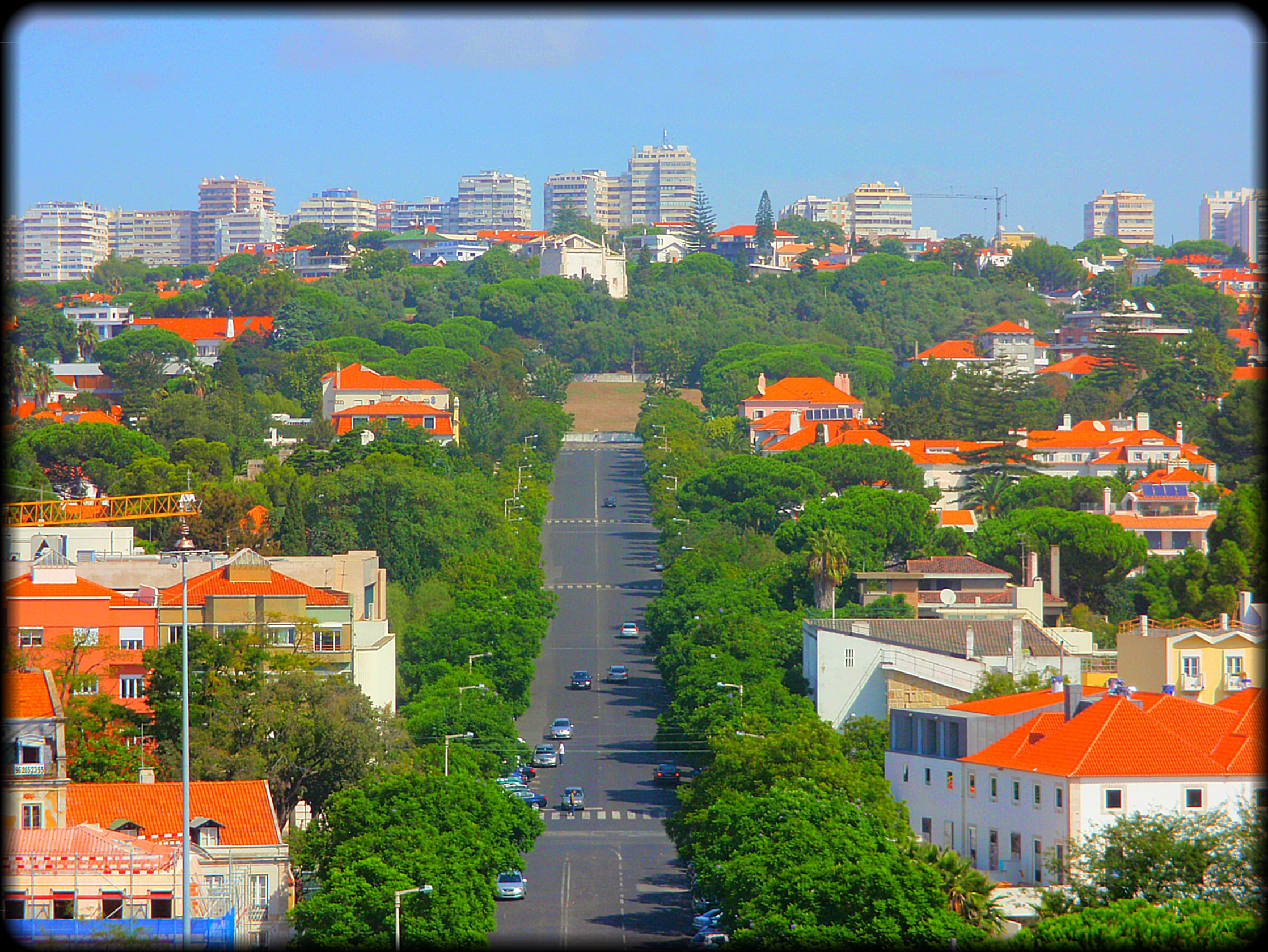 Group airport transfers in Portugal by bus or motorcoach
Continental Portugal has three main airports offering both international and domestic services, Lisbon (LIS), Porto (OPO) and Faro (FAO). There are smaller airports on the island archipelagos of Madeira and the Azores.
Lisbon Airport offers the largest number of direct flight connections to and from Portugal, with regular flights to destinations in South America, North America, Africa, Europe and the Arabian Gulf. There are domestic services from Lisbon Airport to Faro Airport, Porto Airport, Funchal (Madeira) and the Azores. Most groups of tourists arrive on the LIS airport.
Porto Airport is an important airport serving the North of Portugal and the region of Galicia in Spain with regular direct flights to destinations in Western Europe, Canada, the USA, Brazil and Angola.
Faro Airport (FAO), serving the Algarve region of Southern Portugal and Costa da Luz region of Andalucia. Spain. is an important gateway for tourists, with regular scheduled direct international flights from the United Kingdom, Ireland, France, Belgium, the Netherlands, Germany and Scandanavia.
Within the exception of Faro Airport, there are relatively few companies specializing in transfers to and from these airports. Such services are mainly provided by firms offering limousine with chauffeur and pre-reserved private taxis but not focussed on (large) groups. Complete the form and send us your group airport transfer requirements to receive multiple offers for bus and coach transfers and bus with driver hires to and from airports in Portugal.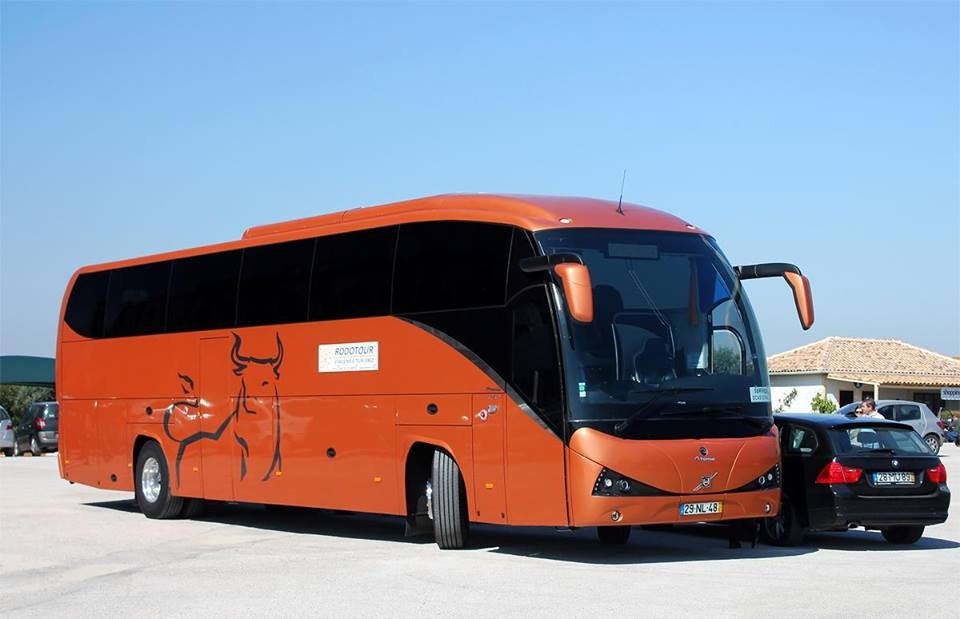 Visiting the Santuário Nacional de Cristo Rei with the 43-seater Volvo Atomic Midi touring coach driven by Rodotour
Photo credit: Rodotour
Bus and coach tour destinations in Portugal
Coach travel is a great way to visit many places throughout Portugal that are not easily accessible by other means of transport.
Top destinations in Portugal for group coach travel include the Sanctuary at Fatima, the famous walled town of Obidos, the castles of Sintra, wine producing areas of the Douro River Valley, Amarante, Coimbra with its UNESCO world heritage site, and the coastal towns of Nazare and Ericeira north of Lisbon. Coach and bus travel from Portugal is also a great way to visit destinations just over the border in Spain, including Vigo, Santiago de Compostela, Zamora, Salamanca, Mérida and even Seville.
Do you cover all of Portugal with minibus and coach hires?
Since launching with coach hire services in Spain in 2011, we have quickly expanded to be a global player in finding great value ground transport for travel agents and professionals. We"ve recently extended our service to cover Portugal and are rapidly building our network of transport providers in the country. It will take some time before we cover the whole country so we have started with the most popular options for international visitors.
We connect you to local transport providers. Use our tool to start comparing quotes and making bookings, and you can also contact our customer service for more information.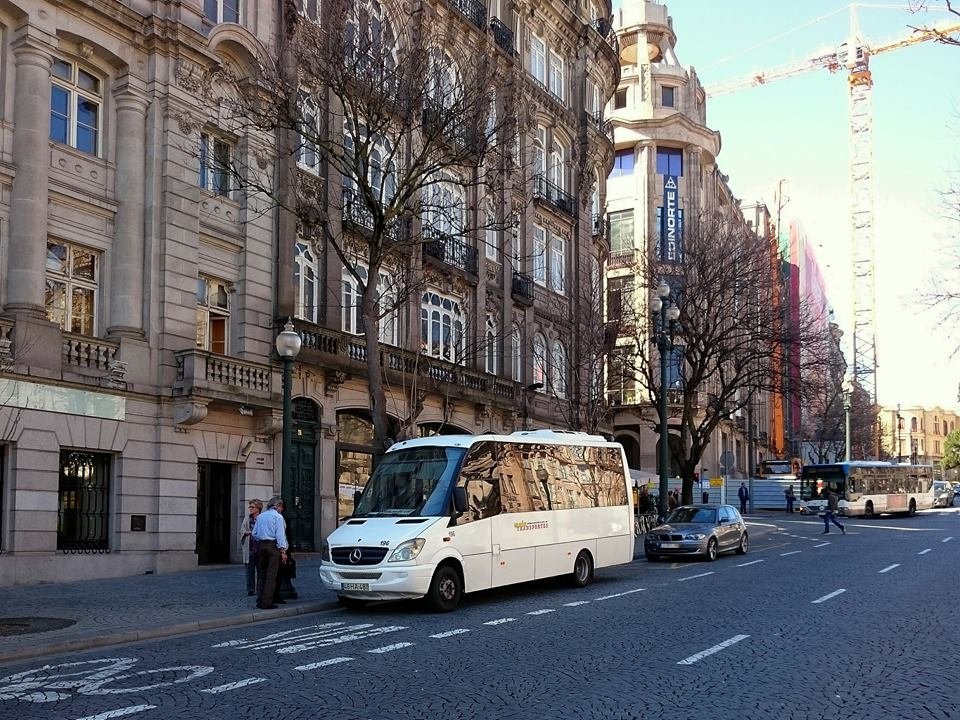 Autocarros da Maia in Praça da Liberdade (Historical Center) with its 19-seater Mercedes Benz Sprinter mini-bus
Photo credit: Autocarros da Maia 
Register your Portuguese coach hire and minibus with driver rental company in our directory
If you're a local bus and coach hire company in Portugal or in any other country we want to hear from you. Through our site, you can promote your coach, and bus hires with driver business in our directory for free. We'll help connect you to travel professionals and clients you currently don't have access to. On our website, you can add your business details to your country and region directory and create your own company profile with detailed information about all your services, photos, and various backlinks to your own website. Contact us and start receiving bus rental quote requests from tourist professionals and private clients.