Morocco has a surprisingly well-developed ground transport infrastructure. The highways are new and in excellent condition, while the recent tourism boom is helping keep prices low. There is even a tarred road that runs all the way from the coast to the Saharan sand dunes. Morocco also offers choice, so every visitor can find a price and level of comfort that suits their ground transport needs. For example, for the real Moroccan experience you can go straight from the air-conditioned rented coach to the bumpy one-humped desert camel.
Chauffeured Transport Services in the Morocco
Coach and minibus hire in Morocco
The thought of an African minibus conjures images of chickens squawking under the seats and feeling so squashed that you lose all feeling in your legs. But that"s not Morocco! Thanks to the tourism industry, coach and minibus standards are just as you would expect from any western European country. Hiring a private coach or minibus is probably the most popular way for tourists to see the country. Okay, so the drivers might still have the "i"m bigger than you so get out of the way" mentality to driving, but that just means that coach and minibus hire in Morocco is the fastest way to get around the country.
Coach hire companies are predominantly based out of the main tourist cities of Marrakech, Fez, and Agadir, although they can be found in all parts of the country. There is certainly more choice from these cities and you can expect to find vehicles of all sizes from 8 to 56 seats. Facilities vary and this impacts on the price. In particular, coaches with air-conditioning are more expensive but this could be a necessity from May to September.
Coach hire companies usually have a minimum charge of around €300 - 400 per day. The exact costs depend on your route and distance travelled. Our reservation tool helps you find the best value ground transport in Morocco including coach and minibus hire.
Airport Shuttles/Transportation
Morocco is very civilised. Despite it"s reputation for nagging touts and annoying locals, most people find that this is a very friendly and welcoming country. However, without pre-booked airport transport you could end up landing and immediately trying to book a flight out of Morocco. Airport taxi touts can be savage, charging up to 10 times the rate for a short transfer. To combat this problem the government has put up signs indicating the official taxi price. So the taxi touts have made their own signs with inflated prices! In Agadir they"ve started copying Ryanair by charging extra for baggage.
However, there are dozens of companies that offer airport pick-ups. Most airports are filled with drivers holding name cards and welcoming visitors with a friendly handshake. Pre-booking means you get straight to the hotel, and straight to your first warm glass of mint tea without any hassle.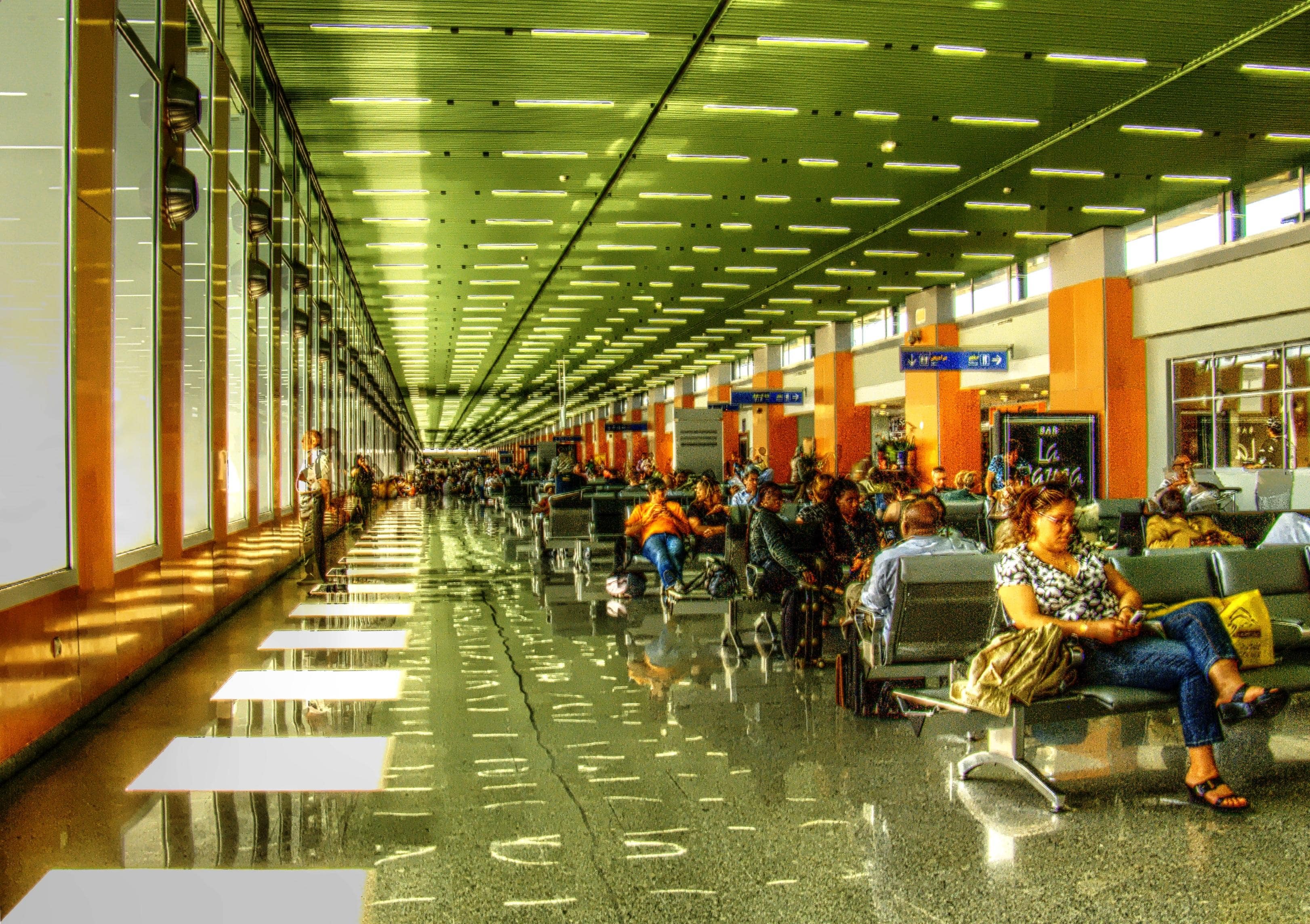 Mohammed V International Airport (Casablanca Airport)
Car with driver in Morocco
Moroccans have some interesting ideas about driving. For example; if there are two lanes then drive in the middle, if you"re a truck then never use the brakes, and undertake wherever possible. While hiring a car and self driving is possible in Morocco, it takes nerves of steel to negotiate the traffic, especially in the cities. Furthermore, you"ll have to make sure you have some small denomination notes available to satisfy the cheeky bribe hunting traffic police.
A car with driver is one of the most popular forms of ground transport in Morocco. Prices vary depending on the quality of the car, experience of the driver, and distance covered. They generally start at around €70 for a full day return excursion from one of the big cities. Car with driver is also a great option for those looking to make a one way trip. For example, many choose to travel between Marrakech and Fez, either along the coast or through the Atlas Mountains.
Public Transportation Services in Morocco
With a little patience and some good forward planning it can be straightforward to get around Morocco with public transport. However, the quality of the transport available depends on your destination.
Trains:
Arrive at a train station and you could be forgiven for thinking Morocco"s rail service is modern. It kind of is, except if you"ve got shoulders that are wider than a Russian female gymnasts then you might be quite squashed on the hard benches.
Public buses:
Morocco has too many buses. Seriously! At the bus station there could be three or more different companies trying to get you on their bus. So you choose one, and then watch the other depart as your bus waits for more passengers. Quality varies dramatically and some of the cheaper buses should be avoided. The most respected companies are Supratours and CTM.
Collective taxis:
Outside of the main towns and cities Morocco runs on collective taxis. These are old battered Mercedes that groan under the weight of one driver and six passengers. While useful for shorter distances it can get very uncomfortable for any journeys over an hour.
Most towns have shared taxi ranks. Waiting around at taxi ranks is a daily occurrence when taking local transport
Provinces in Morocco with coach hire and minibus with driver rentals