Compare and hire a coach, mini-bus and bus in Agra with ease! Receive competing bus rental with driver quotes from different mini bus and coach hire companies. Compare quotes on rental costs, client ratings and reviews, number of seats in the bus, space for luggage, facilities and age of the vehicle. Ask our customer service for help when organizing your bus trip or tour. RentAutobus helps you to compare multiple chauffeur driven bus rental and motorcoach companies in Agra, where you can hire group transport ranging from chauffeured mini-buses to full-sized coaches. We are here to help you to find the best possible deal in coach hire for your trip.
Everything about Agra, options for tourism and ground-based, chauffeured and private transportation in Agra. For tourism operators, travel agencies, independent travelers or group travel agencies.
Price ranges for Agra bus and driver rentals
Check these Agra bus hire rates in relation to bus size
Tour the City of Agra with private chauffeured transport
An obliged stop in any coach or bus tour. Agra is the city that"s on everyone"s Indian tour itinerary. Beautiful, serene, and indelibly Indian, Agra is also the city that most people never forget.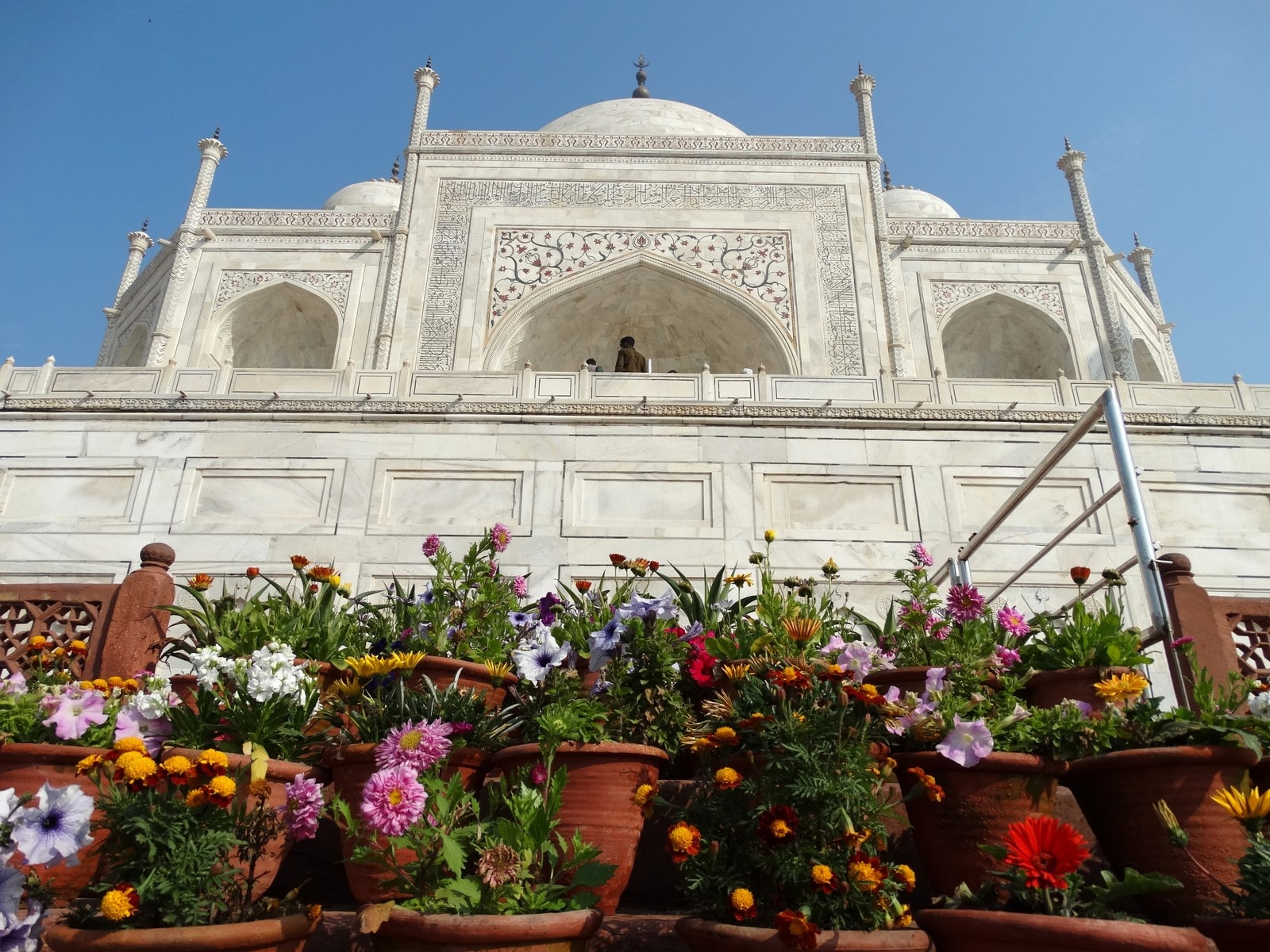 Agra touring with a private car or minibus with driver
When taking a minibus or private taxi tour around Agra most people are obsessed with the Taj Mahal. Maybe they are right to be obsessed but there is much more to the city than this incredible building. Agra has a very local feel and checking out the streets gives you a real sense of the real India. Afther having your share of guided transport get out of your minibus or car and walk the street or get a rikshaw. There is nothing like a real walking on the streets of Agra experience. Don't worry your driver will walk with you and guide you around.
Video trip to Taij Mahal, Jahangir Palace and Agra Fort
When groups plan to visit Agra with a hired minibus seeing the Taj Mahal is normally the main objective. This video takes the same approach, although rather than enter the main gate, it arrives at the Taj Mahal by boat at dawn. The sun reflects on the white marble and this video shows how the Taj Mahal looks different throughout the day. Then it offers some local sights, like enigmatic children, the ubiquitous rickshaws, and some of the offerings at the Agra Craft Fair. Don"t forget to tell your minibus driver or guide to take you to Agra Fort and Jahangir Palace when you visit Agra, it"s also an UNESCO World Heritage Site. End your coach tour with some engaging locals and another hour spent admiring the Taj.
Agra is the tourist centre of India for one reason, the iconic Taj Mahal. Very few visitors come to India without glimpsing the beauty of this world famous building. But in this one time capital of the Mughal Empire you"ll also find two other UNESCO world heritage sites; Agra Fort and Fatehpur Sikri. Once you arrive in Agra expect countless touts and hawkers to try lead you astray. But don"t let that put you off; with a bit of prior knowledge and some private transport the negative aspects of Agra can be easily avoided. And there is even more to the city than UNESCO World Heritage.
Types of Transportation to and from Agra
As a tourist centre many roads and trains lead to Agra. It"s the city that"s on almost all tour company itineraries, and in the Taj Mahal there is the photograph that"s in every tour company office. Agra is also only 200kms from Delhi and some people even come here as a day trip. Along with Delhi and Jaipur it forms part of the Golden Triangle, the de facto tourist route for many visitors to India. Agra also has a domestic airport, although plans for an international airport have been recently abandoned.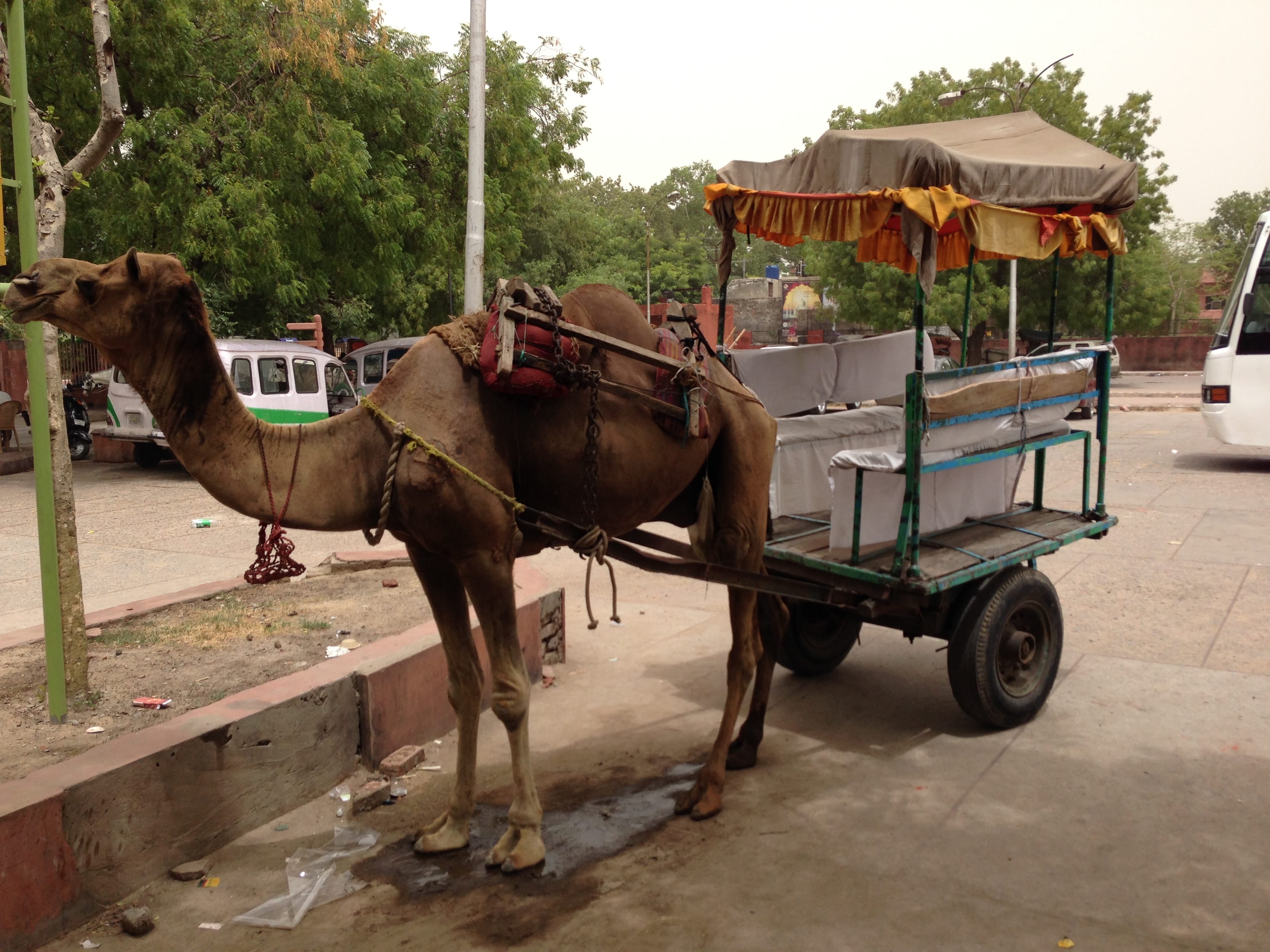 Minibuses and rental coaches in Agra:
Agra knows its status as India"s tourist epicentre, and there are hundreds of different tour agencies operating here. Some are absolute cowboys and nothing more than a confident guy from the slum touting his business outside the Taj Mahal. Others reflect the long term growth of tourism in Agra. In particular Agra is one of the few places in India with tour and transport companies catering for upmarket tourism.
It"s hard to judge the exact number of bus rental companies in Agra but this number could also easily reach into three figures. When renting a minibus or coach you have a wide choice of vehicle, and can have everything from 8 to 60 seaters, and battered minibuses to luxury coaches. The local Tata vehicles are cheaper although Volvos and Mercedes are more comfortable and have working air-conditioning. Almost all rental companies in Agra exclusively target the tourism market, with some mixing domestic and international clients.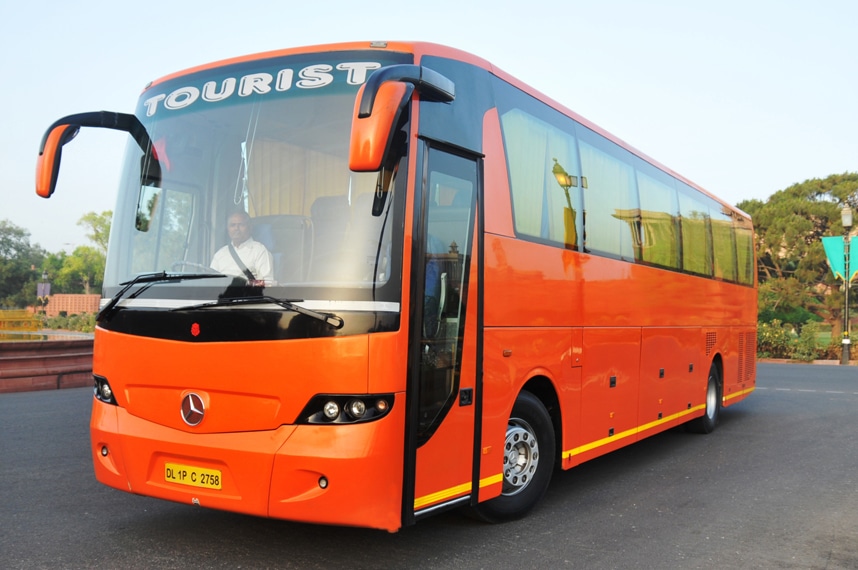 How to hire a coach or minibus in Agra:
The first thing to understand is that the bus rental market isn"t as sophisticated as the market in Europe. It"s not always the case of going directly to a coach hire company. Many of the companies are small and lack internet presence, so they utilise local travel and booking agents to bridge the gap between themselves and you, the customer. Rather than increase the price, this actually increases competition and coach companies undercut each other in order to gain favour from popular travel agencies.
Agra Bus and Coach Rental prices:
Prices vary wildly in Agra but start at around €150-200 for full day hire of a basic 40 seater Tata coach. Expect double this price for a more comfortable and modern Toyota. Minibus prices will start at around €70 but again the price is dependent on the quality and size of the vehicle. While going direct to a coach driver might sound beneficial, these one man bands are also hampered by not having a large fleet. If there is a problem there is no back up.
Some of the larger travel agencies like Japjitravels and India Rent a Car have offices across India. Others are just based in Agra like Exprt Travel India in Rakabganj and Raj Tours and Travels on Fatehabad Road. Our website lists different coach companies and travel agencies in Agra allowing you to compare services and quotes by simply filling in one form.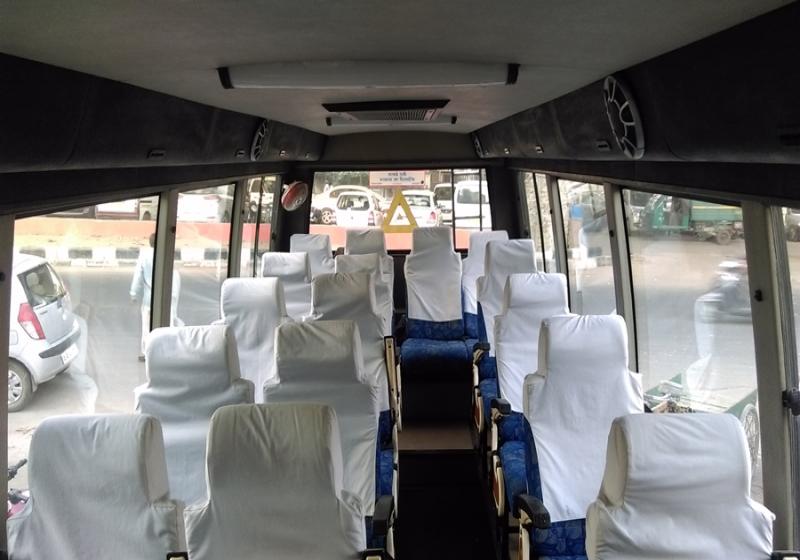 Airport Transfers to reach Agra:
Here below we list 2 options for those tourists and business travellers that want to travel to the city of Agra when getting off the plane
Transfers between Agra Airport (AGR) and Agra city:
As you land in Agra most people are looking out of the window for a glimpse of the Taj Mahal. But what"s this? Not an epic building but a war plane and a load of soldiers! Agra Airport (AGR) is one of the country"s largest air force bases, but it also is the landing point for domestic flights from Delhi, Mumbai, Jaipur, and Varanasi. It"s tiny and is notorious for delayed flights. The local government did have grand plans for a new Taj International Airport, but after years of shouting about how good it would be they recently abandoned the project. Transfer time from the Agra Airport to downtown Agra is only 6kms and a private transfer is both cheap and quick.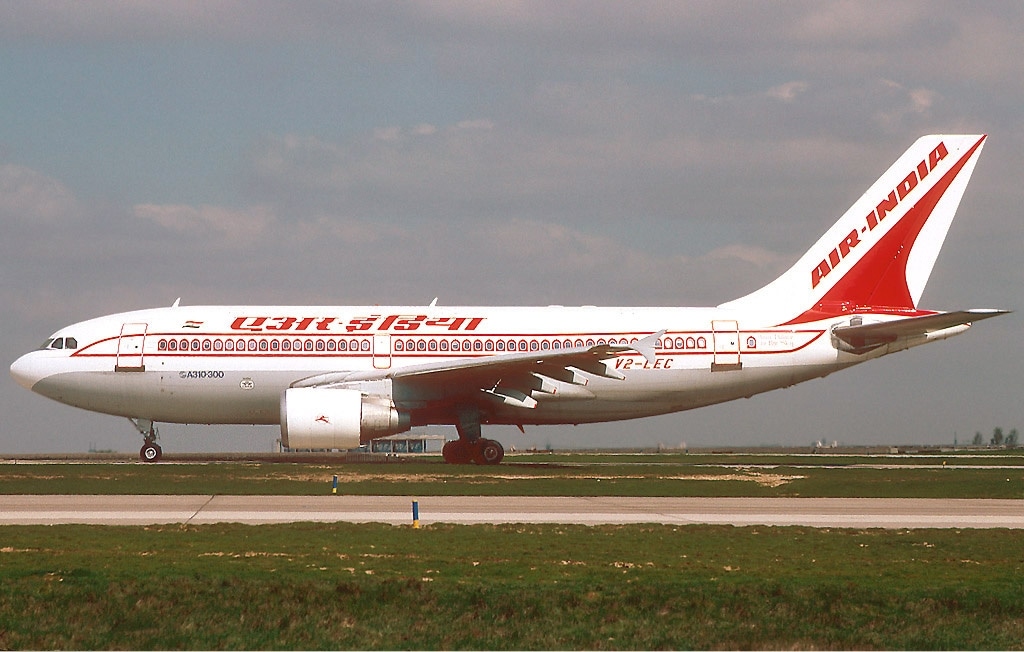 Transfers between Indira Gandhi International Airport and Agra city:
Another option is to land at Indira Gandhi International Airport (DEL) in Delhi and transfer direct to Agra. As the country"s main airport this is an excellent option for people not wanting to waste time in Delhi and head straight for the Taj Mahal. The distance is about 200 km but a private transfer to Agra takes less than 3 hours. If you take a taxi on arrival the sky is the limit when it comes to price. However, pre booking can get you a comfortable car and smiling driver for around €40.
Taxis in Agra:
There are two kinds of taxi in Agra, the local three wheeled tuctucs and the private cars that may or may not have a taxi sign on the roof.
Taxi or private car with driver in Agra:
In general most people hire a taxi for a full day. Taxis range from old Indian Tatas to relatively modern Mercedes, and the prices reflect the levels of comfort. When hiring a taxi for a day many rivers try and take people to souvenir gem or carpet stores. They receive a hefty commission when you buy and getting bombarded by sales people is a rather annoying way to spend an hour. When pre booking a taxi online you can request that these extras are avoided.
Agra private taxi and car rental companies and rates
Taxis for a full day start at around €20 and go up to €50. You can compare taxi prices in Agra and prebook on our website which lists companies like Taxi Hire Agra at Sanjay Palace, Auto Travels in Namner, and Agra Mandal Jeep Taxi Association on Mahatma Gandhi Road.
TucTuc Taxi:
For short single distances it is more convenient to take a tuctuc. These are phenomenally cheap and splutter their way through the traffic to your destination. Tuctucs comfortably seat 2-3 passengers, but if you want to try it the local way then add extra 10 passengers to this number.
Car with Driver Rental in Agra:
The distinction between car with driver and taxi is a confusing one, particularly in Agra where many taxis are hired for a full day. In general taxis will only operate in and around Agra, while hiring a car with driver allows you to travel further afield. Many people use this option to travel across Uttar Pradesh to Varanasi.
Driver with more experience
Car with driver hire usually comes with a driver who is more experienced and better at working with tourists. The best drivers are local guides who are a fountain of knowledge, telling you everything from the best local chai wallah to the history of the Taj Mahal.
Please stay away from "self-drive" car rentals
Why not rent a car and drive yourself? You"ll understand when you arrive in Agra and try negotiating the streets. Not only is the traffic crazy, there are lines of cows and paint throwing pilgrims that must be avoided. Expect similar prices to taxi hire of between €20 – 50 a day dependent on the vehicle and the driver"s experience.
Luxury car from Southern Travels India
Compare Agra car with driver rental companies
Our car with driver rental pages lists different companies that provide this service and you can compare companies like Savaari Car Rentals near Hotel Taj, Shimla Travels at Sanjay Palace, and Divine Travels on Mahatma Gandhi Road.
What to see and visit in Agra
Agra is the tourist centre of India and not only for the Taj Mahal. In many ways your Agra itinerary is pretty obvious, but there are also some hidden attractions to consider.
The Taj Mahal: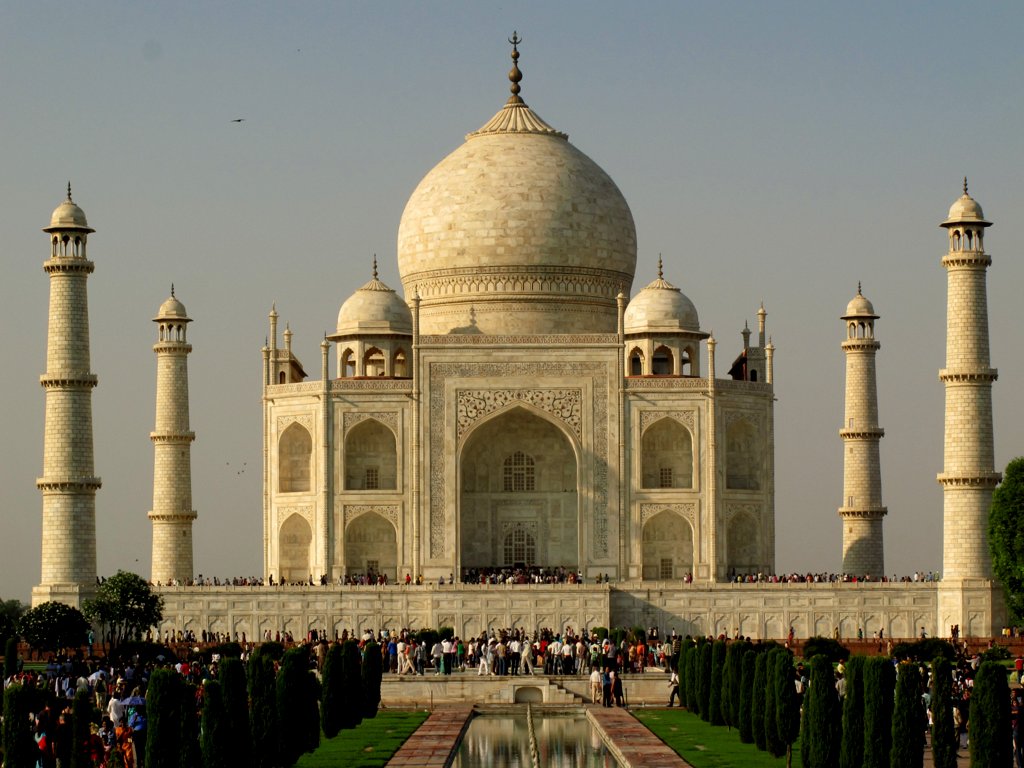 This shot of the Taj Mahal is the one that every tourist makes sure they get. Photo credit: Stephen Bailey
Nobody comes to Agra and doesn"t see the Taj Mahal. Few people come to India without visiting this iconic monument that was built by a Mughal emperor for his wife. Beautiful and unforgettable, this immense marble building is one of the greatest you will ever witness. Forget the photos; nothing is going to compare you for the sight of the Taj. It"s worth coming at different times of day to see how the sun reflects off the marble.
The Red Fort: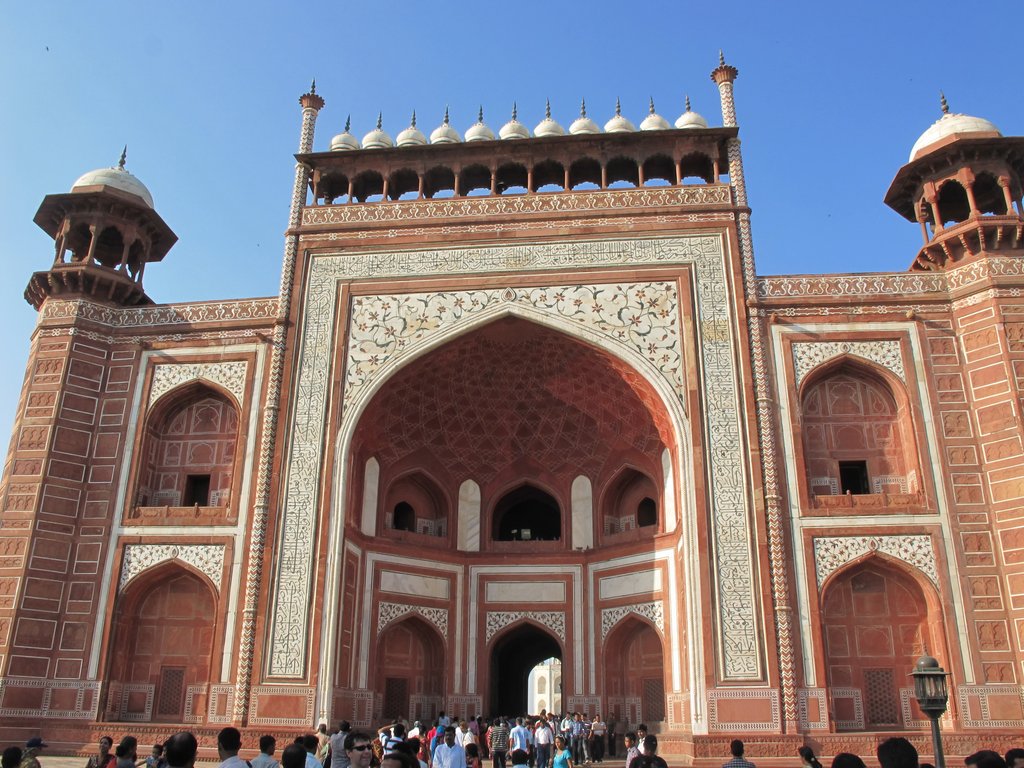 Even the Taj Mahal entrance is spectacular. Photo credit: Stephen Bailey
Agra"s other must see is the wonderfully well preserved Red Fort, built almost exclusively from sandstone in the 16th century. Not only can you explore the many buildings and sculptures, from the fort you"ve also got a grandstand view of the Taj Mahal. While the Red Fort often lives in the Taj"s shadow it easily ranks in India"s top five most impressive buildings.
Other Sights in Agra:
Hiring private transport is essential to getting the most out of Agra. The city itself is dull, polluted, and overrun with touts. But in its heyday it was one of the world"s great cities, and dotted around Agra are phenomenal sights. Take in the authentic temples of Balkeshwar or Kailash, ancient structures with a very modern spirituality. Or discover just how impressive an old Indian tomb can be by visiting Sikandra or Mariam"s tomb. Finally take in the gardens of Mehtab Bagh or Soami Bagh. The latter is a complex concoction of marble that will take almost 200 years to complete!
Fatehpur Sikri:
This city was the capital of the Mughal Empire from 1571 to 1585. After spending decades building an imperial complex the emperors abandoned their home almost immediately after it was finished. Lying 40 kms away from Agra, this UNESCO sight is a mix of carefully preserved sandstone halls and forgotten ruins. Walk into the palace and you"re hit by a wonderful wall of deep red. Again if it wasn"t for the nearby Taj Mahal this would be one of the most talked about attractions. As it is you can come here and find hardly any tourists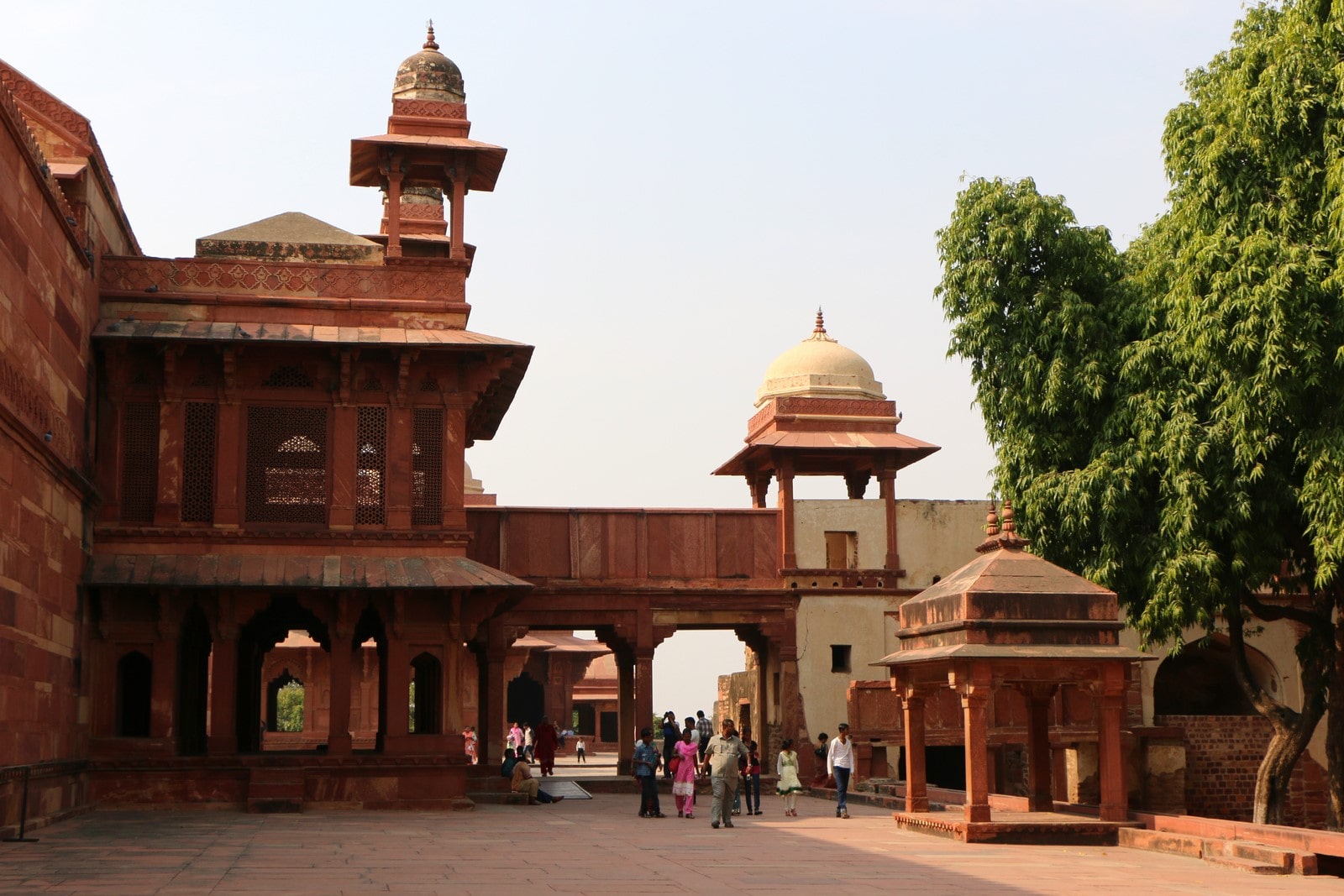 Fatehpur sikri is one of the famous places admired by tourists in Agra.
Place for an authentic dinner:
Outside the attractions Agra has little to offer. Touts annoy people, monkeys go around stealing fruit from pockets, and pollution dominates the streets. However, this is where you can find some of the country"s best local food. Either asks your driver for a local recommendation and go to a local curry house where meals cost less than €1. Or spend ten times the money in a post hotel restaurant. The quality of food will be the same, but the latter is a better choice for avoiding running to the toilet 12 times a day.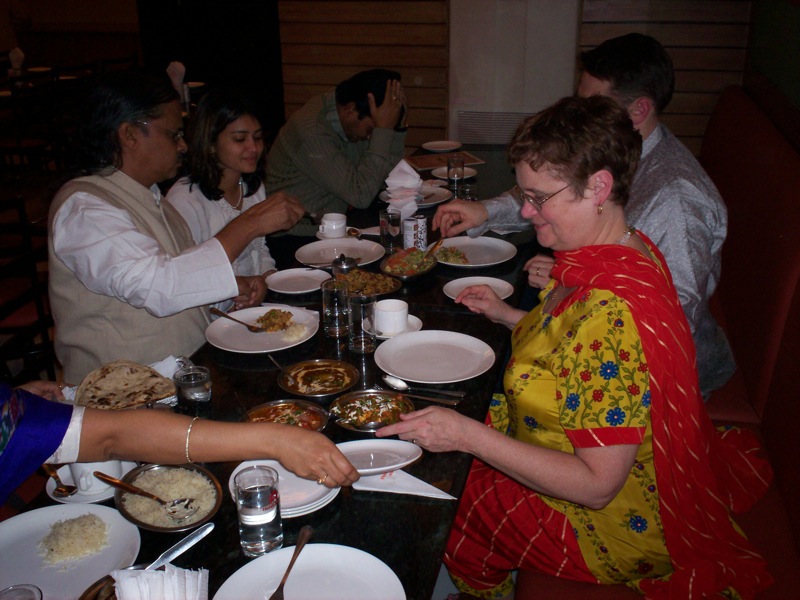 Delicious food are available at restaurants in Agra.
Options for tourist transport in Agra
Do you want to go sightseeing in and around Agra? Do you want to visit other cities in the region of Uttar Pradesh? Get ideas for tours and city trips in the region Uttar Pradesh here.