Plan to hire a coach, bus or minibus or do you need airport transfers in the region of Uttar Pradesh ? Looking for tour and travel services like taxi, car with driver rentals or other chauffeured transportation options in the surroundings of Uttar Pradesh? No costs to compare offers from transportation companies and travel agents that rent and organize vehicles with a chauffeur around Uttar Pradesh in India. No more calls!
Start using our transport services in the region of Uttar Pradesh, by filling out the form below.
About tourism in the state Uttar Pradesh
Bang in the centre of Northern India, Uttar Pradesh is a large state that"s bigger than most European nations. It"s where you"ll find a real unadulterated version of India, including burning dead bodies, the world"s most beautiful building, and millions of dedicated pilgrims. At some times Uttar Pradesh is an intense experience, yet it contains two of India"s most famous tourist destinations. Agra and the Taj Mahal are at one end, and India"s holiest city, Varanasi, is at the other. Don"t come to Uttar Pradesh to relax during your holidays, this is India"s most populated state. But if you want to see real India in all its vibrant life and colours there is no state that offers as much.
Basai Khurd, Agra, Uttar Pradesh
Transport and Travel Connections in Uttar Pradesh State
If Uttar Pradesh was to declare independence then it would be the world"s 5th most populated country. Almost 200 million people live here and such numbers require a huge transport infrastructure. This infrastructure does exist; 3 international airports, a large rail network, and tired roads stretching into every corner of the state. However, it"s a state that takes overcrowding to a new level. If you see a tic-tac in Uttar Pradesh it will probably have 12 passengers and a cow on the roof. If a train goes past there will be a whole army of people hanging from the sides of the carriage. Ultimately Uttar Pradesh is an adventure, and you will always get to where you"re going. We list tour and travel services in Uttar Pradesh, like transportation with a private chauffeur to places like Agra, Varanasi, Lucknow, Uttarakhand, Kanpur, Allahabad and all other destinations.
Travel by Plane / flight:
Uttar Pradesh has two international airports and a further six domestic airports. However, when they claim international it only means that they have flights to neighbouring Nepal or Sri Lanka. For foreign visitors there are two airports of real importance. These allow people to avoid the long distances and fly direct into two of the country"s main tourists destinations.
Varanasi Airport (VNS):
Lal Bahadur Shastri International Airport (VNS), or Varanasi Airport to keeps things simpler, is 18 km from the holy city of Varanasi. Fortunately, unlike the trains, pilgrims don"t bring dead bodies onto the plane as they take them to Varanasi to be burnt.
Agra Airport (AGR):
Officially Agra Airport is a military air base that is also used by Air India. Flights arrive from Delhi, Mumbai, and Varanasi, making it the quickest way to reach Agra and the famous Taj Mahal. There were plans for a Taj International Airport, but after five years of talking about how great they are the whole project was ditched – which visitors to India may recognise as a common personality trait amongst many local men. Lucknow International Airport (LKO) is also in Uttar Pradesh although it"s rarely used by foreigners.
Travel by train in Uttar Pradesh:
Travelling in Uttar Pradesh by train is an unforgettable experience. With 200 million people it doesn"t matter how long you make the trains, there is never going to be enough room. Pilgrims cling to the outside of carriages, snake charmers use cobras to scam money off people, and ladyboys run on the train and slap people until they hand over enough rupees for a samosa.
Going by train is intense. A never ending succession of colours and faces pass by the window and if you"re lucky you"ll have enough room to put your bum on a hard bench. In this state trains are booked up long in advance, so plan ahead and get your tickets a few weeks before if you want to have anything as luxurious as a bed.
Travel on the Uttar Pradesh roads: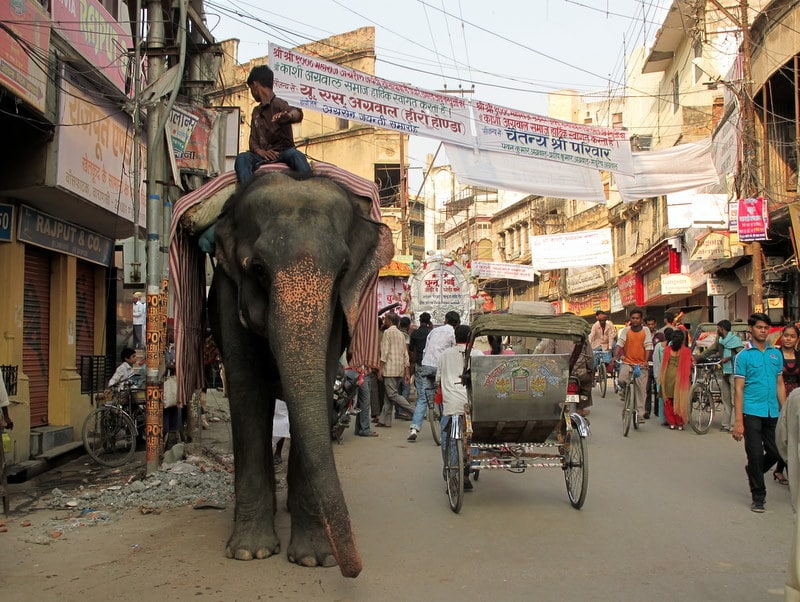 Rather than take a taxi, some locals go by elephant through the streets. Photo credit: Stephen Bailey
Uttar Pradesh has the infrastructure, but the roads are tired and overused. Public buses are slower than and equally as crowded as the trains, so they"re not recommended unless you like sharing your seat. However, by private transport the roads can be an efficient way of getting around. A lot depends on planning the time of day you travel, and ensuring you have a Agra based rental car with a local driver who understands the mentality of everyone else on the road. If a car indicates left that"s because he accidentally turned it on when looking for the horn. In tight spaces it"s important to accelerate and show that you"re boss. If in doubt about directions stop in the middle of the highway and consult the map.
Driving isn"t for the feint hearted, but with a rented with a car private driver from Varanasi you can just sit back and watch the madness unfold. Painted cows suddenly emerge on the highway, bare foot locals run to the windows with flowers, and rickshaws try undertaking coaches. It"s somehow safe on the roads, you just need to get used to the sights. And what sights. If you want to see real India there is nothing more authentic and exciting than the view from the window when you travel.
What to see and visit in Uttar Pradesh State
Uttar Pradesh is a huge state. For tourism it"s famed for two cities that are on almost everyone"s must see India list. But there are also plenty of less heralded destinations for those looking to get off the beaten track. Furthermore, the proximity to Delhi and airports at Varanasi and Agra make Uttar Pradesh achievable for people with limited time.
Tour with a private driver:
Uttar Pradesh can be challenging on public transport, especially if you value space or cleanliness. Taking a car with a private driver is the most popular option for individuals and small groups, and coach hire around sights in Agra is popular with larger groups. It allows you to sit back and watch the sights and colours flash by the window.
What to see in Uttar Pradesh:
Uttar Pradesh is a large state with two world class tourist attractions. But there is a lot more in between these two places. India"s holiest river, the Ganges, runs through the state and it"s this water that connects the destinations.
The Taj Mahal: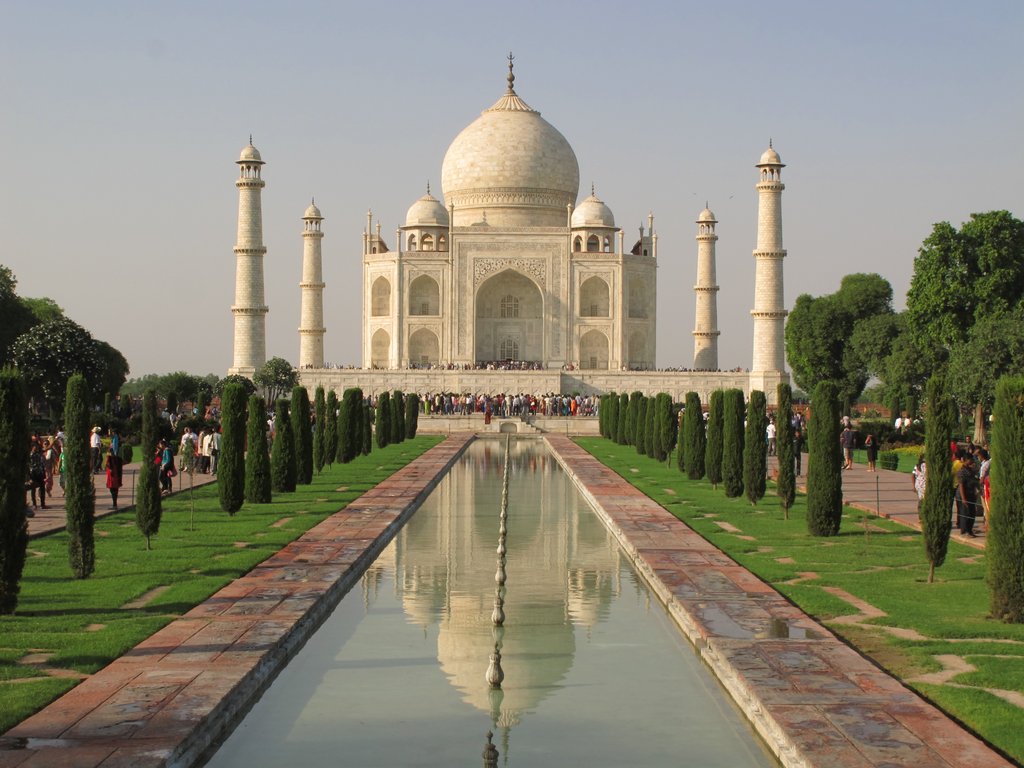 The Taj Mahal"s reflection in the water is another of its charms. Photo credit: Stephen Bailey
Agra is the home of one of the world"s most famous buildings, the Taj Mahal. Few people have never seen a photo of it, but little prepares you for your first sight of this regal monument. It changes colour throughout the day as the sun changes position, so it"s good to enter a different times to appreciate its beauty. There are lots of other tourists but what do you expect? Some monuments don"t quite respond to the hype, but the Taj Mahal is nothing other than out of this world.
Agra: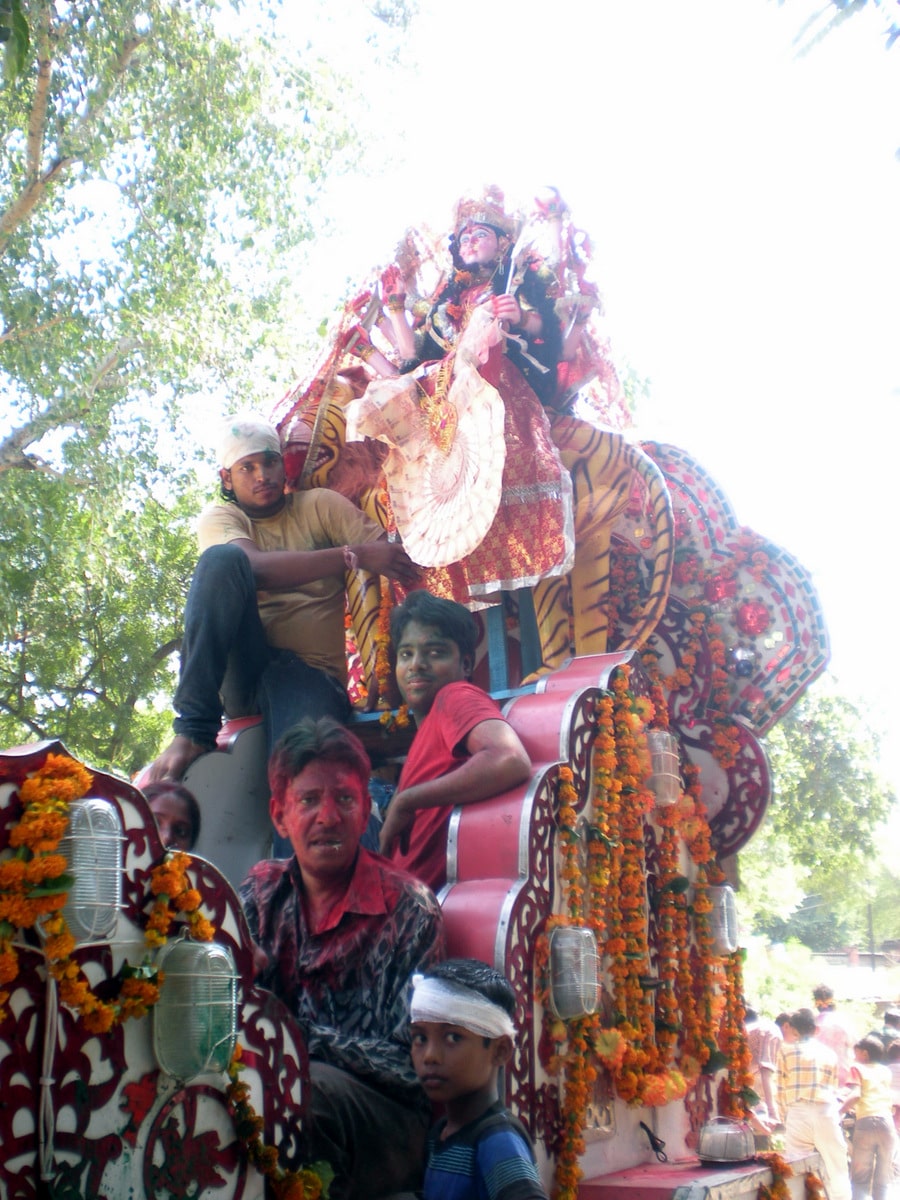 Driving in Agra can be challenging with the many street processions that go through the city. Photo credit: Stephen Bailey
But there is much more to Agra. This is one of India"s old regal cities, from the time of the Mughal Empire. Many people are so fascinated by the Taj that they ignore the UNESCO world heritage sites of the Agra Fort and Fatehpur Sikri. So allow at least two days in your bus tour to see everything. Agra is also a city of festivals. If locals walk past you throwing explosions of powdered paint think twice before taking photos. These joyous parades will throw colourful powder at anyone who looks at them, including cows.
Varanasi: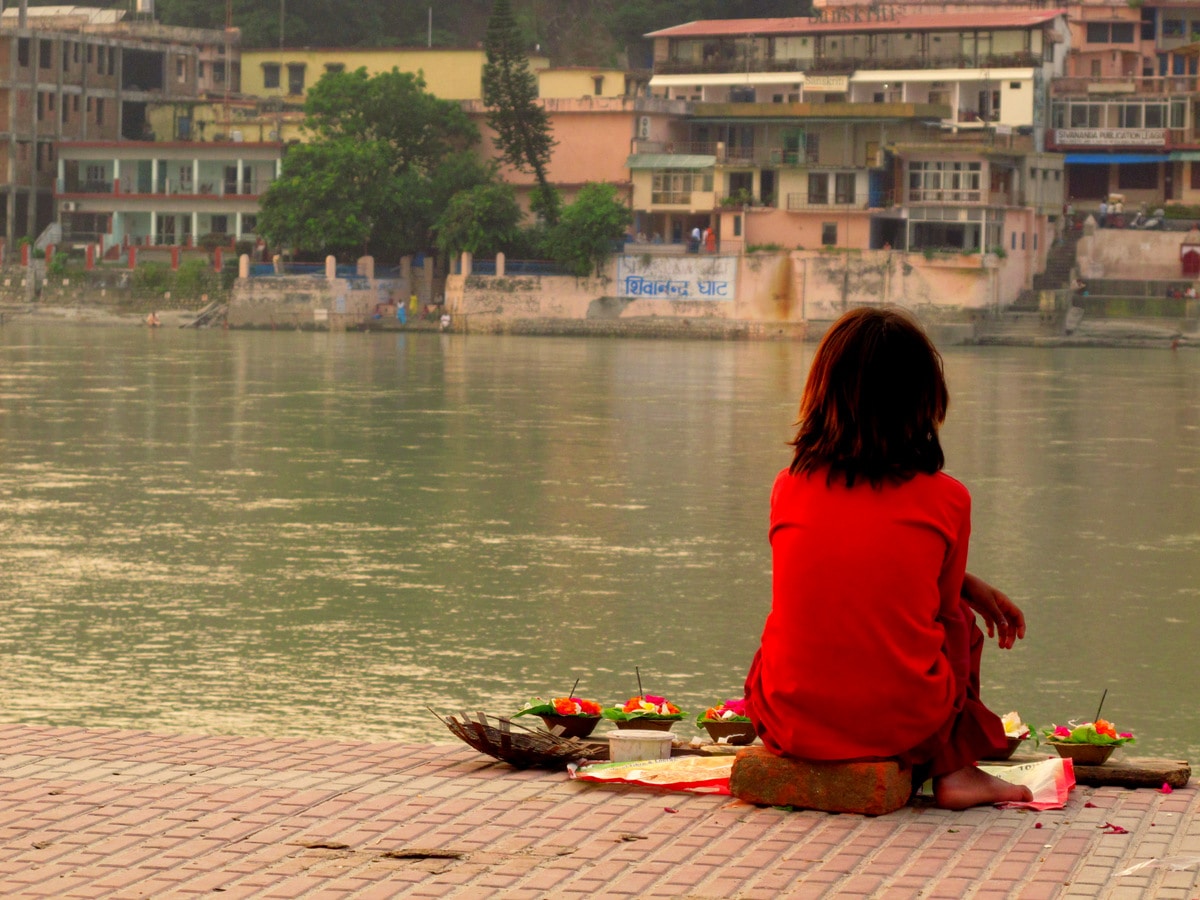 All life in Varanasi is concentrated on the holy Ganges River. Photo credit: Stephen Bailey
India"s holiest city is a labyrinth of enchantment and spooky atmosphere. It"s one of the oldest inhabited cities in the world and everything has been built around from the sacred Ganges River. Houses in Varanasi are so closed together inside the old town that there is barely enough room for two people to walk past each other. Not good when a funeral procession comes the other way, or a cow goes to sleep in the path.
There are hundreds of temples in Varanasi, not the good looking showing off kind, but ones where you"ll witness a deep spirituality. Pilgrims bathe in the filthy Ganges River, and holy babas wander the streets with snakes and orange robes. And every day, around 200 dead bodies are publicly burnt beside the river in what is the greatest funeral a Hindi can be given. Varanasi encapsulates everything that is good and bad about India and can be an overwhelming part of your tour. However, it"s the place that absolutely nobody forgets.
Other destinations in Uttar Pradesh
Agra is in the west of the state, with Varanasi in the east. But between them, along the Ganges river, is a succession of holy and historical destinations that don"t get the same tourist numbers. Try Allahabad, a holy destination where three rivers converge. The historic cities of Rokhilkhand and Bundelkhand have been well preserved and hint at the greatness from many centuries ago. State Capital Lucknow has many sights and is the heart of the state"s cultural scene. It"s an unruly and over-crowded city with many hidden attractions if you know where to look.
It is a famous place of Lucknow and tourist usually come to visit here
Moving on from Uttar Pradesh
Located in the centre of Northern India it"s straightforward to combine a trip to Uttar Pradesh with other states and destinations. Use Varanasi or Agra airports to exit or enter the state, and move on by road to places like Delhi or any of the great cities of Rajasthan.
Travel services in Uttar Pradesh
You can plan group travel in Uttar Pradesh with our online quote request system and plot your entire route. For example, you can plot the entire route of the tour we describe above. Travel in Uttar Pradesh province has never been easier: start today!
Cities in Uttar Pradesh
Varanasi
Agra
Travel services in Uttar Pradesh
You can plan group travel in Uttar Pradesh with our online quote request system and plot your entire route. For example, you can plot the entire route of the tour we describe above. Travel in Uttar Pradesh province has never been easier: start today!