Compare coach & minibus hire companies in Leeds! Use our reviews and comparison grid for insights in making the best choice. We allow you to compare multiple offers from various Leeds based bus rental with driver companies. We'll help you to find companies that match your bus transport needs. We list all kinds of mini-bus and coach rental companies from those specialized in transfers by vans to those with fleets of only full size motor coach busses. Companies specialized in local transfers and day trips in UK or companies touring across multiple countries.
Coach and minibus rental with driver companies in Leeds
In Leeds you can hire transport by a coach or minibus at one of a large number of bus rental companies. Bus and coach companies work with a variety of clients, including bus routes, schools, and corporate clients, local and international tourists. Hunters Coaches is one of the bus rental companies and is based on 23 Tynwald Road. They rent standard 50+ seater coaches as well as smaller minibuses with 9 and 16 passengers. They also provide transportation to and from airport. This company is well known in Leeds and has a good reputation. Other bus companies also have a varied fleet of vehicles and vehicles with driver, for example: Star Coaches situated 25 Talbot Street in Batley, Jab Coach Hire located on Wellington Street in Leeds and Magnet Express Coach Hire on Inner Ring Road in Leeds. Would you like to rent a bus in Leeds? You can find a selection of bus rental companies with their profiles on our bus rental Leeds page.
Coach companies will provide a bespoke quote for your group. As a general guide prices for a large coach will start at £350 – 400 for full day hire. If you are travelling more than 150 miles then the price will be roughly £2 – 3 per mile. Expect local drivers who are famously friendly, and will speak with a very strong local Yorkshire accent. They are often full of jokes to keep you entertained.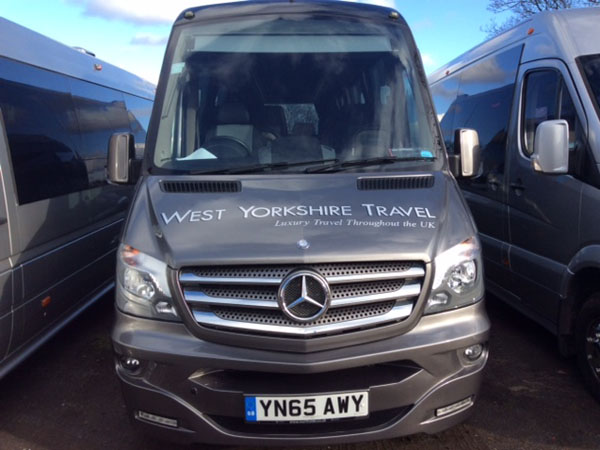 Leeds mini-bus hire and coach rental companies with driver and minibus hire companies with driver
Company
Vehicles
Client rating
More about Leeds mini-bus and coach hires and tours
Would you like to discover more about bus rental in Leeds and coach hire with driver, tours and tourist attractions? Want to have an indication of price ranges for rentals of buses in Leeds? Check out our pages about: