Compare coach & minibus hire companies in Ipswich! Use our reviews and comparison grid for insights in making the best choice. We allow you to compare multiple offers from various Ipswich based bus rental with driver companies. We'll help you to find companies that match your bus transport needs. We list all kinds of mini-bus and coach rental companies from those specialized in transfers by vans to those with fleets of only full size motor coach busses. Companies specialized in local transfers and day trips in UK or companies touring across multiple countries.
Bus and coach rental with driver companies in Ipswich
In the city of Ipswich there are several bus rental companies where you can rent a bus or mini bus. Would you like to rent a bus in Ipswich? You can find a selection of bus rental companies with their profiles on our bus rental Ipswich page. Some companies where you can hire a bus are:
* Galloway Travel Group offers luxury buses, ranging from 29 to 53 seats, including the luxury coaches with extra legroom and trunk space. The Star Sapphire is their "Rolls Royce" among their coaches, with more seating space, more comfort and higher seats for a better view out the windows. They also provide double decker and located at 7-9, The Walk, City Centre.
* JR Travel Taxi service is specialized in transport to and from the airports and the local ports. JR Travel offers Mercedes, Mercedes Benz Travel Liners, but also luxury buses for 16, 28, or 39 people. They are located at Little Copdock House, Old London Road.
* Harlequin Travel offers minibuses, for example for day trips, theatre or nightclub visits, weddings, sports events and school trips. With over 21 years of experience, this family-run business is definitely a good choice. They are located at 77 Lanercost Way.
* Carters Coach Service has a classic English double decker bus, which is great if you are having a party or a event! Of course they also have modern buses. They are located at London Road, Capel St Mary.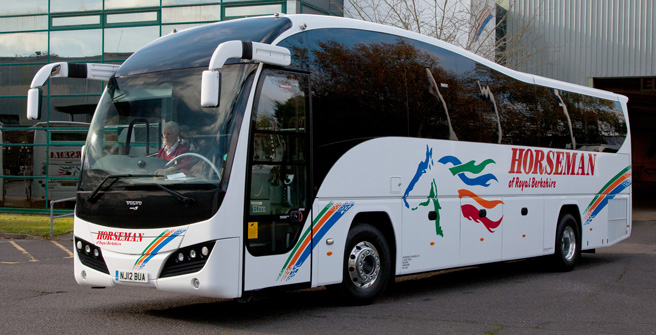 Ipswich mini-bus hire and coach rental companies with driver and minibus hire companies with driver
Company
Vehicles
Client rating
More about Ipswich mini-bus and coach hires and tours
Would you like to discover more about bus rental in Ipswich and coach hire with driver, tours and tourist attractions? Want to have an indication of price ranges for rentals of buses in Ipswich? Check out our pages about: