Compare coach & minibus hire companies in Sheffield! Use our reviews and comparison grid for insights in making the best choice. We allow you to compare multiple offers from various Sheffield based bus rental with driver companies. We'll help you to find companies that match your bus transport needs. We list all kinds of mini-bus and coach rental companies from those specialized in transfers by vans to those with fleets of only full size motor coach busses. Companies specialized in local transfers and day trips in UK or companies touring across multiple countries.
Bus and coach rental companies in Sheffield
In and around Sheffield there are several coach hire companies where you can hire a mini-bus or coach. There are about 30 coach hire companies. Would you like to rent a bus in Sheffield? You can find a selection of bus rental companies with their profiles on our bus rental Sheffield page. For example, Central Travel located at 313 Coleford Road. One of the drivers from this company specializes in giving tourists a city tour that takes in all of Sheffield"s highlights. Another company is called Heaton"s Coaches and is located at 66 Pollard Avenue. It has a large fleet of vehicles from 16 up to 70 people. Coach drivers are normally full of sarcasm and sometimes people take the local humour the wrong way. Don"t get offended, making a joke is usually their way of showing affection.
Keats Travel is located in the north of Sheffield at Godric Road. Keats Travel has several buses from 35 up to 70 seats. TM Travel is located southeast of Sheffield on Station Road. This company has buses available from 33 up to 70 seats, and they also have Double Decker vehicles with 77 seats, perfect for those wanting to have a personal experience with an iconic two story English bus. For smaller minibuses, companies like Martini Executive Travel at Willow Road specialize in 12 and 16 seated vehicles for your group. Large coaches will typically cost around £350 – 400 for a full day if staying in South Yorkshire. For trips outside the region expect to pay around £2-3 per mile travelled.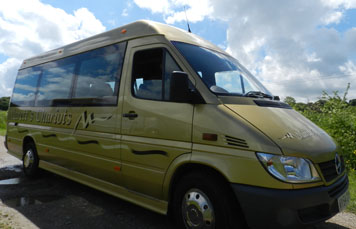 Sheffield mini-bus hire and coach rental companies with driver and minibus hire companies with driver
Company
Vehicles
Client rating
More about Sheffield mini-bus and coach hires and tours
Would you like to discover more about bus rental in Sheffield and coach hire with driver, tours and tourist attractions? Want to have an indication of price ranges for rentals of buses in Sheffield? Check out our pages about: