Useful tips for Alicante bus groups with 'what to see' and 'what to do' items and  'bus- friendly' or must see tourist sites in Alicante. Check our list of attractions before planning your bus tour with a stop or departure in Alicante. Let us know if your favourite attraction or 'bus-stop' is not there and you think we should add it to our list of Alicante highlights.
What to see and do in Alicante with coach or minibus hire
You can rent a bus for group in the city or in Alicante Province. Even though tourism options in Alicante are limitless, we've made a short summary of some interesting trips, such as Visiting Alicante's Historical Downtown. The City Hall Plaza (Plaza del Ayuntamiento), with the baroque façade of the City Hall (Casa Consistorial), is another one of the most important places of the historic district. Behind it are two buildings of importance, the Jesuit College (el Colegio de la Compañía de Jesús) and the Unified Cathedral of Saint Nicholas (la Concatedral de San Nicolás), which was built in 1662.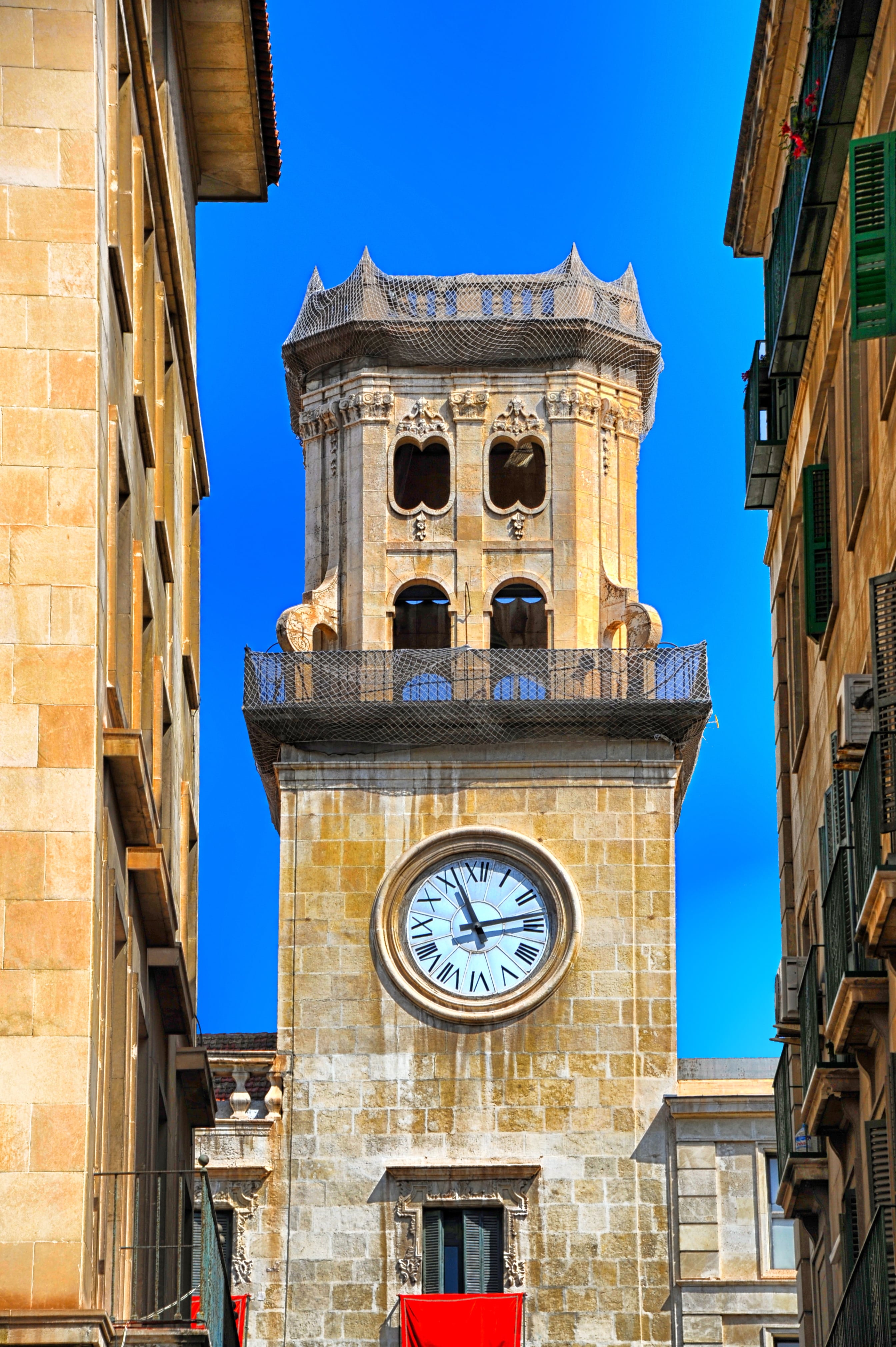 Clock Tower Town House Alicante
One thing you definitely must do
Visit the Door of the Ocean (Puerta del Mar), continuing with a trip along The Boulevard (la Rambla) which clearly delineates the old town from the historic downtown. One must-see on this route is the city's most important celebration, The Bonfires of Saint John (Las Hogueras de San Juan), recognized as an International Tourist Point of Interest, which is celebrated during the month of June with music, fire, and traditional costumes which represent tradition.
Plaza Gabriel Miró
This plaza was built in the 19th century and is a symbol of the bourgeoisie and architectural beauty of that era. The Principal Theatre of Alicante (el Teatro Principal de Alicante), established in 1847, belongs to the neoclassical style and its interior consists of three areas: the stage, the lobby, and the horse-shoe shaped seating area. When traveling from the theatre to downtown, you can take a walk along Avenida de la Constitución, where Casa de Socorro, a symbol of the golden age of cinema, is located.

Alicante in Elche Giugno, Home theater
Alicante Bicycle Tours and Rentals
Alicante has also joined the green movement, creating mountain bike routes. There are places where the inhabitants of the city can rent a bike, such as Alabici, which is a public bicycle rental service, and there are also businesses that rent bicycles to tourists along with tourist guides on their routes, such as Sport Bike Alicante and Mountain Bike Alicante.
Another Must-See Tour
The Central Market (el Mercado Central) was built in 1911 and 1912 on top of the 18th century wall. It"s shaped like a basilica with a rectangular base covered by a cupola known as "La Rotonda" (The Rotunda). When you"re done visiting the market you can stop by Avenida Alfonso X el Sabio.
You can take a bus or taxi to Bright Stars Plaza (la Plaza de los Luceros), the center of the urban renewal that took place after the walls of the city were torn down; this plaza is the central hub from which the main avenues of the city were built. You could end your tour with a visit to Alicante"s City Hall (la Diputación), which was built in 1928 by Juan Vidal Ramos. Located within is Celebrity Garden (el Jardín de las Celebredades), which has a notable gallery and a collection of monuments in honor of various famous people from Alicante.
Beaches in Alicante
People who love sunshine and the ocean should take advantage of the opportunity to enjoy the beaches that the province of Alicante offers. The best-known one is Levante Beach (la Playa de Levante) in Benidorm which is 38 km (24 miles) long and has everything you could want or expect from a beach. Other options include Port Mauri Beach in Calpe, which has fine sand and moderate occupancy, Les Marins Beach in Denia, a semi-urban beach with fine sand, or Castaway Beach (la Playa del los Naufragos) in Torrevieja, an open, urban beach that also has fine sand.
Attraction parks of Alicante province in minibús rental with chauffeur
You definitely won"t want to miss this province"s amusement parks, which are sure to provide a good time for both young and old, such as Pola Park Santa Pola located in Santa Pola, which has large attractions, walkways, and gardens, illuminated streets that include go karts, skytrains, roller coasters, and a great variety of games as well as places to stop and get a bite to eat. There"s also Tierra Mítica (The Land of Legends) in Benidorm, where a wide variety of games and rides take you on a tour of thousands of years of history. Another good one is Cortylandia Elche located in Elche, where the entire family can enjoy a day full of fun and adventure in the airplanes, mazes, inflatable castles, and even a magic train. Or there"s Aqualandia in Benidorm, an incredible water park that offers a wonderful variety of water rides to enjoy between swimming sessions, such as water slides, zig-zags, pools, and rapids. This park also has places to eat and rest so you can recharge your batteries before heading out for more fun.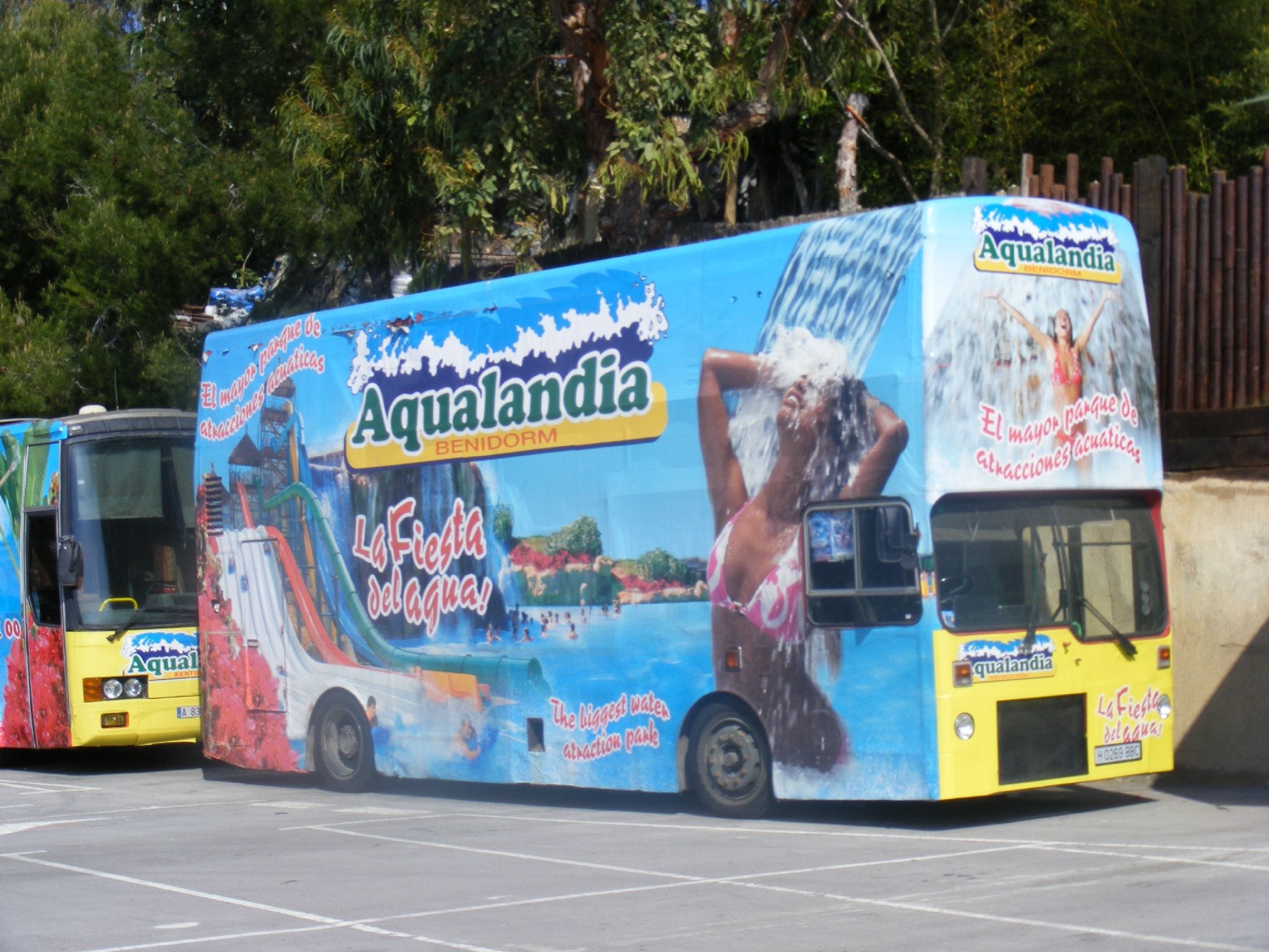 Metrobus to move to Benidorm
Restaurants
When it comes time to decide where to eat, you could head to el Restaurante Quique Dacosta in Denia, which features attractive, modern decor and haute cuisine, Restaurante La Finca in Elche, located in a huge restored farm house, which offers cuisine for sophisticated palates, or Restaurante Xiri in Monovar, located in an old Valencian house with huge windows and a pine tree park, Xiri also offers unique dishes.
What to see during your tour in Alicante with a rented minibus with driver
If you want to rent a bus with driver for an excursion or trip that originates or terminates in Alicante, we suggest including these trips in your itinerary:
Maisonnave Palace
Located in the middle of the historic district on Labradores Street, this palace was built in the eighteenth century. It has three stories linked by a principal staircase and features natural illumination and archeological artifacts from a late Roman necropolis that were found inside.
Casa Carbonell
Built in 1925, this is one of the most famous buildings in the city of Alicante. It now features apartments and a commercial center where you can have a great time going shopping. We suggest to ask your minibus driver to help you to carry all the bought gifts.
Canalejas Park
Located in the Santa Cruz section of the city, also known as the historic district, this park is ideal for enjoying the open air and relaxing under its century-old fig trees. The driver of your rented minibus can relax a little too.
The House of Witches (La Casa de las Brujas)
Built during the twentieth century, this park is located on Doctor Gadea Street, has been declared a Cultural Point of Interest, and is one of the most unusual buildings in downtown Alicante.
Madera Way
For those who want to enjoy the nightlife, this an area where you can find a variety of pubs and bars with alternative music. This area is close to Central Market (Mercado Central).
None