Compare coach & minibus hire companies in Porto! Use our reviews and comparison grid for insights in making the best choice. We allow you to compare multiple offers from various Porto based bus rental with driver companies. We'll help you to find companies that match your bus transport needs. We list all kinds of mini-bus and coach rental companies from those specialized in transfers by vans to those with fleets of only full size motor coach busses. Companies specialized in local transfers and day trips in Portugal or companies touring across multiple countries.
Minibuses and coach rental companies in Porto
One day walking the streets of Porto will convince anyone that hiring private transport is the way forward. While the steep hills might look pretty, they"re torturous on the legs. It"s much easier to have somebody driving you around. Minibus and coach rental is a popular option in Porto and there are around 15 different minibus and coach rental companies. These often work with business and corporate clients, after all, Porto is the economic and business centre of Portugal. For example, VT Bus on Rua de Julio Dinis services a wide range of clients. A handful of companies have tailored their services towards the tourism market. These include the likes of Viagens e Turismo LDA on Rua J"lio Dinis and Eurotur on Avenida Fernao de Magalhaes. Would you like to rent a bus in Porto? You can find a selection of bus rental companies with their profiles on our bus rental Porto page.
Despite its historic attractions, Porto is a modern city and offers excellent coach and minibus services. You can expect luxurious vehicles and companies to have a wide ranging fleet, from 8 and 16 seater minibus to small 27 seater coaches, and large 53 seater coaches. Our site lists different Porto coach rental companies so you can compare quotes and services provided.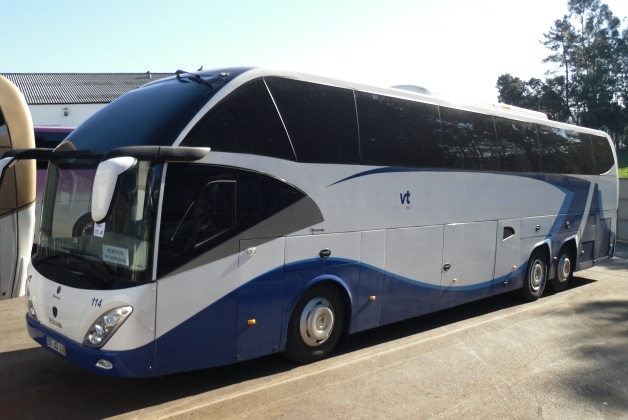 Porto mini-bus hire and coach rental companies with driver and minibus hire companies with driver
Company
Vehicles
Client rating
More about Porto mini-bus and coach hires and tours
Would you like to discover more about bus rental in Porto and coach hire with driver, tours and tourist attractions? Want to have an indication of price ranges for rentals of buses in Porto? Check out our pages about: