Useful tips for Trento bus groups with 'what to see' and 'what to do' items and  'bus- friendly' or must see tourist sites in Trento. Check our list of attractions before planning your bus tour with a stop or departure in Trento. Let us know if your favourite attraction or 'bus-stop' is not there and you think we should add it to our list of Trento highlights.
Sights to see in Trento with your rental bus and minibus with driver
We have selected some activities and attractions in and around the city of Trento perfect for when group touring with your rental bus with driver.
Excursion by bus or minibus with driver from Trento
Visit to the Natural Park of Sciliar-Catinaccio
The Natural Park of Sciliar-Catinaccio is located at an hour and half drive by coach, or 80 kilometres away from Trento. The chain of dolomitic mountains located there was declared UNESCO's heritage in 2009, so only for that reason it is worth going up there. As occurs in many parks of these characteristics, there are routes and excursions for all tastes, included those more difficult for lovers of the mountainside that are more expert. If you are not so, you will also find short and not-so-steep trails to follow calmly. In any case, the views are breath-taking, not in vain this is a place known by lovers of alpinism around the world. If you organize a departure by minibus or coach, than agree upfront with the bus company what will be the approximate driving time since in the mountains all vehicles go slower than expected. The larger buses accelerate more slowly so they take more time to drive along mountain roads.
Visit Innsbruck in only 2 hours by
Perhaps in your original plan you did not include a tourist visit to the city of Innsbruck but as you are here, you can take advantage and cross to the other side of the Alps. Visit palaces or visit the Church of the Court of Hofkirche in Innsbruck, an impressive temple surrounded by statues. You can also visit the Cathedral of St James, with a dazzling baroque interior.
The old city centre is also worth, no doubt, and you can try some Tyrolean specialties like schnitzel, namely, breaded steak.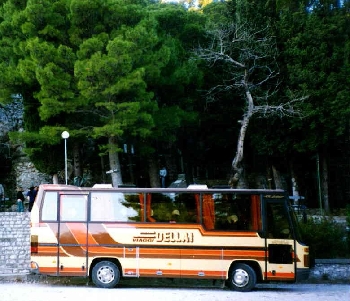 Midibus from Club Dellai
Visits inside Trento without the need for bus
Park the bus and the driver just outside Trento since to visit these attractions you don"t need the bus:
Piazza del Duomo: it is true that many Italian cities have a "piazza del duomo" of great beauty, but there are those who consider that this main square of Trento is one of the most beautiful urban squares in the world. Presided over by the impressive cathedral and surrounded by buildings from 1.400 and 1.500, with the tops of the Dolomite mountains in the background, it is certainly a place that deserves a stop to taste an ice-cream and contemplate it with calm. Besides, the "duomo" or Cathedral of San Vigilio will also be a pleasant surprise in its Baroque interior.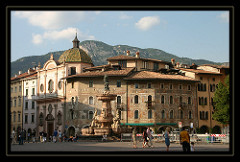 Walking around Duomo square
Fountain of Neptune: this fountain, one of the most loved by the inhabitants of Trento is located in the centre of the square of the Cathedral. It was built in 1767 and it is believed that its builder was the one who devised the system so that the water arose without interruption.
Museum of the Sciences: Yes, we already know that a visit to a museum dedicated to science does not sound very holiday-like, but this place has been chosen by travellers as the most interesting of 2016, so... don't be afraid and enjoy of its five floors and modern facilities. If you travel with children, no doubt they will thank you for this visit! The Museum is located in Via del Lavoro e della Scienza 3, not far from the right bank of the Adige river.
Castle of the Buonconsiglio: this is the most important artistic and monumental complex of the region of Trentino Alto Adige. Its origin lies in the 13th century and it consists of four buildings from different eras, but the most interesting is the collection of art and archaeology, which houses the complex as a museum. The castle is located in Via Bernardo Clesio, 5.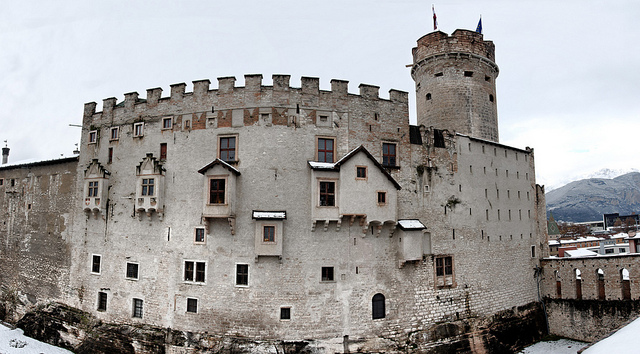 Castle of the Buonconsiglio
Christmas market: If you have the possibility to travel to Trento in November or December, you can enjoy a really charming activity and very loved by the inhabitants of the city, as is the market that is specially set for Christmas. Like in Naples, this flea market of Trento is famous throughout Italy and it attracts a lot of people. It stands in Piazza Fiera and surroundings, and the ambiance and the food that you can taste will make without doubt this activity one that you can enjoy if you travel in family.
Tasting of wines in the Palace of Roccabruna: few times a single activity can reunite oenology with history and architecture. In this very special winery you can do it, since it is a Palace of the 16th century, that once housed a Spanish count emissary of the King, and in which thematic tastings are organized every week, by a really friendly and enthusiastic staff. The wines of the region are likely to be a pleasant surprise. The Palace is located in Via S.Trinità, close to the Cathedral square.
Nightlife and drinks: for a city as "Catholic", or at least known by its famous Council, Trento is quite lively at night. The offer of places is wide, but if you want to eat something simple and take a good cocktail in the middle of your stroll through the heart of the city, the Oriola 2 Michelle bar is one of the most appreciated by the inhabitants. It is in Via Oriola 28, near the Cathedral Square, and the wines they offer are celebrated by locals and visitors alike.
Walking or by bus with driver around Trento?
The attractions or points of interest that we have pointed out on this tour are all inside of what could be considered the centre of the city, or at a distance that you can cover walking (no need to be an athlete, of course!). Therefore, the rental bus may be parked in this visit to Trento, and the driver can take his mandatory break. But yes, perhaps you want to invite him to accompany you on your wine tasting, taking advantage of the fact that he does not have to drive!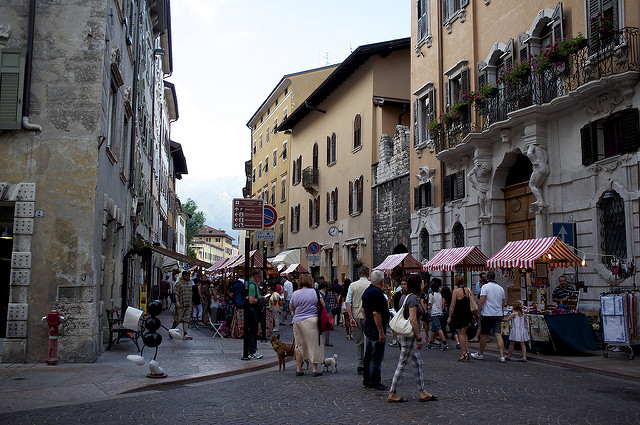 Tours in Trento
You can rent a bus in Trenbto for tours in the city or in the region of Trentino. The Dolomite mountains are the privileged background that enhances the beauty of the city of Trento, framed between the latter and the Adige river. It is a small city in terms of population but quite extensive in territory and in the most mountainous region of all, hindering a little more road transport, especially in the winter time.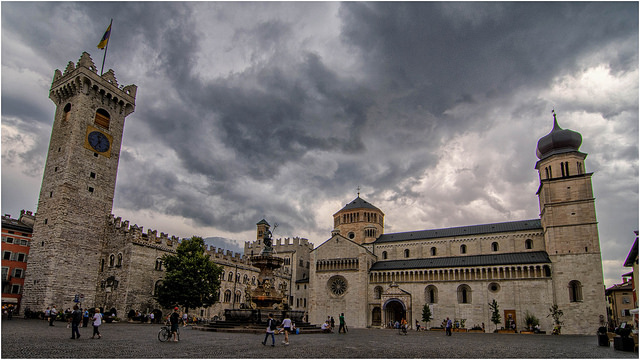 Duomo Square in Trento
What to see and what to do in the city of Trento
To visit the beauties of Trento, among which is the Duomo, the fountain of Neptune, or the castle of the Buonconsiglio, and of course the nearby Dolomite mountains, you will no doubt need a rental bus with driver in the area since he will be able to take the road curves with expertise. Of course, if your visit happens in winter, you will also need a lot of warm clothes and... the coach heating, of course!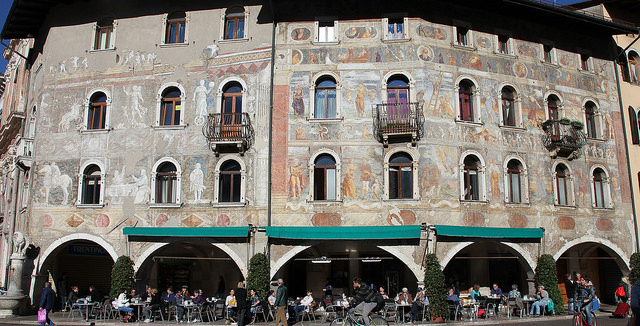 Terraces to enjoy a drink in Trento
Tours in Trentino Alto Adige
Your tour with private transport in a rented bus with driver around Trentino, the greater part of the year, almost everything that can be done in Trentino Alto Adige is with a pair of the skis, since the region is very mountainous, and the peaks are covered with snow for several months. Probably for this reason, it is also the least densely populated region in the country, and since it borders Austria and Switzerland, German is another language spoken, along with Italian, of course. Anyway, if you are not a ski lover, don't worry because the region offers much to tourists that enjoy yhe country side and lakes as the one of Carezza, the river Adige, Alpine landscapes and Trento, a beautiful city that is of history.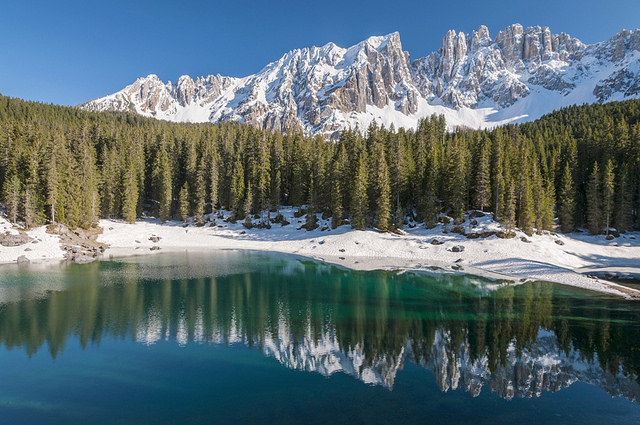 What to see and what to do around Trentino
Excursion to Lake Carezza
This small Alpine Lake is located approximately 80 kilometres from Trento, i.e. your group can get there in a bit more than one hour in a chauffeured mini bus with driver from Trento. If you make the bus park a little away from the parking lot you can enjoy the short walk to the lake in the mountains, and amaze you even more of the wonderful colours that the water adopts in this enclave. Don"t forget your camera, of course, and a good pair of mountain shoes, in addition to something really warm if you go in the winter months.
Another Alpine landscape: Riva waterfalls
If you want to see some impressive waterfalls, you don't need to go as far as South America or Africa. Simply by going 150 kilometres from Trento, near the border with Austria, you can admire some waterfalls up to 40 km of fall. For groups, it is a perfect start for an excursion of a day in rented bus with driver. To do it, you"ll have to enter the Natural Park of Vedrette di Ries-Aurina and take a walk of about 7 kilometres that will take you to the smaller waterfall and then to the largest.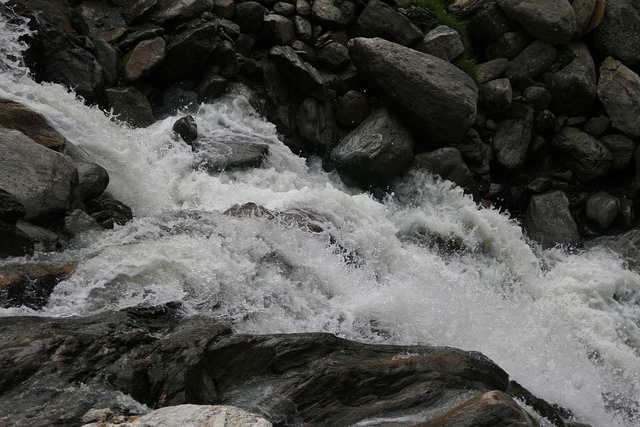 Small fall in Aurina
For the majority of tourists that visit Trentino Alto Adige, this place is the worthiest visiting in the region. It is a castle whose original construction dates back to 1300 and that was remodelled and used as residence by the Empress Elisabeth of Baviera in the 19th century. Today, you can visit a stunning vast Botanical Garden, as well as the castle and it's amazing Alpine surroundings, of course. In short, it is a wonderful enclave to spend a day walking between plants, trees and mountain peaks.
A bit of urban visit: Merano
Since you are in Castel Trauttmantorf, you must not miss the town of Merano, to which the Castle belongs. It is a charming alpine village, known by its spas and its famous residents, such as the writers Frank Kafka or Ezra Pound. A stroll around its streets and a good dinner in some of its restaurants, near the heat of the fireplace or the heating, will be a very suitable rest after a touring day around the mountains!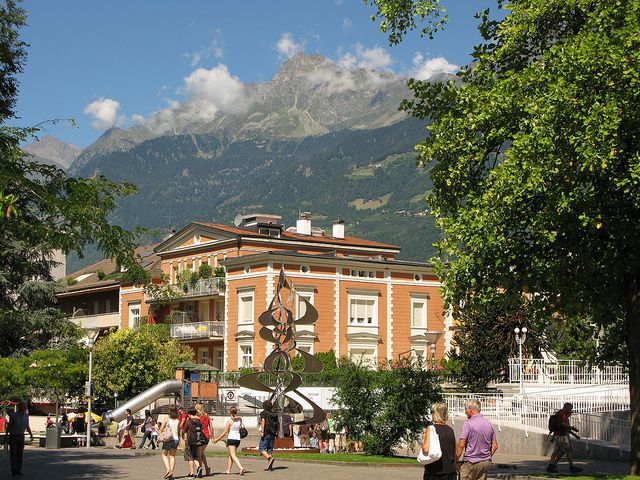 Walking around Merano
None
More about Trento
Would you like to organize a bus tour to see all these beautiful highlights? Request quotes and compare the different bus and coach hire companies:
Bus tours in Trento
Coach hire in Trento