Compare coach & minibus hire companies in Trento! Use our reviews and comparison grid for insights in making the best choice. We allow you to compare multiple offers from various Trento based bus rental with driver companies. We'll help you to find companies that match your bus transport needs. We list all kinds of mini-bus and coach rental companies from those specialized in transfers by vans to those with fleets of only full size motor coach busses. Companies specialized in local transfers and day trips in Italy or companies touring across multiple countries.
Rental of buses and minibuses companies in Trento
Trento city is small in number of inhabitants, but not so much in extension. In addition, it is located on a mountain landscape and a little far from other points of tourist attraction in the region, so renting a minibus or bus with driver will undoubtedly be faster and more comfortable to move around here. Would you like to rent a bus in Trento? You can find a selection of bus rental companies with their profiles on our bus rental Trento page.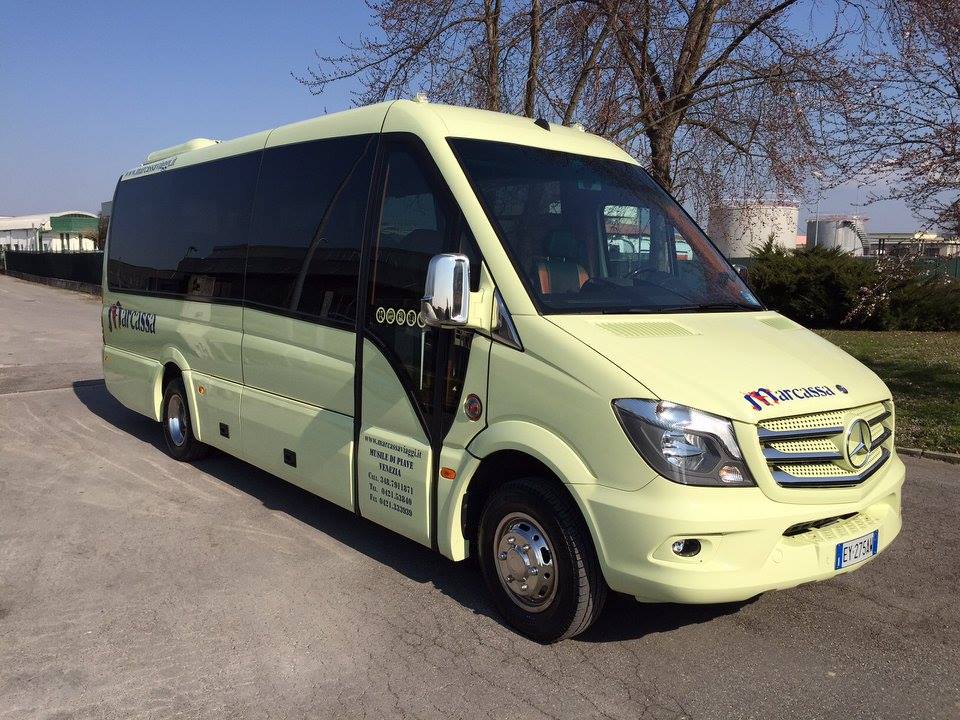 Minibus from Marcassa Viaggi srl
Here we can mention some companies that work in the Trento sector of touristic coach hire:
The company Autonoleggio Amico, located in Via Danilo Paris 17, in the same city of Trento, has a fleet of coaches Setra and minibuses that adapt to the needs of your group. The company offers transfers to the airports of Verona and Bergamo and public buses for regional bus-lines a part from that all kinds of touristic transport for groups as well as sightseeing tours around the region and also around the rest of Italy.
Another company that is dedicated to this sector is Italiabus, located in Via Klagenfurt 52, in Trento. It is an agent that offers vehicles of its partners under the local nome of "Consorzio Trentino Autonoleggiatori". They offer all kind of transfers to the airports in Milan, Innsbruck, Bologna, Verona, Turin and Bergamo. They of course also serve to train stations. Thanks to its network of companies, they have a fleet of buses up to 74 seats for these excursions.
Finally, the company Club Dellai, located in the town of Altopiano della Vigolana, 30 kilometres from Trento, also has a fleet of coaches Mercedes GT of up to 61 seats. In their web they explain that were born as a company in 1996 and they offer services of transportation for schools, transportation of bicycles and, of course, services for the tourism.
Trento mini-bus hire and coach rental companies with driver and minibus hire companies with driver
Company
Vehicles
Client rating
More about Trento mini-bus and coach hires and tours
Would you like to discover more about bus rental in Trento and coach hire with driver, tours and tourist attractions? Want to have an indication of price ranges for rentals of buses in Trento? Check out our pages about: