Compare coach & minibus hire companies in Bologna! Use our reviews and comparison grid for insights in making the best choice. We allow you to compare multiple offers from various Bologna based bus rental with driver companies. We'll help you to find companies that match your bus transport needs. We list all kinds of mini-bus and coach rental companies from those specialized in transfers by vans to those with fleets of only full size motor coach busses. Companies specialized in local transfers and day trips in Italy or companies touring across multiple countries.
Bus and minibus rental companies in Bologna region
Since it is a region of important tourist and cultural influence, it has two well know international airports, located in the important cities of Bologna and Rimini. The airport of Bologna-Borgo Panigale Airport (BLQ), known as "Giuglielmo Marconi", is the most important in the region and is located about 6 kilometres from the capital. In the year 2014, it had more than 6 million passengers, making it one of the major airports in Italy. More than 20 companies operate in the airport of Bologna.
University and student cities, as well as the tourist ones, usually have a very extensive and efficient public and private road transport network, as students tend to be users of it. There are 7 active companies in tourist bus rental services. The Italians call them "Noleggio Pullman" companies and, as in Spain, they tend to be small family businesses. Would you like to rent a bus in Bologna? You can find a selection of bus rental companies with their profiles on our bus rental Bologna page.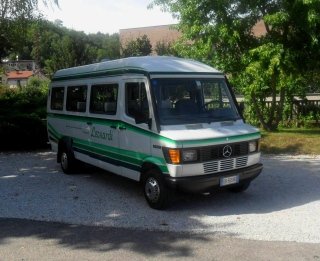 Here we talk about 3 of them:
The Saca Autonoleggio Company is located in Via del Sostegno 2, in the city of Bologna and as they say on their website, it was born in 1972 thanks to the decision of nine entrepreneurs in the coach hire sector that joined together to better respond to the needs of customers. Its fleet of coaches consists of more than 80 vehicles from 8 to 55 posts, and they offer tourist services, but they are also responsible for the services of transportation in the region.
The CNN Bologna Company, for its part, is located in the town of Argelato, about 14 kilometres from the capital. As they explain on their website, they rent buses with chauffeur not only for tourist trips, but for companies, for sporting events, visits to nightclubs and even stag parties. The company was created in the 1990s as several individual entrepreneurs engaged in this sector got together.
Finally, the Mavibus Company is located in the town of Venosa, about 7 kilometres from Bologna, in Via Maddalena Colonello, although they also have an office in the city of Bologna. They offer the service of bus rental for up to 54 people for tours and trips through Italy and even around the rest of Europe. According to its website, the company was born in 1964 with a single bus, and now it boasts a whole fleet, which gives an idea of its growth.
Bologna mini-bus hire and coach rental companies with driver and minibus hire companies with driver
Company
Vehicles
Client rating
More about Bologna mini-bus and coach hires and tours
Would you like to discover more about bus rental in Bologna and coach hire with driver, tours and tourist attractions? Want to have an indication of price ranges for rentals of buses in Bologna? Check out our pages about: