Compare coach & minibus hire companies in Reggio! Use our reviews and comparison grid for insights in making the best choice. We allow you to compare multiple offers from various Reggio based bus rental with driver companies. We'll help you to find companies that match your bus transport needs. We list all kinds of mini-bus and coach rental companies from those specialized in transfers by vans to those with fleets of only full size motor coach busses. Companies specialized in local transfers and day trips in Italy or companies touring across multiple countries.
Chauffeurred rental buses and minibuses companies in Reggio
The city of Reggio Calabria is somehow remote from others points of interest of the region of Calabria and some of them can be found in mountain places, so it can be very useful to have of a rental bus with an expert and local driver to move around. Would you like to rent a bus in Reggio? You can find a selection of bus rental companies with their profiles on our bus rental Reggio page.
Below you will find some companies that are working this sector in the same city and on the outskirts of Reggio:
The Autolinee Arca company has its headquarters in Milan and a branch office and base in Reggio Calabria, Via Montevergine 14. As they explain they offer all type of services related to rental buses with driver. They call it "Noleggio autobus con conducente", and they also offer scheduled bus tours, transfers to airports and stations as well as touristic services in general. They have a fleet of motor coaches of the brand Setra with models such as the " Gran Tourismo' and other Setra models up to 54 seats.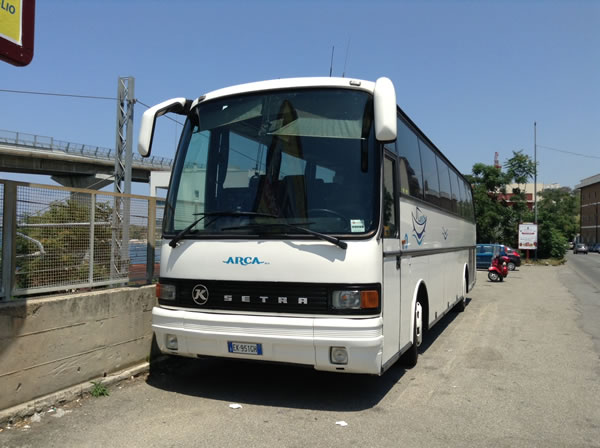 Coach from Autolinee Arca
Moreover, Autolinee Tripodi is also located in the city of Reggio Calabria in Via Torbido Vecchia 193. Autolinee Tripodi has a fleet of minibuses or "pullmini" up to 16 seats and also the Gran Turismo coach with up to 54 seats.
Finally, the Autolinee Federico bus rental company is also headquartered in the city of Reggio Calabria, Via Lagani c. da Bovetto. They have ample experience that goes back as far as 1929. Besides offering organised trips to Rome as wellas a travel services and regular line services between the various Calabrian towns, they offer the possibility of renting one of their Setra coaches with driver and make a bespoke bus tour.
Reggio mini-bus hire and coach rental companies with driver and minibus hire companies with driver
Company
Vehicles
Client rating
More about Reggio mini-bus and coach hires and tours
Would you like to discover more about bus rental in Reggio and coach hire with driver, tours and tourist attractions? Want to have an indication of price ranges for rentals of buses in Reggio? Check out our pages about: