Compare coach & minibus hire companies in Potenza! Use our reviews and comparison grid for insights in making the best choice. We allow you to compare multiple offers from various Potenza based bus rental with driver companies. We'll help you to find companies that match your bus transport needs. We list all kinds of mini-bus and coach rental companies from those specialized in transfers by vans to those with fleets of only full size motor coach busses. Companies specialized in local transfers and day trips in Italy or companies touring across multiple countries.
Potenza buses and minibuses hire companies
One of the attractions of the town of Potenza is precisely one of the drawbacks in terms of driving, i.e., its location high in the mountains. Thus, the rental of a chauffeur expert of the region with a coach may be the best solution for your group. The city has some companies that are engaged in this sector, according to our search. Would you like to rent a bus in Potenza? You can find a selection of bus rental companies with their profiles on our bus rental Potenza page.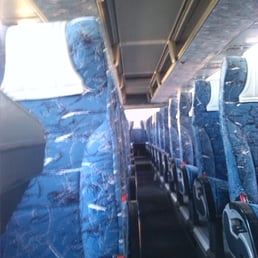 Here we name three of them:
The Fratelli Renna company is located in the town of Pietrapertosa, 50 kilometres from Potenza. Founded in 1964, according to its website, the company began offering the service of line buses in this locality, but currently it offers tourist services such as for example the rent of Man and Mercedes buses up to 53 seats.
The Manieri Bus Company, on the other hand, is located in the municipality of Venosa, in Via Madonna degli Angeli, 5. As they explain on their website, the company was born in 1964 thanks to the tenacity of its founder, and today they offer all kinds of tourist services as well as car hire for ceremonies. Its fleet consists of up to 64 posts Irizar coaches and also Mercedes Sprinter minibuses.
Finally, the Autonoleggio Venetucci company, located in the town of Picerno, 25 minutes from Potenza, offers coach hire service with driver, but as it is a small company they do not have much information about their fleet on their website.
Potenza mini-bus hire and coach rental companies with driver and minibus hire companies with driver
Company
Vehicles
Client rating
More about Potenza mini-bus and coach hires and tours
Would you like to discover more about bus rental in Potenza and coach hire with driver, tours and tourist attractions? Want to have an indication of price ranges for rentals of buses in Potenza? Check out our pages about: