Useful tips for Newcastle bus groups with 'what to see' and 'what to do' items and  'bus- friendly' or must see tourist sites in Newcastle. Check our list of attractions before planning your bus tour with a stop or departure in Newcastle. Let us know if your favourite attraction or 'bus-stop' is not there and you think we should add it to our list of Newcastle highlights.
Tours in the region Tyne and Wear
Tyne and Wear has a very rich history. Your tour with a rented bus or minibus with driver around Tyne and Wear can start at this area, because there are many sights that you can visit.
Victoria Tunnel
This is one of the most important historical sights in Newcastle. It is also called " Newcastle"s hidden heritage ". In 1842 it was built for the transport of coal. During the Second World War it was used as a bomb shelter to protect hundreds of citizens in Newcastle.
When you visit the Victoria Tunnel, there is always a guide present who can answer all your questions. Also visual and sound effects will be used.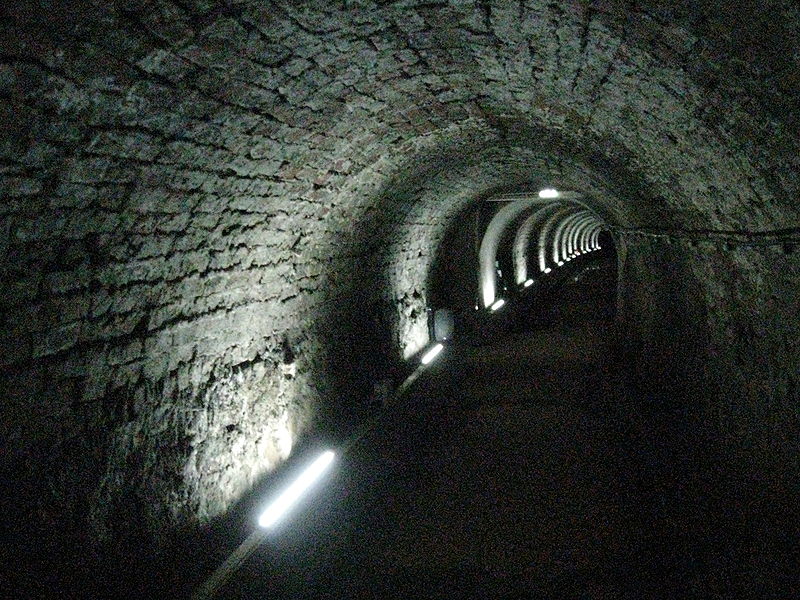 Longsands Beach
This is a pleasant, clean beach with rocks. On a hot day in summer there are many people but there is always a place for you. You can always find a place with your group and the lifeguards keep an eye on you.
Whether you are with a minibus with a driver or by metro, it is easy to reach the beach. The parking and the metro are both very close to the beach.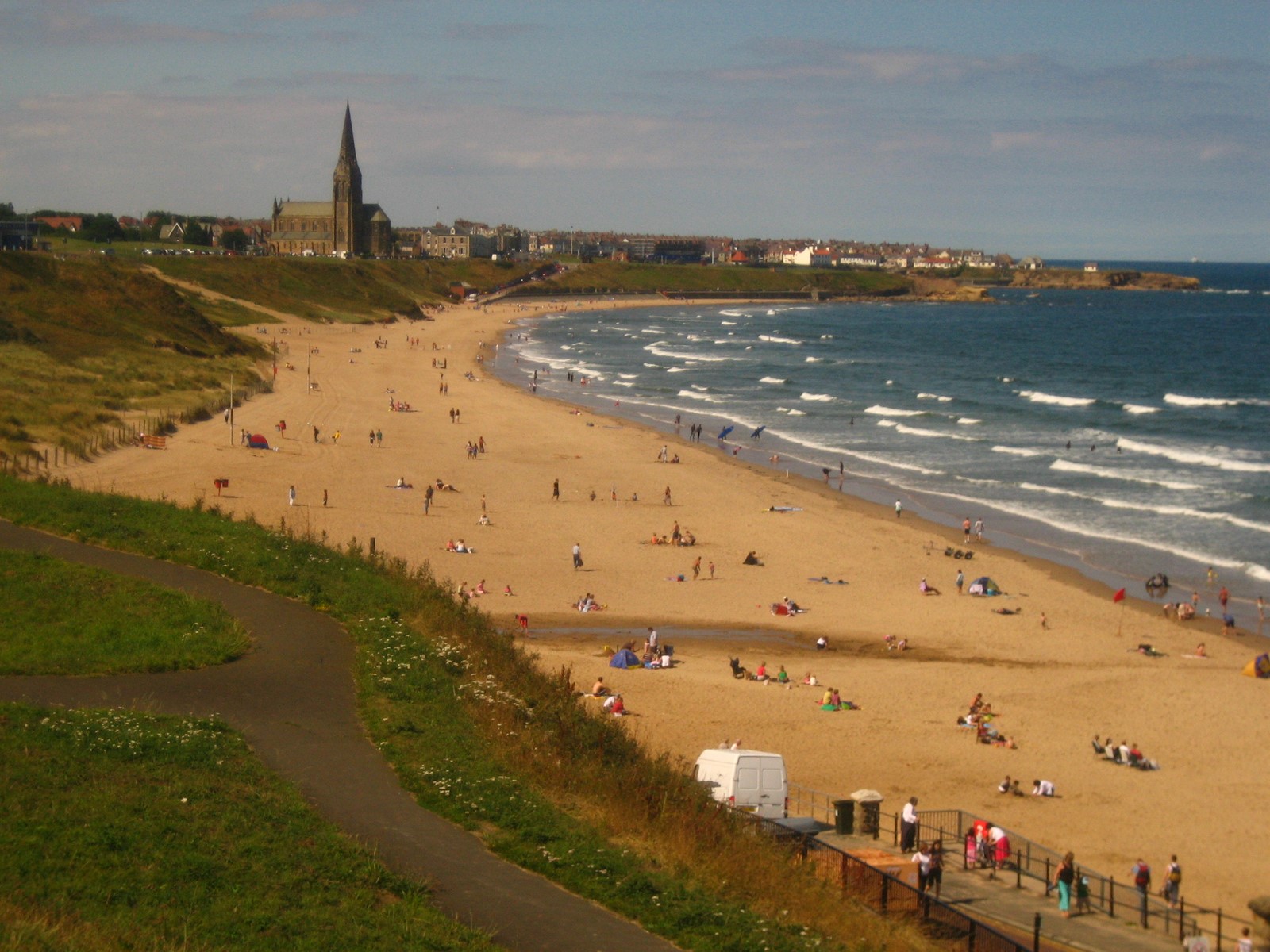 The Tyne Bridge
Always wanted to have a nice view of a few rivers and other bridges? Then this is definitely worth a visit. And that is not the only thing, the shops and pleasant cafes are close to the bridge.
Do you have fear of heights? And you don't want to stand on the bridge? No problem! You can admire the bridge while you are sitting on a terrace.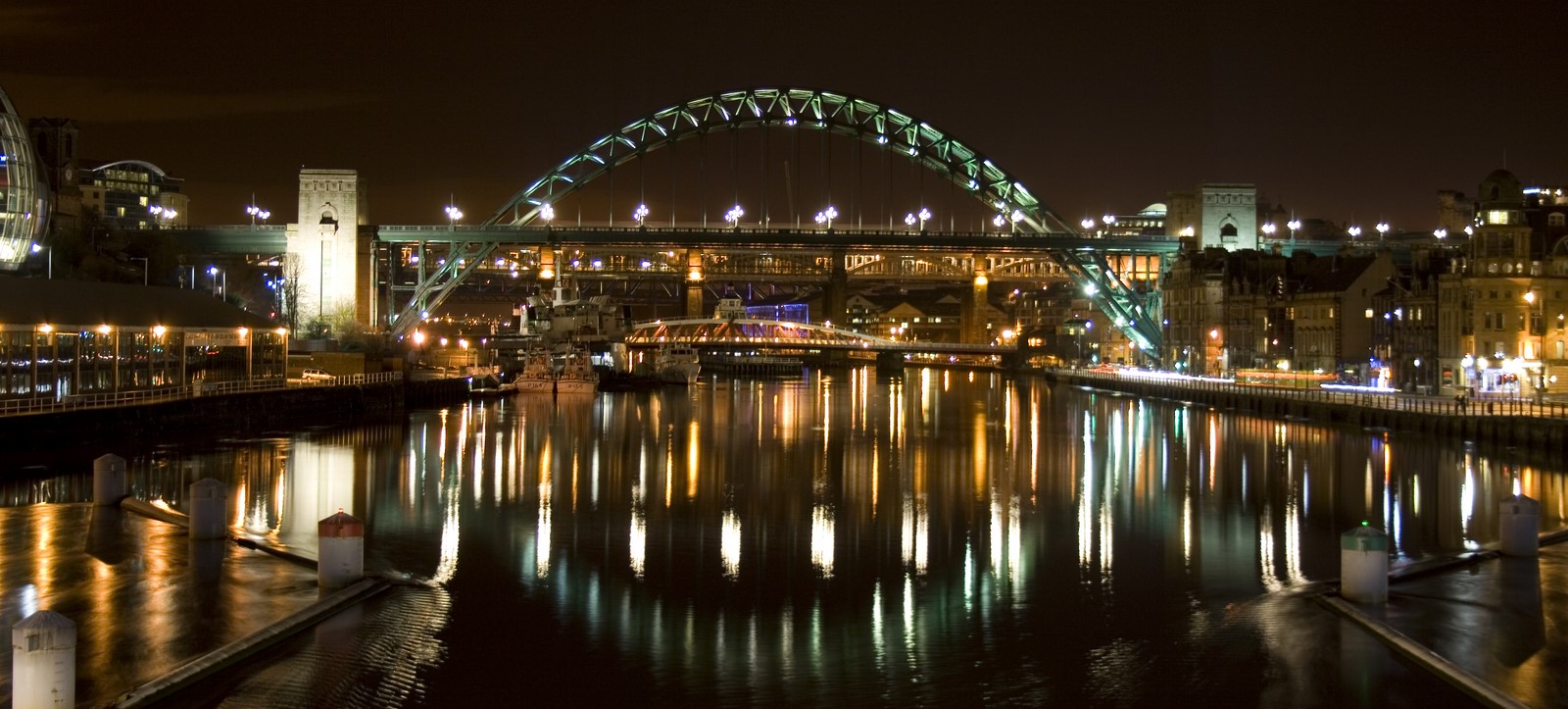 Travel by road
Tyne and Wear has a very good road network. If you are located in the city centres of the major cities, the connections with the main roads are very well. So if you are sitting in a car with a driver, is it easy to get anywhere. The A1 and A69 are the major highways. The A69 and the A68 connect Newcastle to Birtley quite fast. Within an hour you are in Birtley. Newcastle connects together with the A68 and Birtley within an hour by car. The roads are well reachable.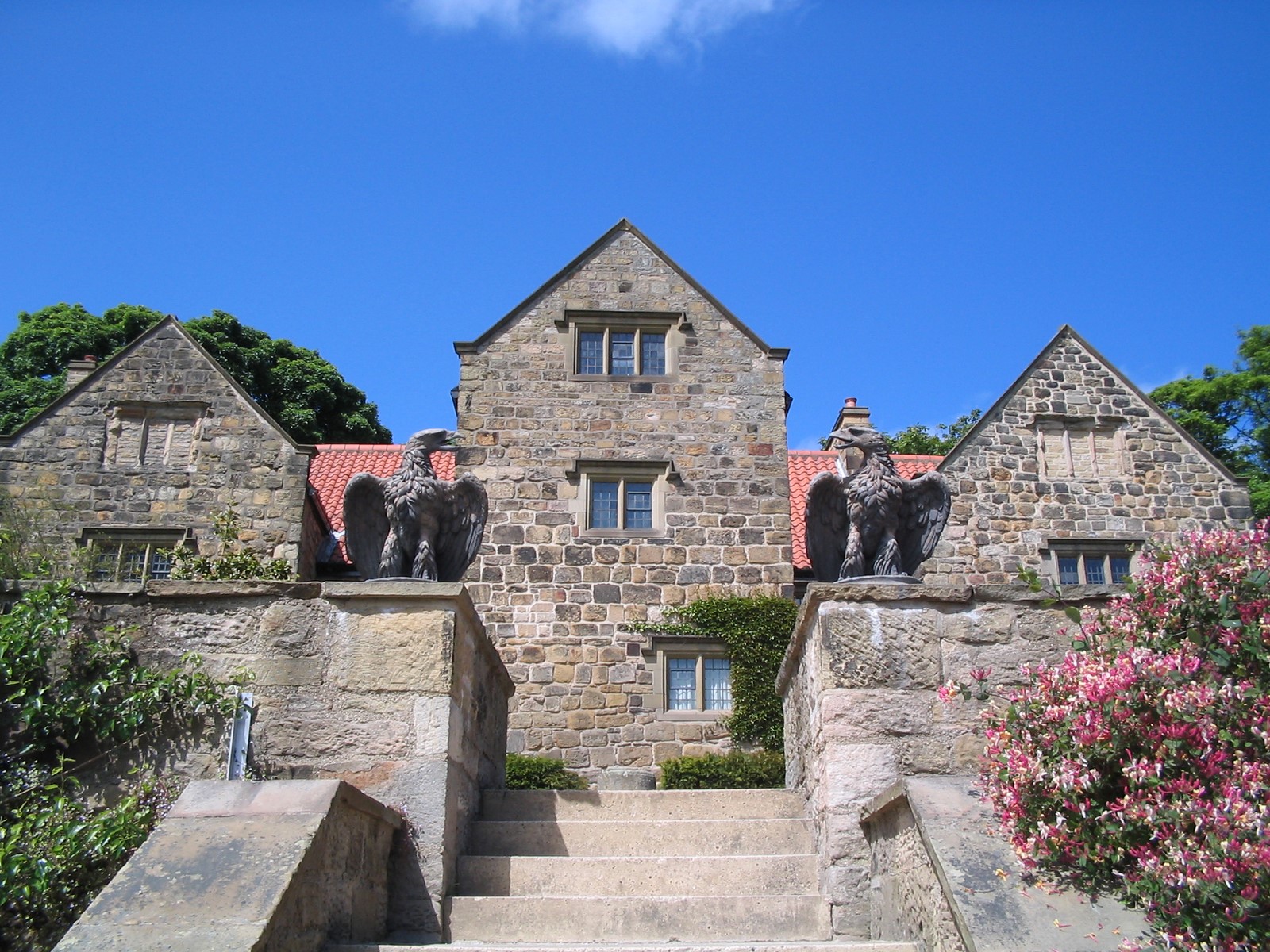 Business Travel and Tourism
There are a lot of conference rooms and these rooms are needed for the business tourism, like Assembly Rooms, which are located on Fenkle Street in Newcastle city. Here are meeting rooms where also conferences can be held. Even the small details are very important for the owners of the building. It is a place that people will not forget. In total there are 6 rooms available. If the entire building will be used, 920 people can go in.
This is not the only place in Newcastle where conference rooms are. Also Life Conference and Banqueting is a conference building. 8 rooms are available in different sizes. So, there are rooms for large and small groups. All the rooms have Wi-Fi, so internet is no problem.
Golf Travel and Tourism
There are several golf clubs in Tyne and Wear, around 30 clubs can be found here.
In Newcastle are many golf clubs established. One of these is 'City of Newcastle Golf Club'. In total there are 18 holes. The costs on weekdays are different than in the weekends. On a weekday you pay 24 pounds and for a day in the weekend you pay 28 pounds.
There are also other possibilities there. There is a large terrace where you can have a rest after you have played golf. There is also the possibility to play pool. And if you want to learn how to play golf, there is place to practice.
Do you want to visit a smaller golf club? Then is 'Backworth Golf Club' a suitable option. It is located in Shiremoor. In total there are 9 holes.
Travel by plane
The largest airport that Tyne and Wear has is Newcastle International Airport (IATA: NCL). In the United Kingdom it is one of the largest. The airport is visited by different airlines by the largest, think of KLM but also by the small and cheap charter airlines such as Ryanair.
NewcastleInternationalAirport is located only seven miles away from the centre of Newcastle. With private transport, you can be there within 15 minutes. Starting from Newcastle there are different options to travel further. The private drivers will bring you where you want.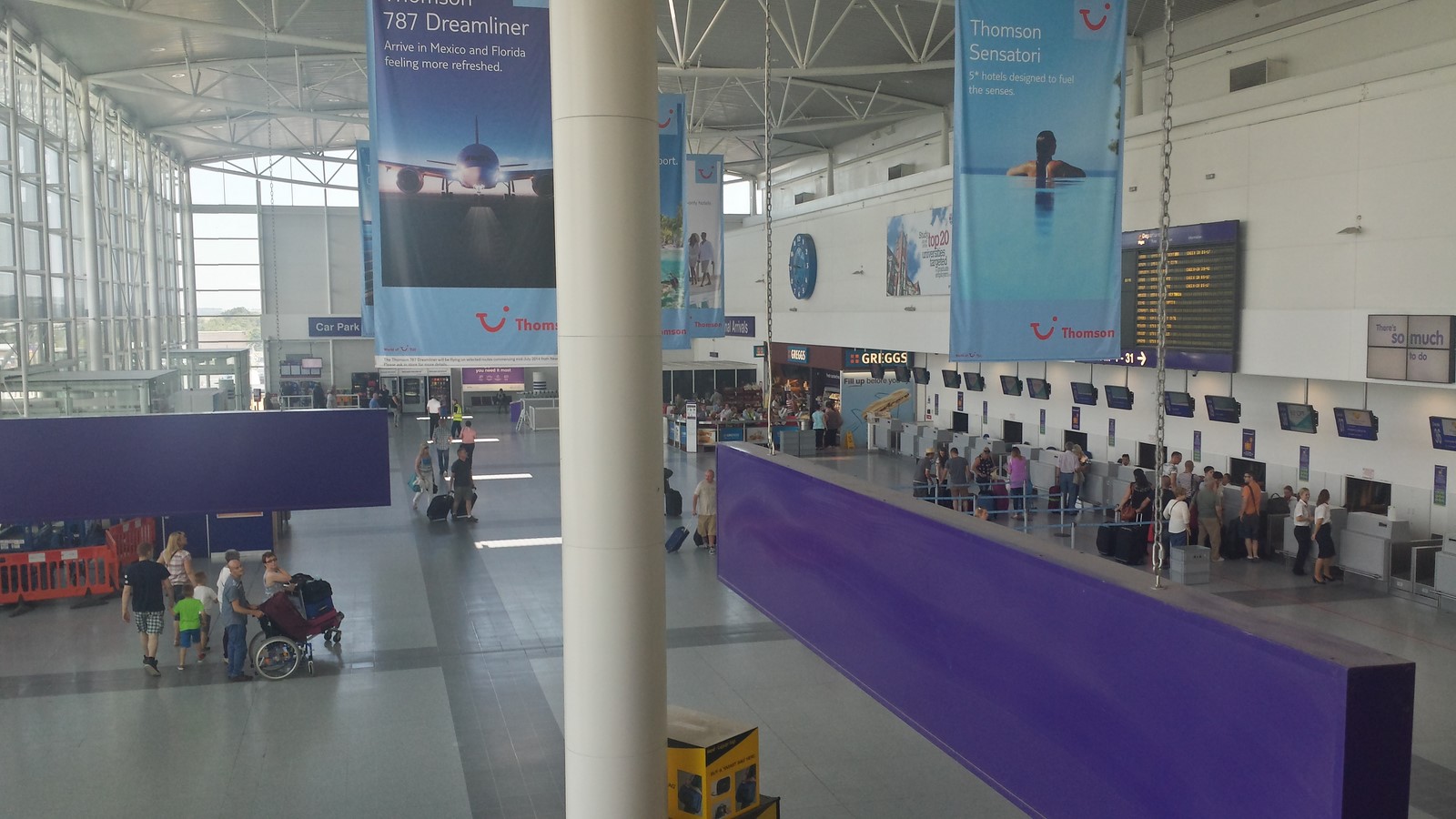 An image of Newcastle Airport arrivals from inside.
City Tours in Newcastle
Don't you know Newcastle yet? Then is Newcastle City Tours an excellent way to explore the city. At every place where the bus stops, it is possible to hop off the bus and it is definitely worth to take a look around. In this way you will explore the town in a very fast way.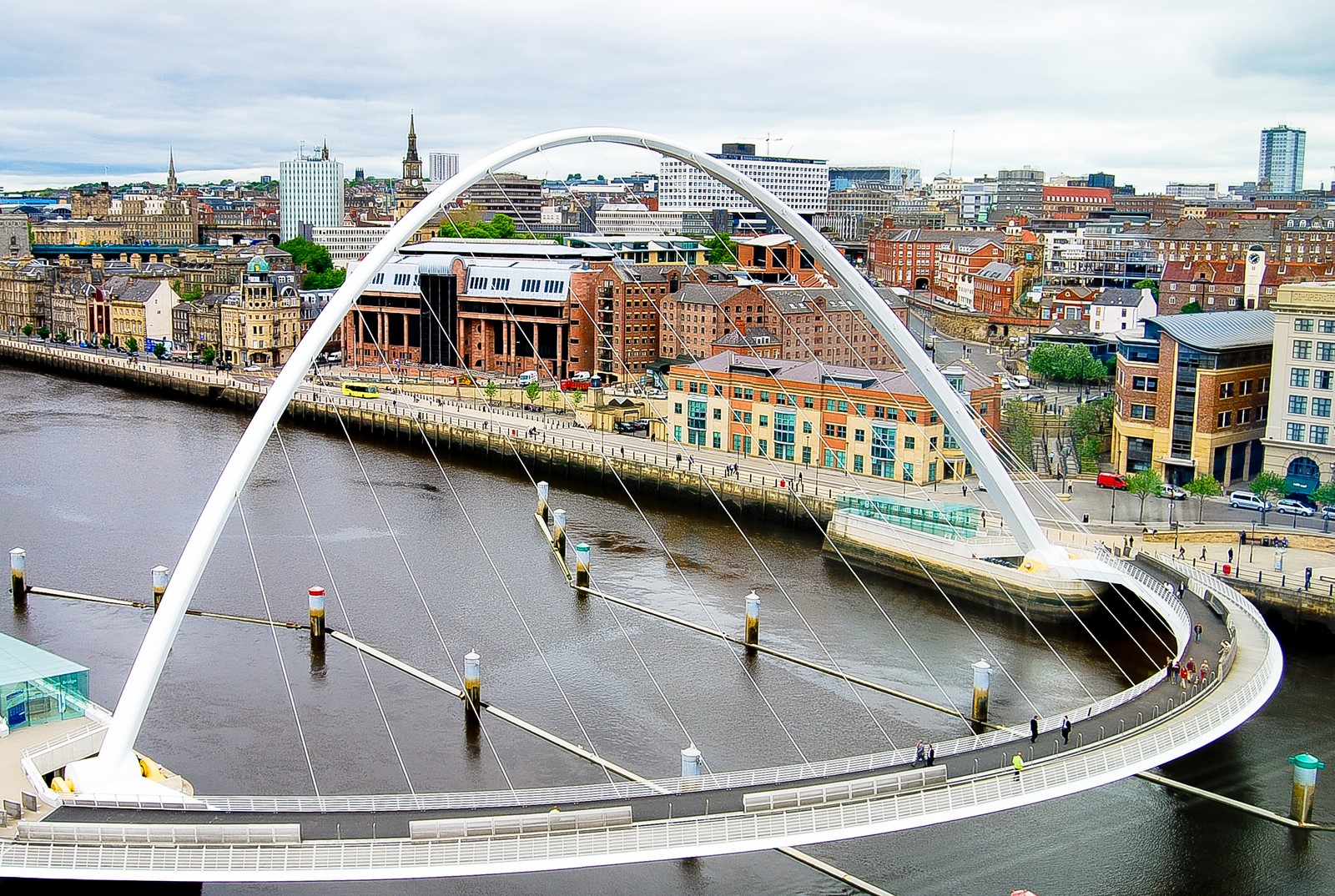 Walking tour of the city
In Newcastle it surely is possible to make a beautiful walking tour. Do you want to know for sure that you have a nice walking route? Then you can use a guide and can rent a bus in Newcastle for tours in the city or in Tyne and Wear Region. All your questions will be answered and at each important element is given an explanation. It is also possible to use a map and just walk around.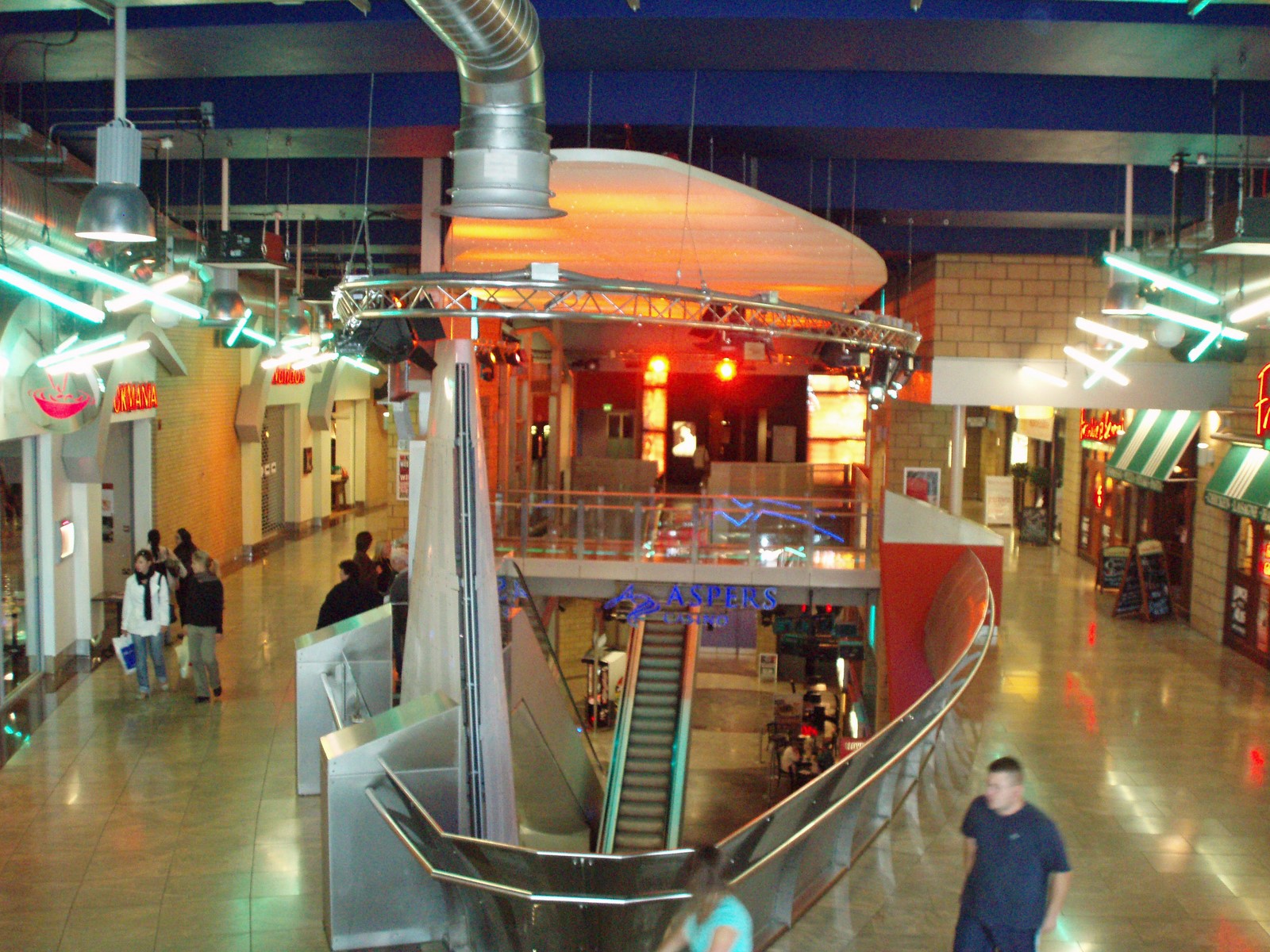 Nightlife
If you have played a whole day the brave tourist and you have seen a lot of sights, then you really want to explore the nightlife. You really don't want to miss that.
Tiger Tiger
It is a versatile nightclub and of course you can eat, drink and party until midnight. In this nightclub are different rooms where different types of themes and music are. At Monday to Thursday it is open until 02:00 and Friday and Saturday until 03:00. This nightclub is located in the centre of Newcastle.
Chinatown, Newcastle upon Tyne
Popolo
Do you want a night out? But do you also want to make a good conversation and go home quite early? Then it is possible to drink a cocktail in Popolo.
Flares Newcastle
Do you want to go back in time and enjoy an evening of the 70's? That is possible here. You can hear the best music from years ago. If you are going with a large group, it is definitely going to be a good night. Are you a little older? Then you can certainly experience the times that you where making tours on your Vespa, instead of a coach tour.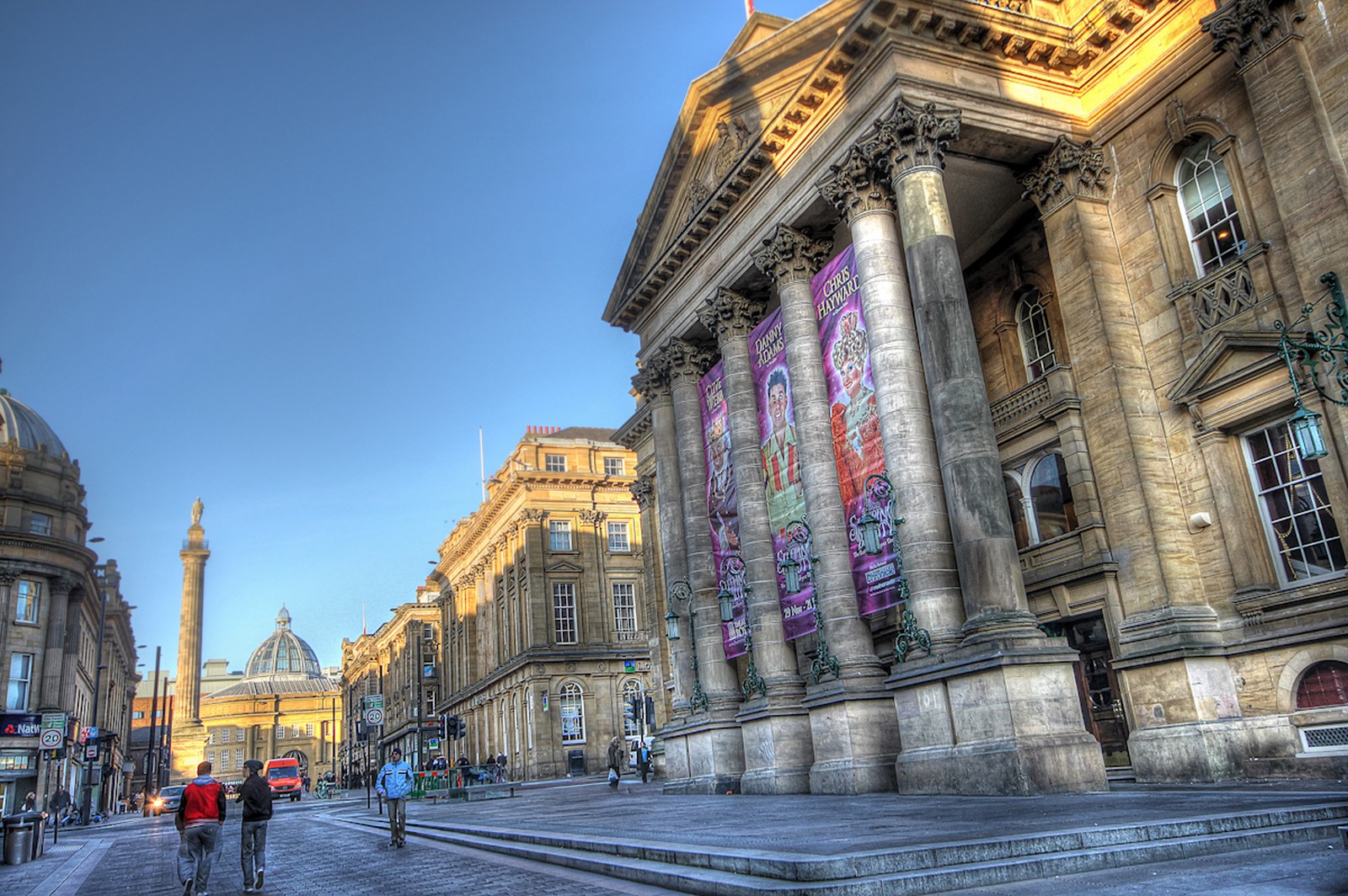 Theatre Royal in Newcastle
What to see during your tour in Newcastle with a hired minibus
The Bodega
Karaoke is King! You love to sing a song? That is possible in 'The Bodega'. This is one of the best karaoke bars in Newcastle. Apart from the singing, of course you can drink a delicious cocktail and then the singing will get even better.
A very striking thing about the bar is the glass dome. This gives a nice en especially a chic look. Even if you don't like to sing because you feel embarrassed, of course you can enjoy the exuberant atmosphere. This is going to be the best evening of the bus tour that you always will remember. Leave the guide in the hotel and take the bus driver to the karaoke bar with you. You will be amazed of the Tom Jones imitation. The bar is located on 125 Westgate Rd.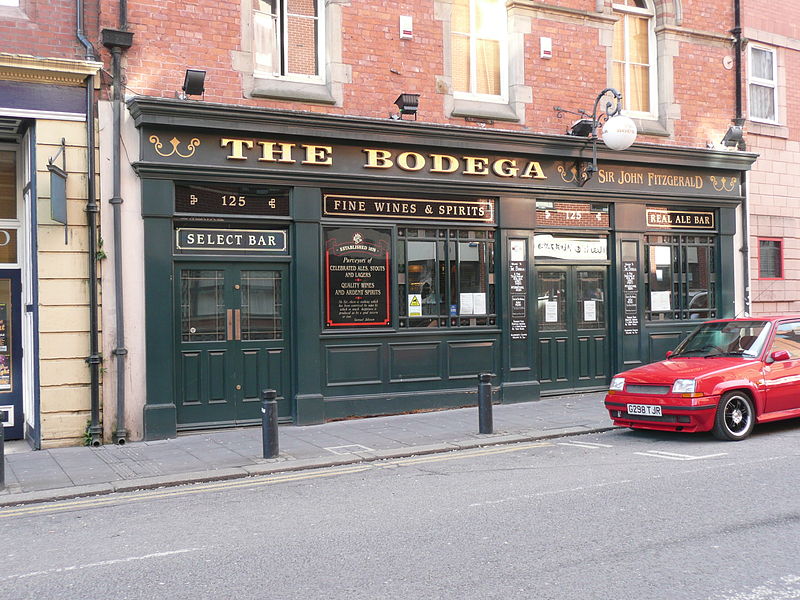 The Great North Museum
This contains collections of the University of Newcastle, the Hancock museum, the National museum of antiquities (located at the University of Newcastle), the Gallery of Hatton and the Shefton museum.
There is so much to admire here. The diversity of the animal species and plant species, objects of the ancient Greeks, a planetarium, mummies of ancient Egypt and even a life-sized Dinosaurs T-Rex skeleton.
Visitors can find out where the animals live, how they survive on the North and South poles and in the desert, just by means of technical equipment.
If you are on a bus trip with a mixed group, this is very interesting for young and old. It is very instructive and fun at the same time.
Grey's monument
Monument built in 1838 in the centre of Newcastle. A statue of Lord Grey is standing above the building at a height of 40 metres.
The spiral staircase there, leads to a viewing platform of the monument. Sometimes this platform is open, that the visitors also can take a look.
The large open space in front of the monument is intended as a meeting place. Religious people come here, but also musicians.
Shopping
For many people is shopping a relaxing activity. When you are on holiday, you finally have time to take some new clothes. If you visit Newcastle, you can shop until you drop. There are many shops over here.
At first, you really have to visit the Eldon Square Shopping Centre. You can find over 140 shops here, and there is also an opportunity to eat or drink something. For the real tourists there are typical souvenir shops.
Metrocentre is a great shopping centre too, that you definitely have to visit. In the time that it was built, it was the largest shopping centre in Europe. There are approximately 330 shops. Here are different kind of shops. You have souvenir shops, but also the expensive designer shops. There is a possibility to eat fast food, but you can also enjoy luxury dining.
The oldest market of Newcastle is the Bigg market. This market is open on Tuesdays, Thursdays and Saturdays.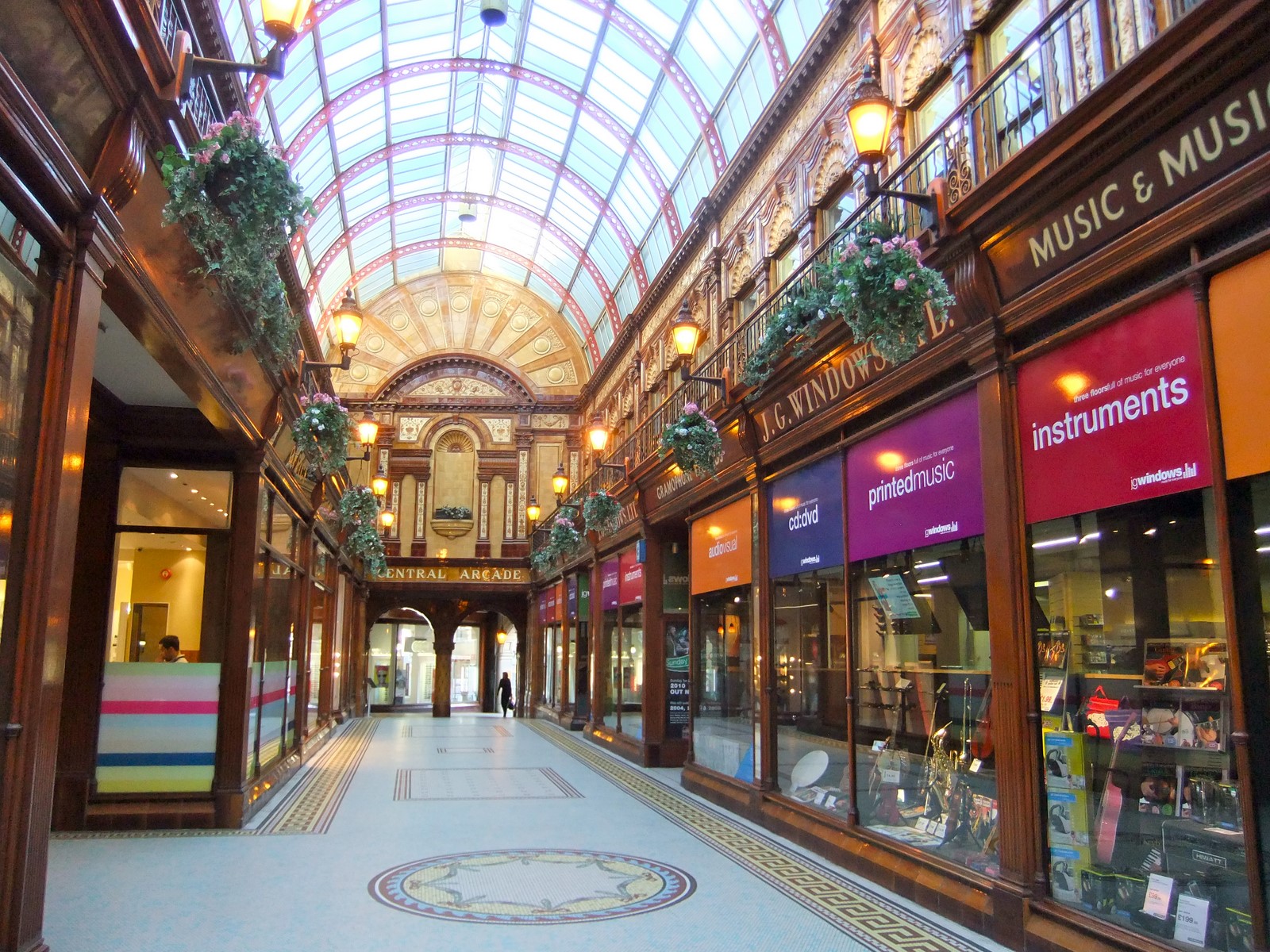 Places to eat in Newcastle
Quay Ingredient
It is a great place to enjoy breakfast for just a little money. There is a great atmosphere and the service is good. There is only place for about 20 people, but definitely worth a visit.
The location is 4 Queen Street.
Blackfriars
Do you want to eat something Typical British? Then you should definitely go to 'Blackfriars Restaurant'. It is the oldest restaurant of Great Britain. Blackfriars has even got some awards, so it is definitely worth getting there to have a nice British Meal.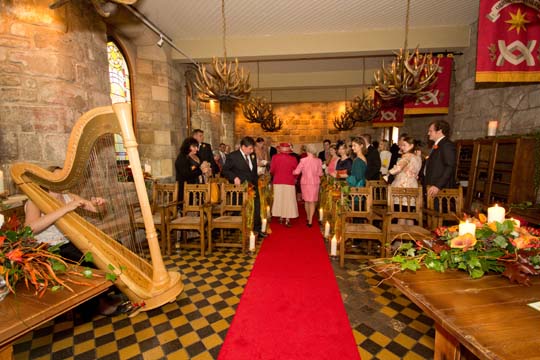 Mandarin
Do you like Chinese food? Then you can come and visit one of the most famous Chinese restaurants in Tyne and Wear. This Restaurant is called 'Mandarin'. In this restaurant you will feel like you are in China.
It is located on 14-18 Stowell Street.
None