Useful tips for Segovia bus groups with 'what to see' and 'what to do' items and  'bus- friendly' or must see tourist sites in Segovia. Check our list of attractions before planning your bus tour with a stop or departure in Segovia. Let us know if your favourite attraction or 'bus-stop' is not there and you think we should add it to our list of Segovia highlights.
Group tourism in Segovia province with rented coach with driver
Once you are in Segovia, your trip with coach and minibus with driver around Segovia should visit the impressive Acueducto Romano de Segovia where you can get a tour of this province. Cantalejo is an ideal place to organize group tours in a rented bus because it offers beautiful views mixed between culture and nature. The pine forests and lakes have a special charm. Walking through the city, you can visit Iglesia Parroquial de San Andrés built in 1698 and that shows a cross from the end of the fifteenth century.

Travelers who would like to take walks in nature can visit Parque Natural Hoces del Río Riaza in Montejo de la Vega with its great prairie where you can enjoy the sun and the air, many birds and a beautiful landscape. You can enjoy an interactive program that is presented in Túnel de los Sonidos where you can learn more about the park.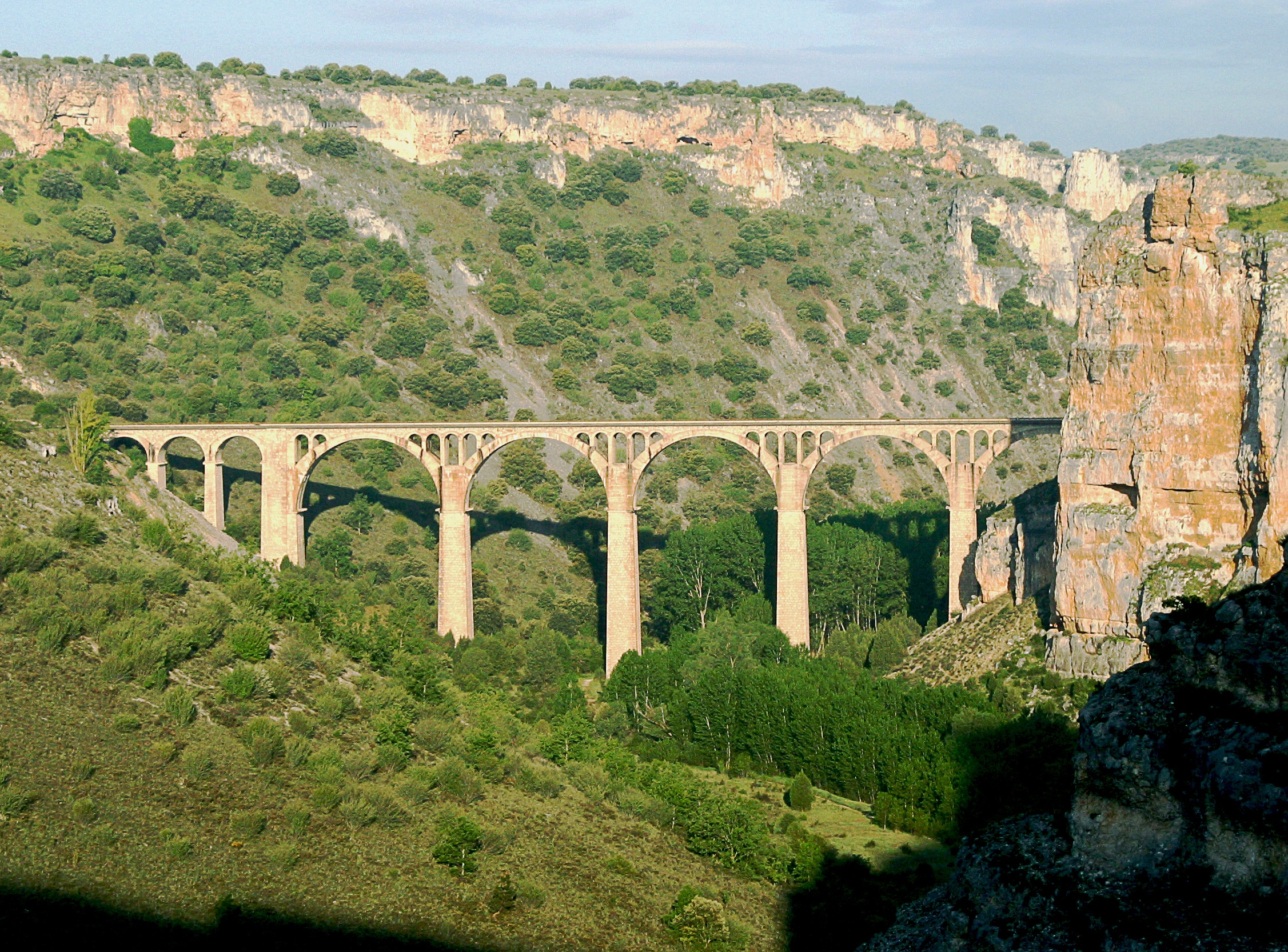 Wine and Food tours in Segovia
This area is ideal for lovers of great wine and who want to try sausages that are typical of this region. Your tour should include visits to ham factories such as Embutidos y Jamones San Ignacio Martínez in Navatilla; places that make cheese such as Quesería Artesanal de Armuña in Armuña and where they raise ox; and vineyards in bodegas such as Bodegas Cerrosol in Santiuste de San Juan Bautista that makes the wines Doña Beatriz and that won a prize in the year 2009 or Viñedos de Nieva in Nieva with its well- known brand Blanco Nieva.
Golf Travel and Tourism
Club de Golf Villa de Cuéllar in Cuéllar has a 9 hole course; Club de Campo el Tiro in La Granja has a 9 hole course as well and Los Angeles de San Rafael Golf Club, in Los Angeles de San Rafael that has an 18 hole course.
Enjoy with your group the festivals in Segovia with rental minibus
Everyone in Spain knows about the processions during Holy Week in Segovia. The other interesting festival to see is Titirimundi; the international festival of puppet theatre in Segovia. It takes place during the month of May, and more than one hundred theatre and puppet companies from all over the world participate. These two festivals should not be missed.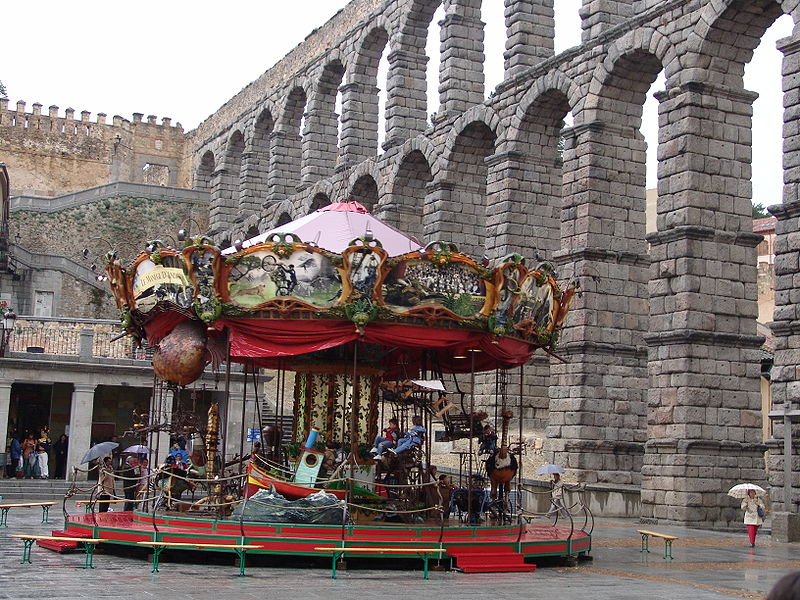 Restaurants
The typical dishes in the cuisine of Segovia are the asados or roasts and especially the pig roast, the lamb and goat, so we recommend visiting restaurants such as Restaurant Mesón de Cándido in Segovia with its rooms decorated in a Castellan style; Mesón Duque in Segovia, that was founded in 1895 or Restaurant Cocina de Segovia in Segovia with Castellan style cuisine that is creative.
Group tourism by the city of Segovia with rental bus
You can rent a bus for trips in the city or in Segoia Province. The city of Segovia offers many different tourism route options, such as El Acueducto de Segovia (The Segovia Aqueduct), an emblematic monument of the city next to La Catedral (The Cathedral), which is the monument that's the most visible from outside of the city. The aqueduct was built in the first century. It's almost 800 meters (870 yards) long and its highest point is 28 meters (31 yards) tall, located in La Plaza del Azoguejo. This spectacular feat of Roman engineering has 166 arches and 120 columns on two levels. It was still in use until just recently, which partially explains its excellent state of preservation, making it perhaps the best-preserved Roman aqueduct in the world.
Bicycle rentals
Segovia de Bicio is the bike rental service created by The Historic and Tourism Heritage Council, which also offers tourists the option of renting a bicycle and, for slightly more you can get a bike from Bici-PicNic, where anyone who asks for one will receive a coupon that can be exchanged for a meal.
Outstanding tourism in Segovia by minibus rented with chauffeur
A do-not-miss tour for old and young alike
A trip that starts in the shadow of The Aqueduct to immerse yourself in the Middle Ages in La Plaza de San Martín and participate in the proclamation of Isabel the Catholic as Queen of Castile next to La Plaza Mayor. As you go along this route, little by little you'll discover the legends of the city, the historic people who lived in Segovia in a pleasant and fun trip. Children and grown-ups will have fun from start to finish with numerous games and activities in a retro-trip through the history of the city.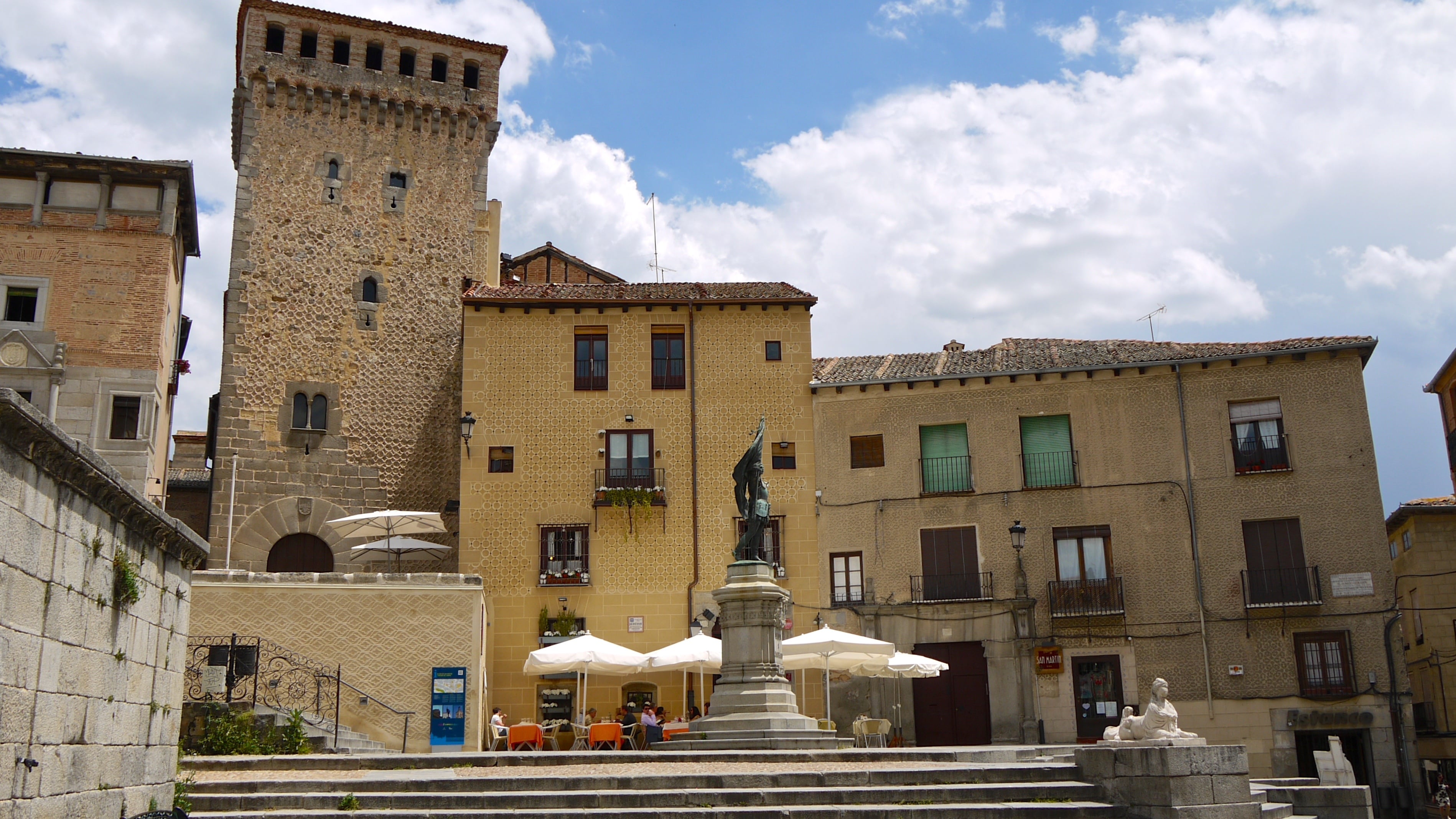 Saint Andrew"s Gate (Puerta de San Andrés)
We recommend planning a group tour through the city"s historic district, which includes the are surrounded by the city wall and the wall that goes from the Castle to the Moon Gate, which enclosed the city during medieval times. This leads to the Jewish cemetery, which was next to Star Bridge (Puente de la Estrella). Colmenares has called it "the most monumental part of the whole wall." In the museum hall inside there are explanatory panels that will help you to gain a fuller appreciation for how the gate was closed and what the different parts of the wall were for. You can take a look at both the guardhouse and the parapet. From the top you can get a unique view of Pinarillo, a hill that the Jewish cemetery is on, as well as a great vista of the roofs of the Jewish quarter and the medieval layout of the streets and enclosures.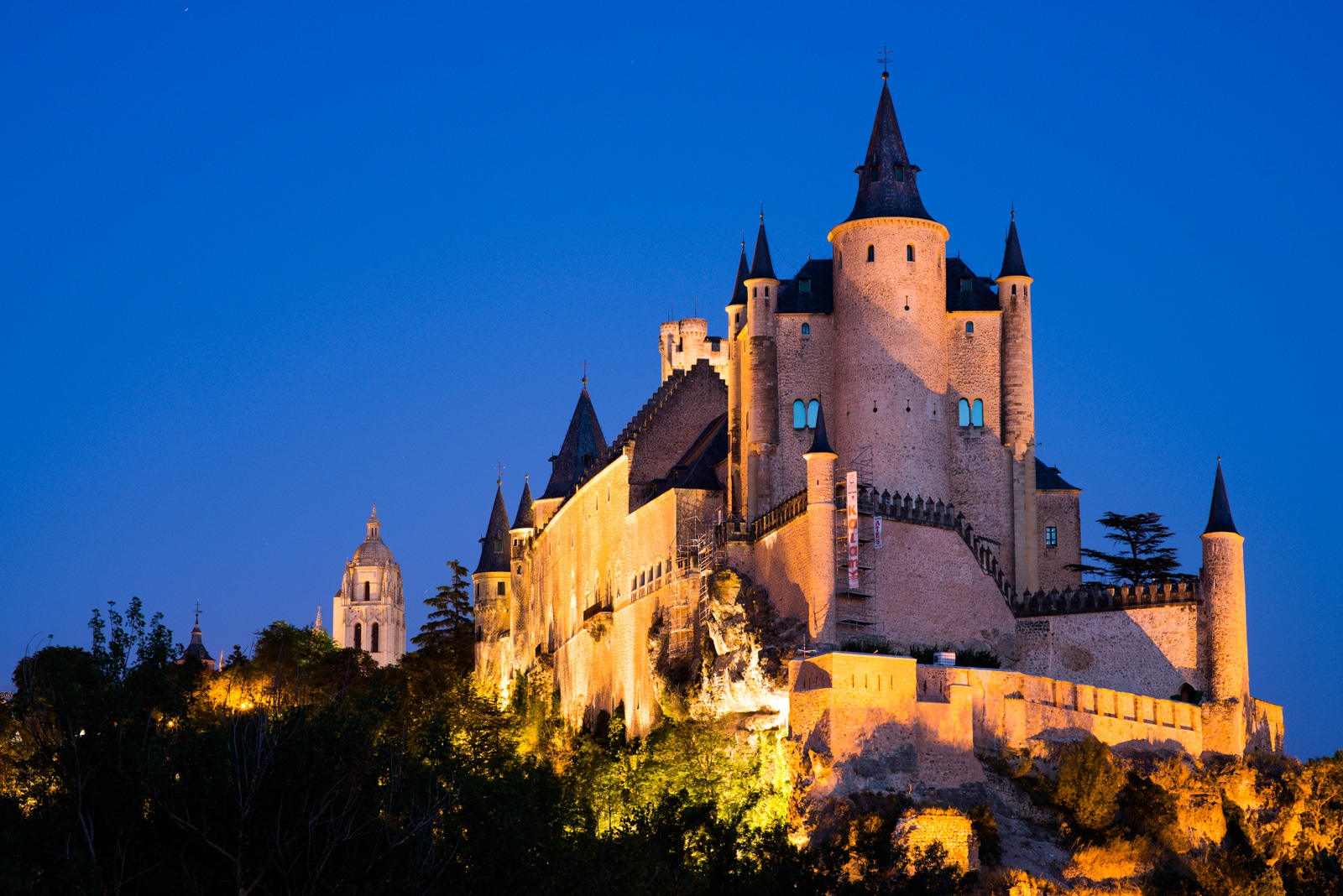 Some other highlights of Segovia include the Church of San Millán (la Iglesia de San Millán), an important Romanesque-style temple in Segovia where you can see the characteristic architecture of the area, the annex atrium where the people of the town get together, the tall belltower, and the Islamic-style decoration. You should also see The Church of Saint John of the Knights (La Iglesia de San Juan de los Caballeros), an early Christian church where the city"s aristocrats and other important townsfolk were buried. You can take an imaginary tour of medieval Segovia at the Museum of Segovia thanks to the many objects on display there. The Museum of the Bishop"s Palace (El Museo del Palacio Episcopal) holds a wealth of paintings, sculptures, crafts, and metalwork.
You can take a bus rented with chauffeur downtown to enjoy the fresh air at Segovia Castle (el Alcázar de Segovia), which has been declared an Artistic Historical Monument and is one of the most important historical buildings in the city. The castle, which was built from the 12th to 16th centuries, rises up majestically above a hilltop.
What to see during your tour in Segovia with a rented minibus with driver
If you want to rent a bus for a trip or excursion that starts or ends in Segovia, we suggest that you include these stops in your itinerary:
La Guagua
A recommendable bar with good music, good drinks, and very good ready-to-serve foods; a very welcoming place. They give you a salad, sweets, or both whenever you order a drink, and they're decorated with style. This bar is located on Paseo de los Tilos Street.
Hot Air Balloon Trip (Viaje en Globo)
Experience a different way of seeing the city. Seeing Segovia from a hot air balloon will fill you with a sensation of peacefulness. This is quite an adventure! Located on General Zabala Street.
Diamond House (La Casa de los Picos)
Tthis building is a symbol of Segovia and is one of the buildings with the most historic significance on Juan Bravo Street. This Italian-style house stands out because its façade is covered in diamond-shaped protrusions.
Restaurant José María
Located on Cronista Lecea Street, renowned as one of the best restaurants in Segovia. This restaurant is famous for its traditional regional cuisine, for its excellent appetizer bar, and the house wine, Pago de Carraovejas. This place is very inviting, the staff is very friendly, and we recommend having a beer and an appetizer before having dinner.
Ruiz de Alba Street
The Roman Aqueduct bisects this street, and you can cross the street via its impressive arches. On one side you can see a very steep slope with very short traditional houses. This street is completely paved and is for pedestrians only. On the other side of the street, to preserve the hillside, a series of extremely wide steps have been built, on which you can take a very beautiful but slow walk. From several points there are beautiful vistas of the medieval wall and the Roman Aqueduct in the background.
None
More about Segovia
Would you like to organize a bus tour to see all these beautiful highlights? Request quotes and compare the different bus and coach hire companies:
Bus tours in Segovia
Coach hire in Segovia