Useful tips for Trieste bus groups with 'what to see' and 'what to do' items and  'bus- friendly' or must see tourist sites in Trieste. Check our list of attractions before planning your bus tour with a stop or departure in Trieste. Let us know if your favourite attraction or 'bus-stop' is not there and you think we should add it to our list of Trieste highlights.
What to see in Trieste with your rented coach bus or minibus with driver
You can organize a group tour in Trieste in a rented coach or minibus around castles, churches, large parks, walks on the beach, canals, museums... It is incredible that so many things fit in a city that is relatively small and also relatively unknown to tourists in comparison with the neighbouring Venice, or other cities such as Florence, Rome or even Pisa. But if you get close to Trieste in a minibus or coach with driver you'll realize that it is wort visiting precisely because there are no crowds of tourists and there is plenty interesting stuff to see and to enjoy.
Your bus stop in Trieste
Once you give your driver a break and have him park the bus in Trieste you'll be strolling through the historic city centre or near seaside to relax. You'll walk through any of its parks or visit peculiar churches such as the Spiridione (what a name!). Trieste offers you many possibilities for leisure, culture and cuisine, not to mention the night life! Here we indicate some places and activities that you can add to your group travel plans when you include Trieste in your mini bus or coach tour.
Hiring a coach in Trieste or in Slovenia?
Depending on the kind of service you need, to find a rental coach near Trieste it may be worth comparing prices with nearby businesses in the neighbouring country. It is clear that it is better to hire a local Trieste driver for a simple bus transfer between airport and hotel. If you are planning a three week trip around Europe, it is worth searching a bit more and maybe look for a better price deal across the boarder. Our page allows operators of coaches of any place and any country to quote with coach hire offers on your group transfer or bus tour.
Day trips in a hired mini bus or coach with driver from Trieste
Day trip by bus and private driver to Udine
Udine is located some 70 kilometres from Trieste, so your mini bus driver can take you there in an hour. This city of 100,000 inhabitants will offer you various spots to visit in just 1 day, as for example the "Piazza della Libertà" (freedom square). Other intersting points for this bus trip include a beautiful site surrounded by Renaissance and Gothic palaces; the "duomo" or Baroque Cathedral with frescoes by Tiepolo inside, or the Oratory of the Purity, also by the same artist.
To Ljubljana (Slovenia) in 1 day and back
At about 100 kilometres from Trieste, or what is the same, at a one and half-hour coach drive on the A1 motorway, there is a city that is considered one of the pearls of central Europe: Ljubljana, capital of Slovenia. One you have the mini bus or coach parked in Ljubljana you can visit the Cathedral of St. Nicholas, the Dragon Bridge, the City Hall and you should enjoy a trip boat trip along the river to have one of the best perspectives of the city.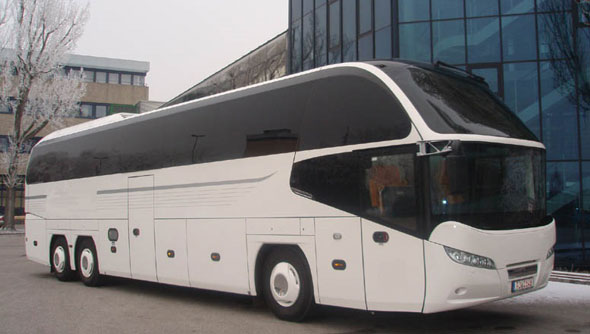 Coach from Europa coaches Ljubljana
Day trip to Rijeka (Croatia)
Since you have the possibility of having your coach and driver in Trieste you must take advantage of the privileged geographical position. You are only a short ride away from different countries and cultures. You should request your driver to take you in the coach to the Croatian City of Rijeka, less than 80 kilometres away. It is one of the most important cities of Croatia and it is a city of great beauty for its architecture and the natural landscape that surrounds it. It just might be your very best day trip in your bus tour.
In a rented bus to Castello di Miramare
This 19th-century castle was residence of the Habsburg family, specifically the Emperor Maximiliano. You will not need a day to visit it, since it is about six kilometres from the city, but you will need the coach and the driver to get there and to drive you back.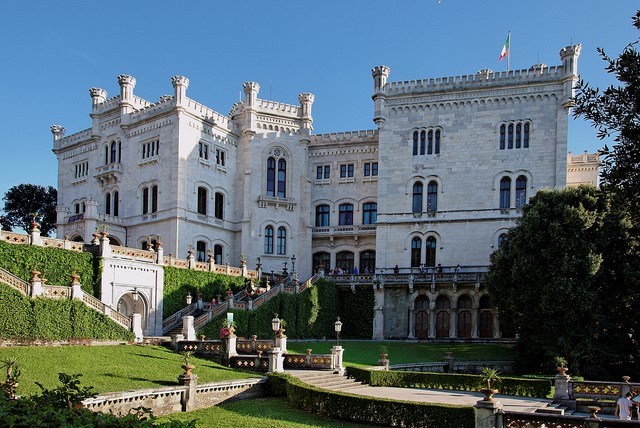 Visits to do without the bus
Taking advantage of the fact that your driver must have at least one day of rest, you can use that time to take your walks through Trieste, where there is also plenty to do while having the minibus and coach in the parking and the driver resting in the hotel.
San Spiridione Orthodox Church: in all cities of Italy you can see Catholic cathedrals and churches of great historical importance and architectural beauty, but in Trieste, in addition, you can visit the Orthodox Serbian church of San Spiridione. The temple is crowned by five very characteristic blue domes and contains frescoes of great value. The Cathedral is located in the street of the same name, in the Centre of the city.
Old town: the historic centre or old city of Trieste is composed of three districts, Cavana, San Giusto, and the old Jewish ghetto. All you have to do is to stroll around the streets enjoying the multiple churches and monuments that you can find along the way.
The Opicina tram ride: This panoramic tram with over 800 metres of descent (26%) covers all the beauties of the city, so it is as if it were a "tourist bus" which, at the same time, is a public transport. It will be a chance to rest your feet while you see the city comfortably seated. Its route runs from Piazza Oberdan to the train station.
Carso triestino: this natural park, composed of limestone formations and caves is an ideal place to relax of some of the walks going from one monument to another, enjoying a landscape that is beautiful in all seasons, although in autumn it is particularly recommended. It is located close to the University of Trieste, in the North of the city.
Eating in Trieste
We have already said that Trieste has things in common with Central European cities as Vienna or Budapest, and one of those points in common are cafes or "bufets" where that characteristic atmosphere is preserved but in the Italian style. Thus, you should not waste the chance to order some sausages, as tasty as the Austrian ones, or sandwiches of various types as those of "maiale", i.e., boiled pork.
It should not be forgotten, however, that Trieste is still Italy, and therefore you will be able to eat the typical Italian dishes of best quality as in so many other cities in the country. Thus, you can eat a delicious pizza, as in neighbouring Croatia, since the raw material is first quality. In Pizzeria da Gino, for example, in Via Giovanni 26, you will be able to try a delicious pizza in the best Italian tradition.
Tour by foot or by minibus with driver around Trieste?
It is logical that to stroll through the historic centre of Trieste and enjoy visiting churches and monuments or its gastronomy you do not need a bus or minibus. It is also known that the driver must have a mandatory rest, and you can use that pause to use your legs a litlle! Starting from the Orthodox Church you can take the tram and once you have seen the panoramic of the city, you may stroll through its streets and end up in the carso triestino.
Tours by rental bus in the surroundings of Trieste
However, the situation of the city of Trieste, near the border with several countries, makes necessary to have a rental bus with driver to get to the different surrounding cities in one day. Thus, with the bus you can visit Ljubljana, in Slovenia, Rijeka, in Croatia or Udine, in the region of Friuli-Venice. And when you return from these trips you will no doubt be thoughtful for the comfort of the seat and also for a driver who knows the roads.
City Tours in Trieste
The North of Italy is quite different from other parts of the country, because it is at the border with countries such as Austria or Slovenia and it has aspects in common with these places. Trieste has the best of both cultures, beautiful architecture, very suggestive coast landscapes and tasty Italian cuisine. You can rent a bus in Trieste for tours in the city or in the region of Friuli-Venice.
What to see and what to do in Trieste
In Trieste you can contemplate the beauty of the city bay, stroll through an incredible park at all seasons of the year, go on a tram with a tour that is really worth doing or visit Miramare Castle and Piazza della Unita. To go to the different points of interest it will be very useful to have a rental coach with driver, without a doubt, especially in the coldest months of the winter.
Tours in Friuli-Venice
If for many Italians the authentic taste of Italy can be found in Naples and the uncontrolled way of being of its inhabitants, then the Friuli-Venice Italy is not really much "Italian", since it has the influence of the countries with which it makes border.
Your tour with private transport in a rented bus coach with driver around Friuli-Venice maybe can start around this region that has the peculiarity of being between three cultures and different languages, since it is located between Italy, of course, Austria and Slovenia.
For this reason, although the neighbouring region of the Veneto and its capital, the very special Venice, takes all the fame and many visitors, Friuli-Venice enjoys a special charm that most wise travellers know how to enjoy. The diversity of its landscape, ranging from the most beautiful alpine peaks, with the Fusine Lakes, to the Adriatic coasts, the beauty of its capital, Trieste, which sounds like history of Europe; or the charm of some cities and towns such as Udine and Cividale del Friuli make a visit to this region very advisable.
What to see and what to do in Friuli-Venezia
The region of Friuli-Venice is not as well-known as the neighbouring Veneto, of course, but its capital, Trieste, is because it has been involved in distant conflicts. Anyway, its location between the peaks of the Alps and the beautiful Adriatic coasts, among several languages and cultures offers a diversity of landscapes and visits that clever visitors will appreciate.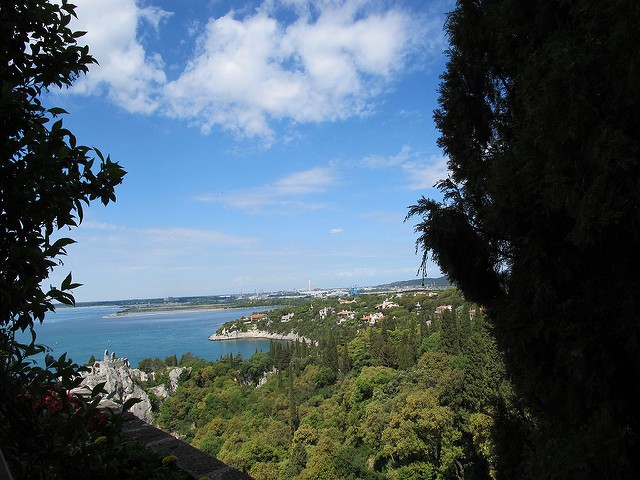 Thus, in Friuli-Venice you can enjoy unique landscapes of mountain as the Lake of Fusine, but you can also visit towns such as Udine and Cividale del Friuli. In terms of monuments, the castle of Duino is one of the possible interesting excursions that you can do on the Adriatic coast, undoubtedly one of the most beautiful cities in Europe.
Tours in Friuli Venezia
Lakes of Fusine
One of the attractions of Friuli-Venice is the alpine landscapes, undoubtedly, and among the most beautiful are the Fusine Lakes. These are two lakes of glacial origin, the upper and the lower, found about 175 kilometres from Trieste, so your driver can take you there by coach in two hours approximately. The landscape surrounding these lakes is impressive, but you must not forget, of course, that in this place the lowest temperatures in the country are registered at times, so if you go in winter it is suitable that you go very warm!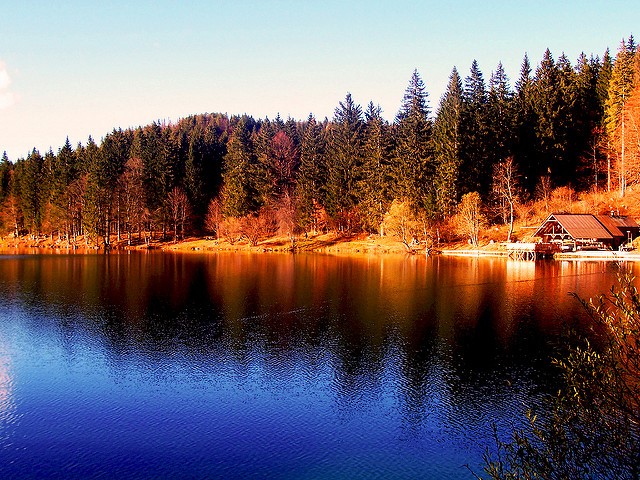 Visit to the Punta Verde Zoo
You may be doing this tour of Friuli-Venice with the family and your children need an activity designed for them. One of the most suitable of the region is the visit to the zoo in the Park of Punta Verde, one of the most valued by visitors and that will delight children by the variety of fauna which it contains and because animals are well looked after and in appropriate spaces.
Excursion to the castle of Duino
If you want to spend a day visiting a monument and also enjoying amazing landscapes you can reach the castle of Duino in 20 minutes. Hire a coach with a driver in Trieste , and drive to Duino which is located only 25 kilometres from Trieste. It is a castle dating back to the 14th century and it stands on a rock surrounded by the blue waters of the Adriatic.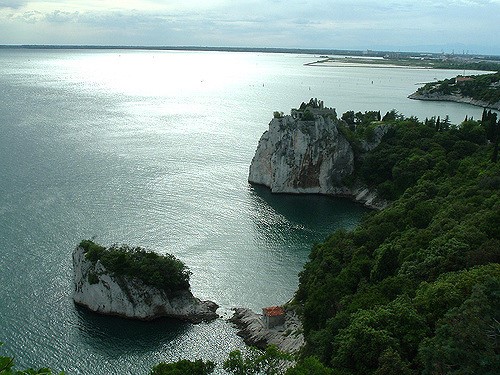 A day in Udine
It is a city of about 100,000 inhabitants, located in the province of the same name. The city has a large automobile industry and has a historical and cultural heritage of equal importance, for which the visit is much worth. In the rental coach with driver you can reach Udine in less than an hour, since it is 75 kilometres from the capital of the region.
Among many other things that you can visit there is the Piazza della Libertà, where some of the major monuments of the city can be found; and you must not miss the visit to the castle of Udine, and the Church of Santa María del Castillo, the oldest in the city.
Cividale del Friuli
Among the various charming villages in this region, one of the most beautiful is undoubtedly Cividale del Friuli. This village is situated in the province of Udine, 75 kilometres from Trieste. Therefore, you can get in an hour in your rental coach.
Cividale del Friuli dates from the 2nd century BC, no less, and it was founded by the emperor Julio César, reason for which there is a statue in his honour on the main square. Although the promenade along the river offers beautiful views to which you can take stunning photos, you must not miss the mentioned square and the "duomo" in the town, as well as the various churches that it has and the "Bridge of the Devil" over the river Friuli.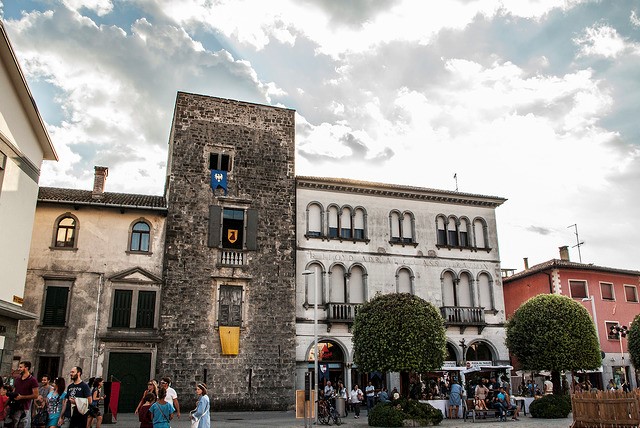 None
More about Trieste
Would you like to organize a bus tour to see all these beautiful highlights? Request quotes and compare the different bus and coach hire companies:
Bus tours in Trieste
Coach hire in Trieste