Plan to hire a coach, bus or minibus or do you need airport transfers in the region of Goa ? Looking for tour and travel services like taxi, car with driver rentals or other chauffeured transportation options in the surroundings of Goa? No costs to compare offers from transportation companies and travel agents that rent and organize vehicles with a chauffeur around Goa in India. No more calls!
Start using our transport services in the region of Goa, by filling out the form below.
About Goa Province
Goa is one of India"s smallest provinces, but it is one of the most visited places of the Country. Every year 2.5 million visitors arrive in Goa to enjoy the beaches, ruins, jungle, and history of this iconic province. The coastline is a seemingly never ending collection of often deserted beaches, and the interior is full of charming villages and colonial Portuguese enchantment. In the 1960s it was the hippies who made Goa famous. Since then, a lot has been done to change the province"s reputation as just a party destination. The nonstop parties still exist, but Goa"s universal appeal means that visitors now come for all kinds of reasons.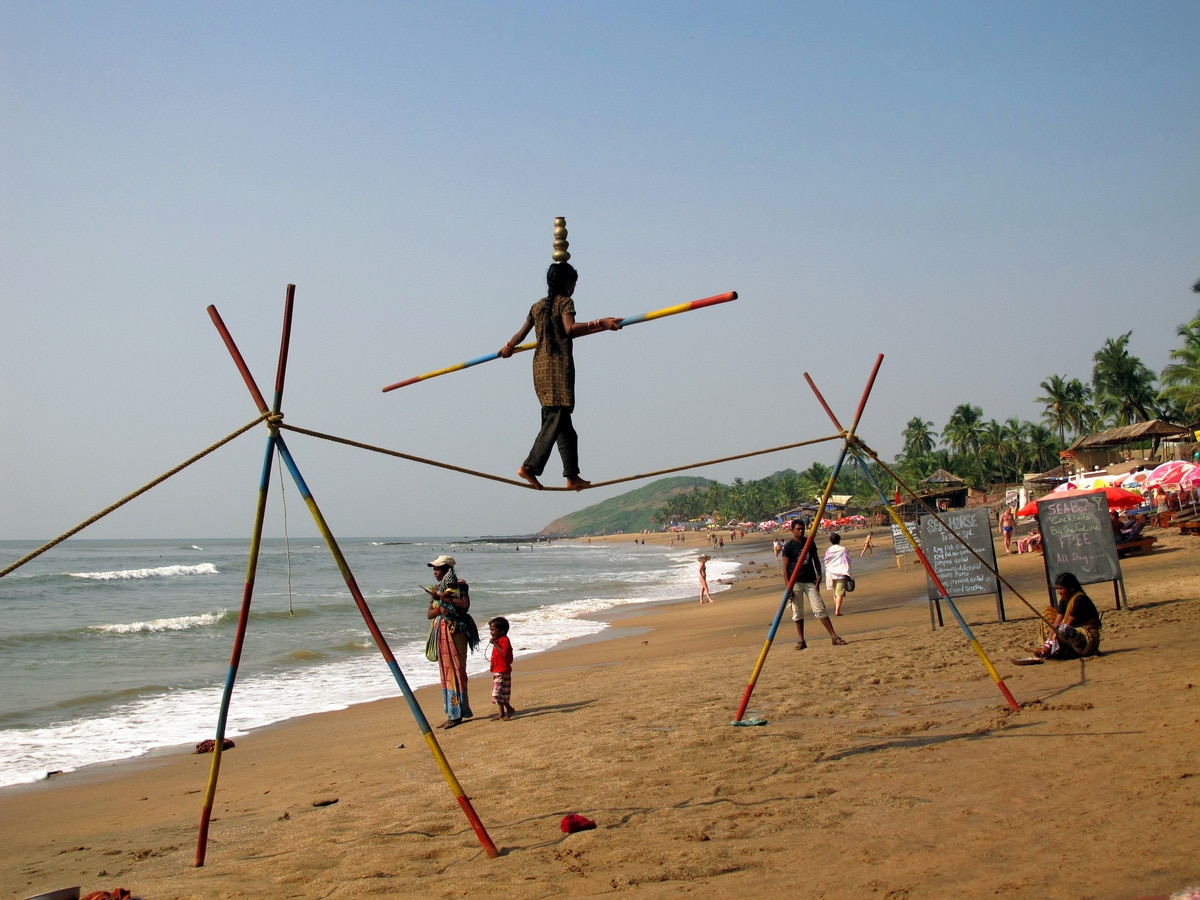 There are many unexpected sights on the beaches of Goa, not least a child acrobat walking the tightrope. Photo credit: Stephen Bailey
Chauffeured transportation in Goa
Perhaps need a car with driver hire to explore the wonders of Goa province? On our website you can plan your tour and travel services in Goa, and organise transportation with a private chauffeur to places like Vasco da Gama, Old Goa, Agonda, Anjuna, Palolem, Calangute, and all other destinations in Goa. With our easy to use tool there is no need to waste time making phone calls or sending emails. You can compare offers and quotes from local chauffeur driven Goa transport companies and find the best deal. Start using our transport services in Goa by filling out the form below.
Transport and travel connections in Goa Province
Goa is well connected to the rest of the world with flights arriving from all over the world. There are also several buses and trains arriving from the different corners of India and in Goa the rush and madness of India slips away. The roads are quiet and relaxed, weaving through the jungle and past quaint local villages. Everywhere is connected by these country roads which are in good condition, particularly by Indian standards. However, getting around requires private transport as public transport is limited to tired creaking buses that only service the main towns.
Travel by plane / flight:
Goa International Airport (GOI) is located in Vasco da Gama in the centre of the province. Flights arrive here from all over the world, either directly or via a stop in Mumbai. During the peak season of November to April there are also a number of chartered flights arriving from Europe. From Goa International Airport you can reach most places in Goa in less than one hour. Leave the airport and the wonders of the province immediately impress. Old stone houses stand amongst fields of green, ancient churches look proud against the horizon, and the roads weave past hordes of wondering cows. Keeps your eyes peeled. There"s always a chance of passing a long haired hippie who is stuck in the 1960s and wearing hypnotic tai dai trousers.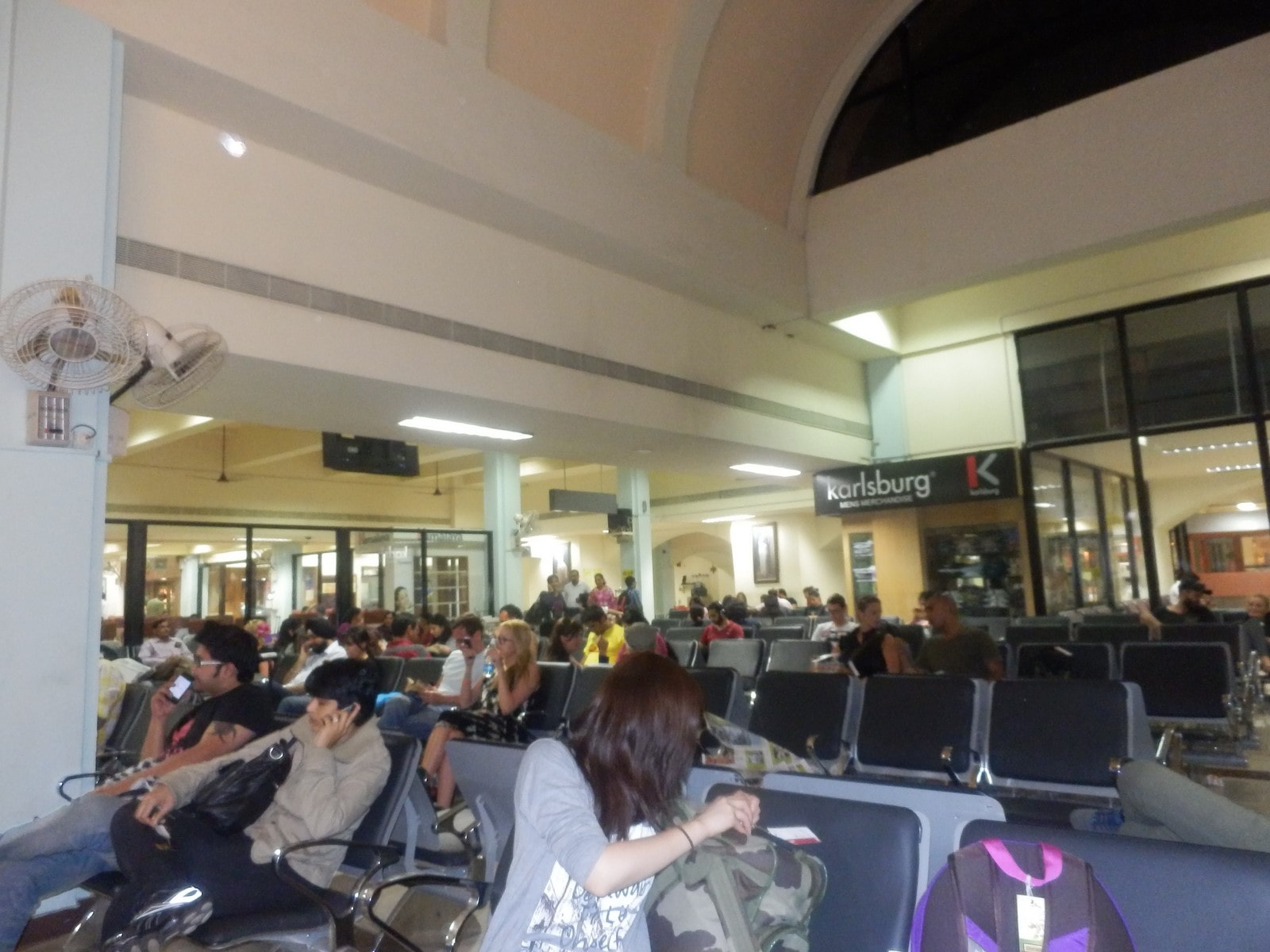 Transport from the Goa International Airport:
From the airport there is a range of private transport options for you to reach your hotel. Pre booking saves a lot of hassle on arrival and ensures you have a smiling Indian man greeting you at the arrivals gate. Check our page about transfers from and to the Goa Airport or use our form to compare Goa transfer vehicle and price options and book the best quote
Travel by Road:
Meandering through Goa on quiet roads is an essential local experience. Along the road are cows, locals heading to church, and not much traffic. Every corner brings new charms, like deserted beaches, quaint villages, or lonely stretches of tarmac though the jungle. Goa has some core attractions, but much of its beauty lies in exploring and stopping at all the random places you find. For this reason private transport is essential, and hiring a car with driver in Goa is one of the most common ways to get around. Wherever you want to go in this state there will be a road going there and plenty of different companies want to take you.
Travel by Train or Bus:
Trains and buses arrive in Goa from all over India. Some trains have take days not hours, as they come from the northern most part of the country. These long distance journeys are comfortable and atmospheric, but the local trains and buses are only for the most hardcore. And not the most hardcore party animals, the most hardcore in withstanding terrible public transport. Unless you"re looking for painfully slow and sweaty journeys then the local trains and buses are best avoided.
What to see and visit in Goa Province
Goa is a small province but it offers a lot. Different tourists have different tactics. Some like to base themselves at one beach for two weeks and take day trips to explore the province. Others move down or up the coast, spending a few days at the many different beaches. Then there is some European package tourists who sit on the same beach, drinking the same drinks, and talking to the same person for two whole weeks. They"re usually wearing speedos and have hairy backs.
In general people flock to the sand, choosing to stay somewhere along the beach with an uninterrupted view of the sunset. But the interior holds a unique enchantment that can rival any long day sunbathing with a cocktail in hand.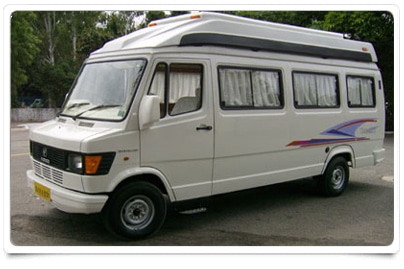 Tours in Goa Province:
Goa doesn"t have big cities. It"s a province of villages, scattered beach towns, and stunning rural scenery. Exploring it requires private transport. And Goa really is about exploration. Travel through the jungle to ancient ruins or skirt the coast and the spectacular views of sand and sunset. You can organise transport so you can visit all the attractions Goa has to offer. Don"t get stuck in just one beach resort, make sure you explore the whole region. Start today! You can plan all your group travel in Goa by using our online quote request system.
Northern Beaches: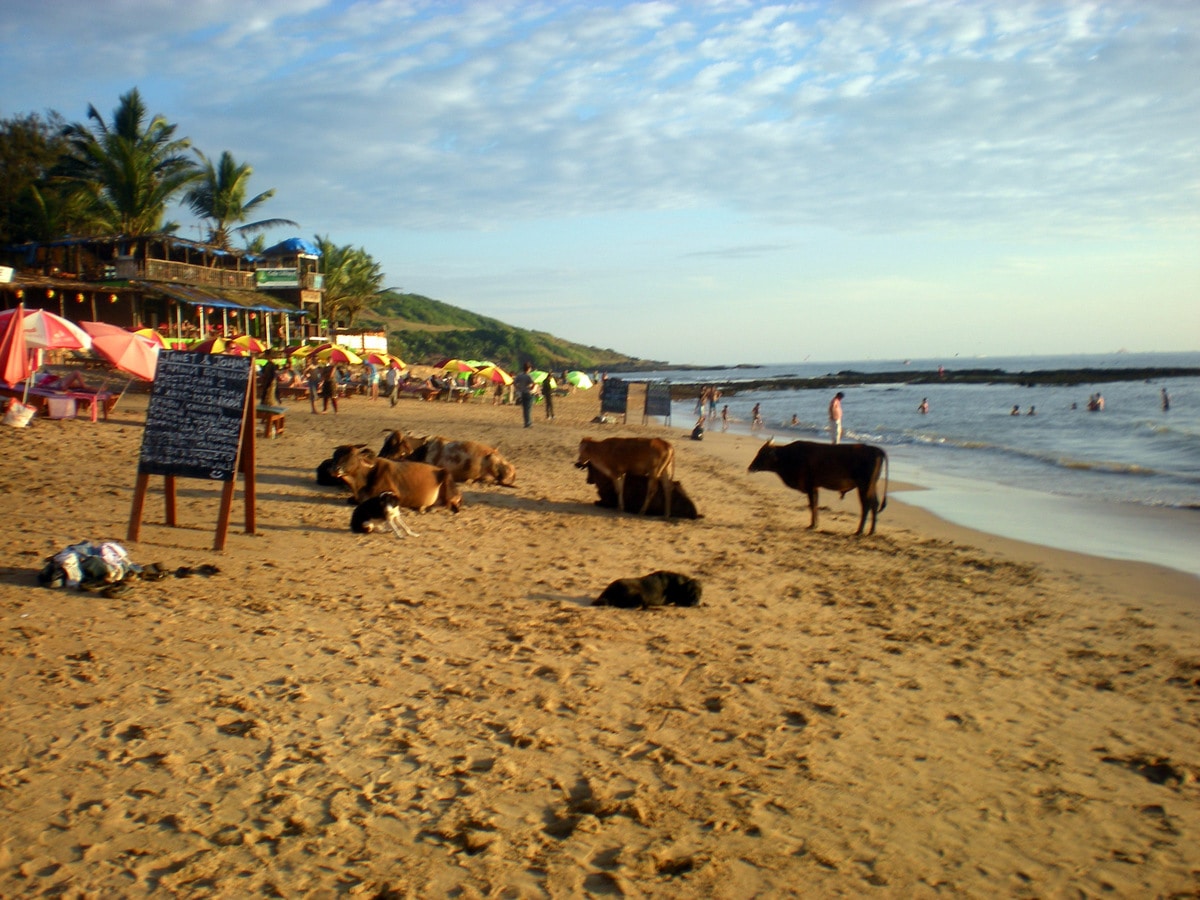 Even Goa"s more popular beaches are full of cows. Photo credit: Stephen Bailey
Goa"s most popular beaches are north of the airport and Vasco da Gama. But by popular we don"t mean there are thousands of sunbathers and few specs of sand. Cows are still more numerous than people, and some stretches are almost deserted. Arambol in the far north is a place of ultra cheap accommodation and ultra bearded tourists pretending they"re throwbacks from the 60s. Baga beach is Goa"s busiest and a mecca for Indian tourists. Here you"ll find the largest concentration of bars and restaurants, including the obligatory Irish pub. Candolim and Vagator used to be the coolest, but now their bars and clubs look old and decaying.
Reliving the hippies: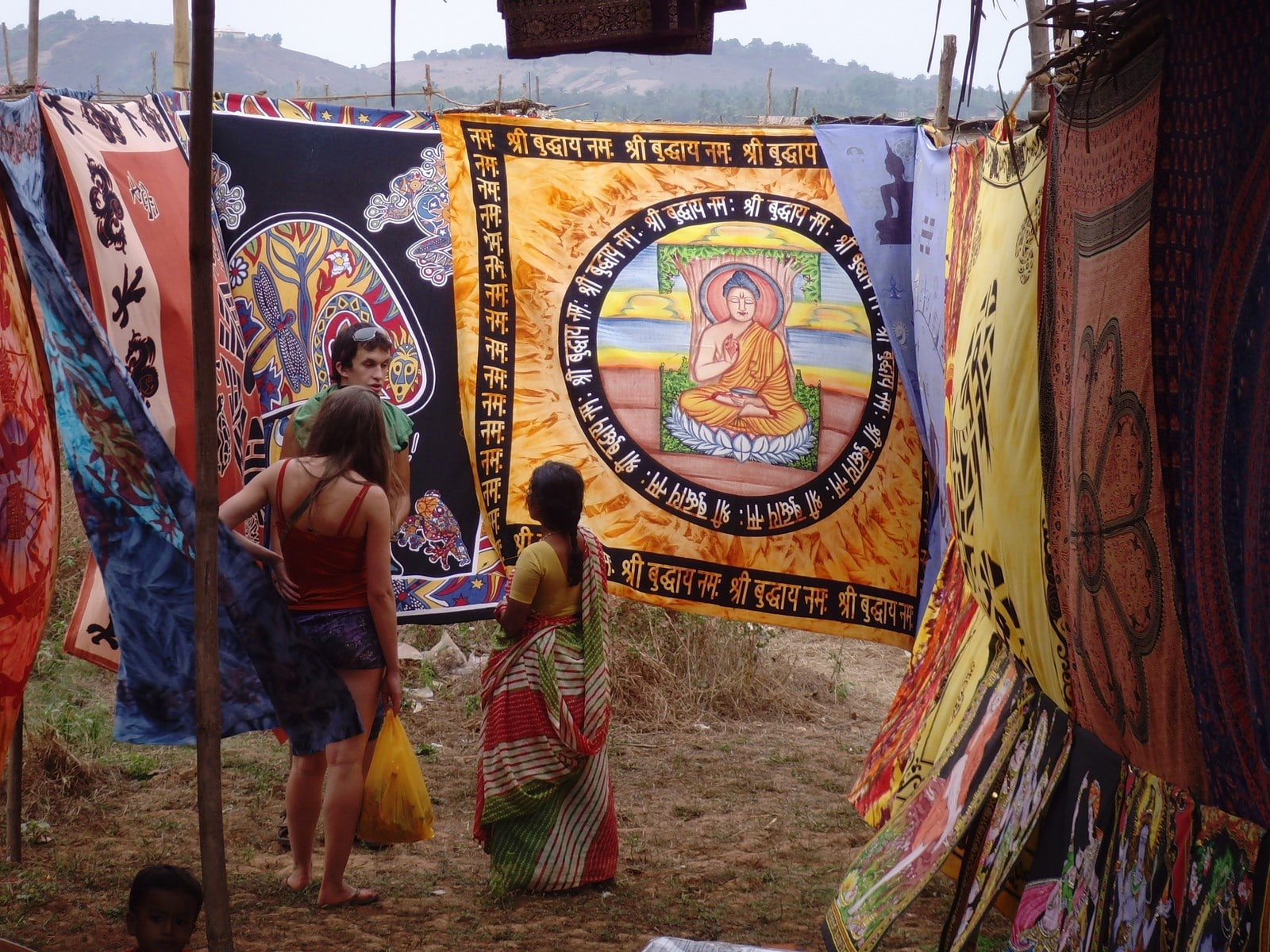 It was the hippies that made Goa famous in 60s and 70s and you"ll still find enough multi-coloured trousers to convince yourself that the hippies never actually left. Attempting to rediscover this culture is popular amongst many tourists, although this usually restricts itself to not washing for a week and buying t-shirts so colourful they blind others. Anjuna Beach is probably the best place to reconnect with this culture, and their weekly market is one of the most colourful in India, even if the local music involves a group of long haired Europeans playing 70s covers.
Southern beaches: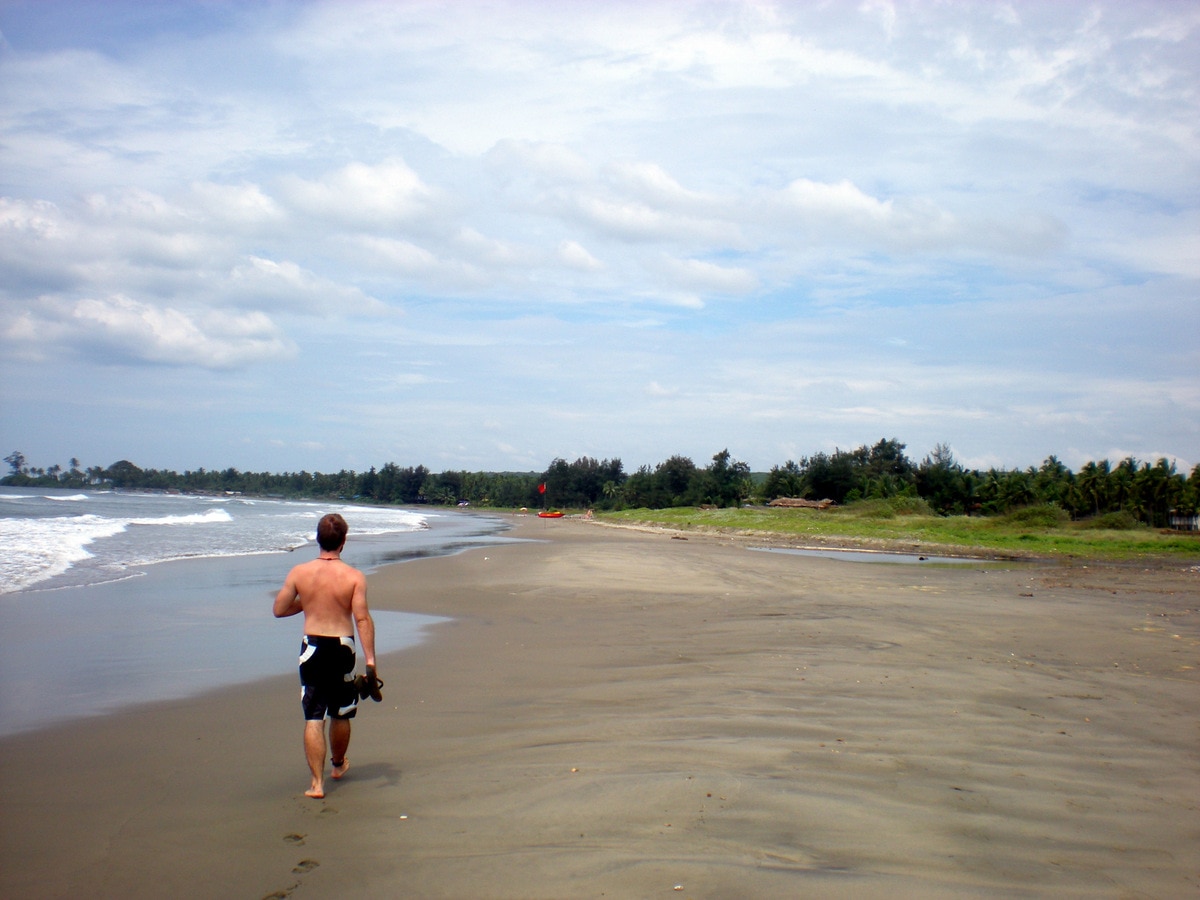 Many of Goa"s beaches are completely deserted. Photo credit: Stephen Bailey
Goa"s southern beaches are quieter, and many are completely deserted. On some you"ll find nothing but the odd bamboo shack serving up a fish barbecue. Others are the location of the all inclusive high end tourist resorts. The latter are usually best avoided, as it"s where you"ll find overweight European men in speedos and spoilt screaming children. Fortunately they stick to their own strip of sand, ignoring the kilometres of unspoilt nature around them. The southern beaches are best explored randomly, with the centre of the area being Agonda beach and its cute beachside huts.
Churches and Cathedrals: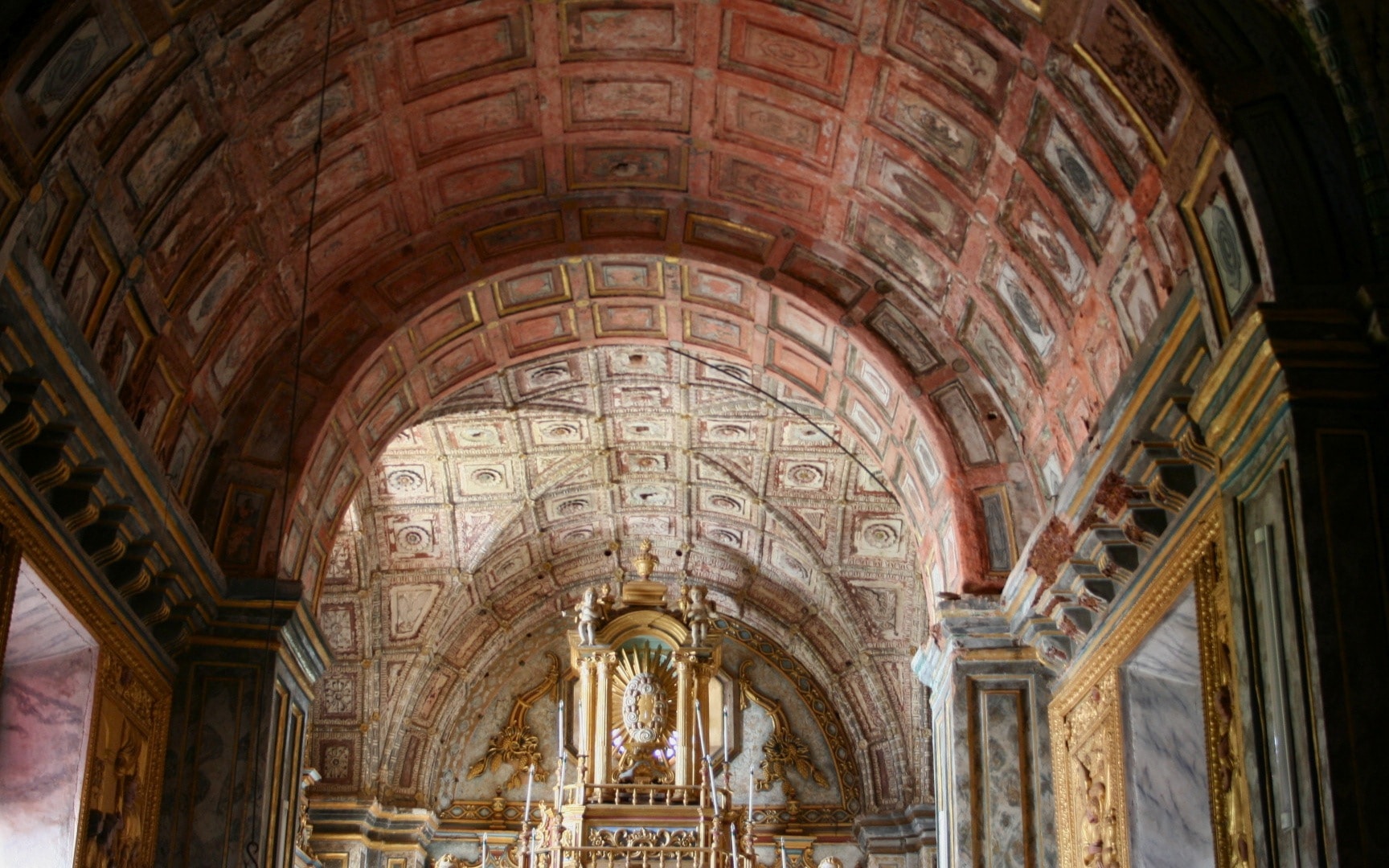 Portuguese cathedrals of Old Goa, India
Goa was a Portuguese colony and retains a large Catholic population. Dotted throughout the district are 15th to 17th century churches; some are ruined, while others stand proud amongst the green jungle. There is a quaint enchantment to the sight of whitewashed chapels appearing through the trees as you explore the inland region of Goa. The most famous are the Bom Jesus Basilica, Church of St Francis of Assisi, and the Se Cathedral, which took 80 years to construct. It"s one of the largest churches in Asia, but equally impressive are the local stone chapels you"ll find in tiny villages.
Colonial history:
Goa has a rich history and the mix of Indian and Portuguese is what makes it so fascinating for visitors. At the heart of this past is the city Old Goa, a town that was home to 200,000 people in the 17th century. The remains are a UNESCO World Heritage site and it"s easily worth missing a day on the beach to see. Province capital Panjim also displays the past, and it"s the best place to admire the merging of different cultures.
Rural Goa: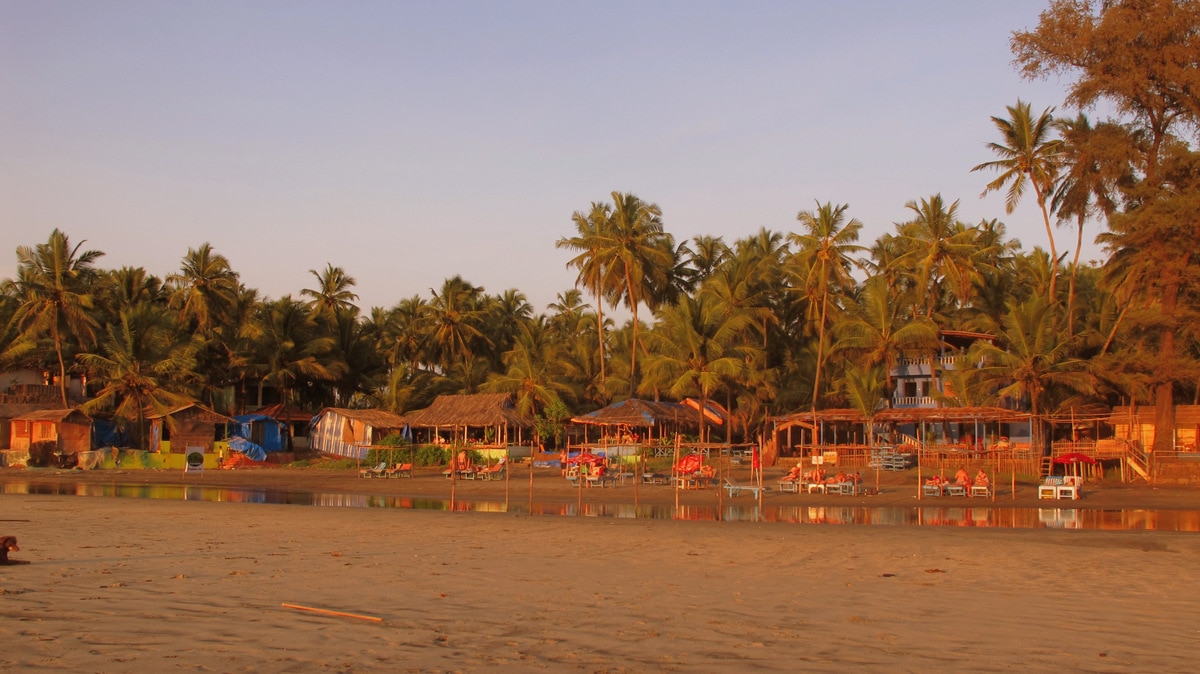 The cheapest accommodation is in Bamboo huts along the beach. Photo credit: Stephen Bailey
Goans don"t live in cities. Even the state capital feels like a large village, and the wandering cows are testament to this. Throughout the region you"ll find cute villages where life continues as it has for centuries. Women walk around in colourful dresses, barefoot children wave hello to strangers, and palm trees sway in the breeze. This charm makes any journey in Goa an eventful one. It"s not just about the destination; there is more than enough to feast your eyes on as you travel through Goa"s rural landscape.
Travel services in Goa
You can plan group travel in Goa with our online quote request system and plot your entire route. For example, you can plot the entire route of the tour we describe above. Travel in Goa province has never been easier: start today!
Cities in Goa
Goa
Travel services in Goa
You can plan group travel in Goa with our online quote request system and plot your entire route. For example, you can plot the entire route of the tour we describe above. Travel in Goa province has never been easier: start today!