Compare coach & minibus hire companies in Antwerp! Use our reviews and comparison grid for insights in making the best choice. We allow you to compare multiple offers from various Antwerp based bus rental with driver companies. We'll help you to find companies that match your bus transport needs. We list all kinds of mini-bus and coach rental companies from those specialized in transfers by vans to those with fleets of only full size motor coach busses. Companies specialized in local transfers and day trips in Belgium or companies touring across multiple countries.
Minibus and coach hire companies in Antwerp
As a tourist in Antwerp you can choose from several transport companies that can help you with renting a (mini) bus or coach. There are small businesses, which only have minibuses in their assortment, and medium to large organizations, which have more to offer. Two well known companies are: Driving-Force, Rayane Coach, Bell Tours Autocars & Reizen. Would you like to rent a bus in Antwerp? You can find a selection of bus rental companies with their profiles on our bus rental Antwerp page.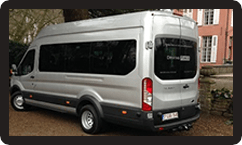 Antwerp mini-bus hire and coach rental companies with driver and minibus hire companies with driver
Company
Vehicles
Client rating
More about Antwerp mini-bus and coach hires and tours
Would you like to discover more about bus rental in Antwerp and coach hire with driver, tours and tourist attractions? Want to have an indication of price ranges for rentals of buses in Antwerp? Check out our pages about: