Compare and hire a coach, mini-bus and bus in Hull with ease! Receive competing bus rental with driver quotes from different mini bus and coach hire companies. Compare quotes on rental costs, client ratings and reviews, number of seats in the bus, space for luggage, facilities and age of the vehicle. Ask our customer service for help when organizing your bus trip or tour. RentAutobus helps you to compare multiple chauffeur driven bus rental and motorcoach companies in Hull, where you can hire group transport ranging from chauffeured mini-buses to full-sized coaches. We are here to help you to find the best possible deal in coach hire for your trip.
Everything about Hull, options for tourism and ground-based, chauffeured and private transportation in Hull. For tourism operators, travel agencies, independent travelers or group travel agencies.
Price ranges for Hull bus and driver rentals
Check these Hull bus hire rates in relation to bus size
Types of Transportation to and from Hull
In Hull you have much choice when it comes to private transport. There are many offerings of bus companies, airport transfers, day tours, conferences, celebrations and travel agencies. Would you like to rent a bus in Hull? You can find a selection of bus rental companies with their profiles on our bus rental Hull page.
The town has a variety of transport in and around the city. All the information you need is there for you, from day trips to festivals!
Hull, also known as Kingston Upon Hull, is a British old harbor and borders on two rivers called the Humber and the Hull. The city has a long and profound history. The city was in the Middle Ages an important port and it still is. Hull has around 300.000 inhabitants. The city with its museums and ancient streets is known as a cultural city where you will never be bored!
Bus and Coach Rentals in Hull
The number of bus and coach rental companies is approximately is about 12 companies. At the bus rental companies you can be rented both buses or minibuses. We mention a number of providers: Jim Bell coaches is located on the 27 Crowle St. They offer buses with seating capacity ranging from 16 to 53.
Another provider called Lords Coaches. This company rents buses and minibuses. The bus has 53 seats and the minibus has 28 seats. The company is located on the 252 Anlaby Road. The company Costello taxis hires minibuses. The company is located on the 141A Askew Avenue. Minibuses can be booked online.
Another company is called Pearsons coaches located on the 9 Headlands Road. They rent buses ranging from 16, 24, 33, and 53 pitches. This company organizes also day trips.
Another company, which is located on the Home Farm, Meaux Road, Wawne, is called Northern Spirit Coaches. Wawne is a town above Hull. The company provides buses and minibuses. The buses have 49 seats and minibuses have 16 seats.
Transportation to and from the airport
Humberside Airport (HUY) is located in Kirmington. The airport is 24 kilometers (15 miles) away from Hull and is about 45 minutes away from Hull. At the airport, various types of transportation are offered. There are several buses and taxi companies which will bring you to your destination. A number of providers which drive you to and from the airport are: Ringway cars on Chamberlain Road in Hull is one of the possibilities.
706 taxis is located on the 430, Marfleet Lane, in the east of Hull. They bring you in a taxi or minibus from the airport to your destination and from the destination to the airport. A ride to the airport costs about 58,35 euros with a minibus. Silverline airport transfers is located on the first Plum Tree Road. The price to the airport do you decide together with the driver.
There also drives a shuttle bus from the airport to and from Hull. This bus runs from Monday until Saturday. A single ride costs 5.25 euros and a return costs 8.05 euros. You can reserve or request transportation in the city of Hull, where you can choose from multiple specialized companies, and you can request a size or specific type of bus.
Taxis
In general taxis in Hull are often safe. But there are some things you can control, so that you are sure that you are in a safe taxi.
Hackney carriages, also called black cabs, are often see on the side of the road. The taxis are black in color. These taxis can also be booked in advance.
Taxis can be identified by the mandatory taxi sign. The taxi sign is located on the roof of the car. Taxis also has a taximeter, identification stickers on both front doors and a yellow tag on the back of the taxi.
In England there are also the so-called "Bogus Taxis "or" Rogue Taxis. These taxis doesn't have the formal characteristics of a taxi. You are often not insured in these taxis.
You can avoid this to look if the door stickers matches with the vehicle data. You can also ask for an identification badge and see if the driver his face matches with the picture on the badge.
By private taxis you often have to reserve. These taxis cannot continue on the road. Examples of taxi firms in Hull are: 706 cars, Cars and Ringway Hull cars. 706 cars can be found at the 430, Marfleet Lane. Ringway Cars Chamberlain is located on the road and Hull cars on the 126 Anlaby Road You can call these companies for a taxi and they are right with you!
Limousine rental
Do you want to experience the luxury life in the region of Hull for a day? That's possible with a limousine or luxury car. These can be rented at Abbie"s Limo located on the 24 Cherry Tree Close. This company rents the following car models: Ford, Lincoln car, Bently and GMC. The limousines can be used for weddings, birthdays, sports events and much more. Another rental company is Virto Limos. They offer are the BMW X5, Chrysler 300, Mercedes limo bus, Range Rover vogue and Rolls Royce car. The company is located on the 35 Stromness Way.
Limousine from Abbie"s Limo
Credit Photo: plus.google
Also 1st Choice Limos is situated in Hull on the 55 Main Street. They offer the Millenium Tidal Wave. That is a glamor limousine. They also offer the Rolls Royce.
In Hull there are several wedding cars that can be rented and also luxury cars with driver can be rented. Company Hull Wedding Cars hires several wedding cars. Examples include the Volkswagen Beetle and the Porsche Boxster s. The cars can be rented for 290 euros.
Also the company Silverline wedding cars have different cars like a Rolls Royce and a Jaguar S.
City tours in Hull
There are several walking tours through the city. This is ideal for groups and you will have a lot of fun. With the city walks, you walk along the beautiful and cultural places of Hull. Many walking tours start from the tourist information center. Hull has a historic district with many museums and attractions. You can enjoy the ambiance and culture with a walking tour.
Old city walk tour at White Hart in Hull
Credit Photo: yelp
There are several examples of organized walks in Hull. For example, the old city walk. This walk goes along the old buildings of Hull where you get to know the architecture. You also get more to know about Robinson Crusoe, William Wilberforce and more famous persons!
Another route is the pub walk. Here you will pass the famous pubs of Hull.
Hull is also the perfect city for cycling. At the tourist office you can ask cycle routes.
There is also an annual event called Sky Ride Hull, where you can cycle with your friends and family through the city This is also a fun activity for groups!
Nightlife
Hull has a nightlife that includes cozy English pubs and wine bars. There are also many annual festivals. A well-known festival is the Freedom Festival. This is an annual free festival with various artists and located on the fruit market.
Another annual festival is the Hull Jazz festival. The event takes place around the marina.
There are several clubs around the University of Hull. It is a popular area where it is often very cozy in the evenings.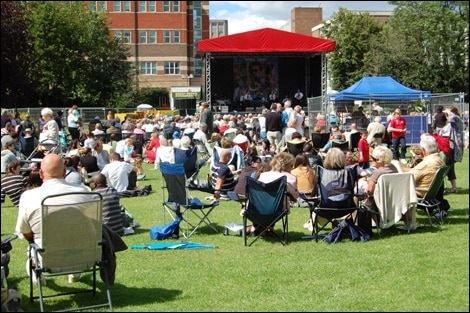 People having fun at the Hull Jazz festival
Credit Photo: bbc
There are cozy pubs in Hull. A well-known pub is Ye Olde White Harte. In the weekends it is often very busy and cozy. The pub is located on the 25 Silver Street. Another pub where you can enjoy a drink cozy is Ye Olde Black Boy. This is the oldest pub in Hull. Here you can get different types of beverages namely beer and from whiskey to fruit wines.
In short, there is a lot to do in Hull when it comes to nightlife. Are you here on holiday or are you making a tour? In the evening, you have to go to the lively and cozy clubs.
Options for tourist transport in Hull
Do you want to go sightseeing in and around Hull? Do you want to visit other cities in the region of Hull? Get ideas for tours and city trips in the region Hull here.