Compare and hire a coach, mini-bus and bus in Apeldoorn with ease! Receive competing bus rental with driver quotes from different mini bus and coach hire companies. Compare quotes on rental costs, client ratings and reviews, number of seats in the bus, space for luggage, facilities and age of the vehicle. Ask our customer service for help when organizing your bus trip or tour. RentAutobus helps you to compare multiple chauffeur driven bus rental and motorcoach companies in Apeldoorn, where you can hire group transport ranging from chauffeured mini-buses to full-sized coaches. We are here to help you to find the best possible deal in coach hire for your trip.
Everything about Apeldoorn, options for tourism and ground-based, chauffeured and private transportation in Apeldoorn. For tourism operators, travel agencies, independent travelers or group travel agencies.
Price ranges for Apeldoorn bus and driver rentals
Check these Apeldoorn bus hire rates in relation to bus size
Competing quotes for Apeldoorn bus and driver rentals
There are several companies located in and around Apeldoorn where you can rent a bus or coach. The first company is HappyBus located at the Linie in Apeldoorn. The company specializes in private bus driving and brings groups of people together for any day activity. HappyBus serves staff outings, school trips and much more. The coaches of HappyBus are recognized by the smiley on the sides and on the back of the bus. Each bus has 50 seats and includes a toilet and a refrigerator.
In the vicinity of Apeldoorn are also some companies located who hire bus and coaches and also operate in Apeldoorn. TCR transport is located at the Dordrechtweg in Deventer and features a variety of little buses. Along with Happybus TRC transportation will take you to any occasion. The transport of TRC is identified by the TRC logo which is placed on every vehicle.
The last company is called Visscher Touringcars and is located at the Voorsterweg in Loenen. The company offers luxury coaches with a capacity of 19 up to 60 seats. The company also offers special wheelchair transportation. In Visscher Touringcars you can enjoy a day trip or a multi-day trip with a group. The coaches are recognizable by the logo of Visscher. Get the best deal for your group transfer and bus or coach rental or tour in Apeldoorn/Gelderland by starting with the bus coach rental quote form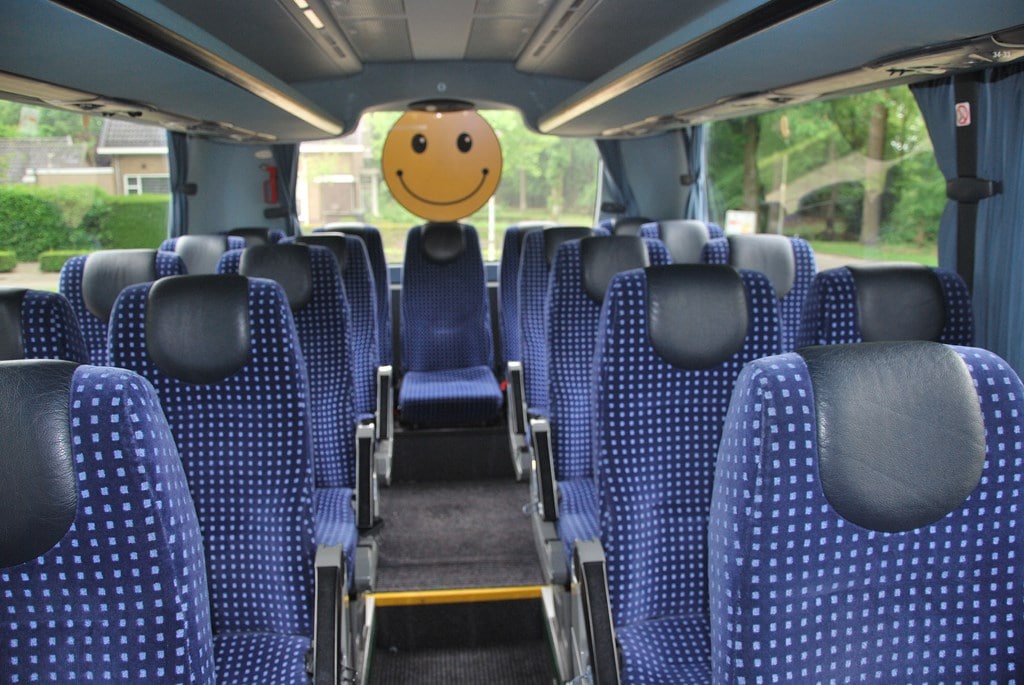 Interior and amenities of the bus happybus.nl
Transportation to and from airports in Apeldoorn
To easily be brought to and from the airport, there are some companies located in Apeldoorn that can be useful. The nearest airport in the Netherlands is Schiphol International Airport ( AMS ) and is located about 99 kilometers west of Apeldoorn.
Options for tourist transport in Apeldoorn
Do you want to go sightseeing in and around Apeldoorn? Do you want to visit other cities in the region of Gelderland? Get ideas for tours and city trips in the region Gelderland here.