Compare coach & minibus hire companies in Genoa! Use our reviews and comparison grid for insights in making the best choice. We allow you to compare multiple offers from various Genoa based bus rental with driver companies. We'll help you to find companies that match your bus transport needs. We list all kinds of mini-bus and coach rental companies from those specialized in transfers by vans to those with fleets of only full size motor coach busses. Companies specialized in local transfers and day trips in Italy or companies touring across multiple countries.
Bus, minibus and coach hire companies in Genoa
According to our research, the city of Genoa has approximately 12 companies with the activity focussed on bus and minibus hires. All of them except two are based in the same city. Virtually all private transport companies in Genoa provide transport services for tourists. Off course they'll take on work from other groups like for business travellers who are in Genoa for work and need daily transfers. Some of these companies also combine their touristic services with scheduled publice service bus lines but most of them cater for the Italian or international tourist market. Would you like to rent a bus in Genoa? You can find a selection of bus rental companies with their profiles on our bus rental Genoa page.
The Volabus Company organizes transfers for tourist and school groups, and it also provides transfer services to and from the airport. They have a bus fleet of Man, Setra and Mercedes up to 51 seats. According to their website they have decades of experience in the tourism and rental buses sector. Velabus has the administrative headquarters in the town of Rapallo, near Genoa.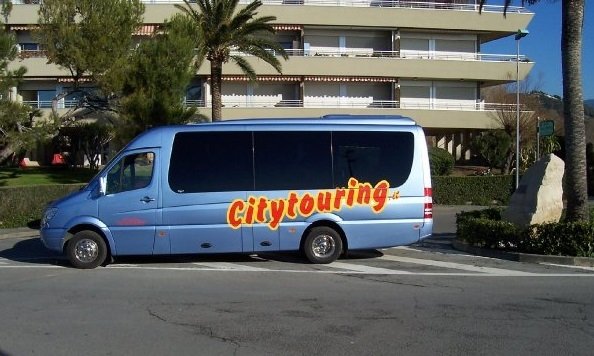 View of luxury bus from City Touring in Genoa
The Volpi Bus Company, with headquarters in Piazza della Vittoria, number 53 of Genoa can be considered a medium sized company. It explains on its web site that it has a fleet of more than 30 minibuses and buses, most of them Mercedes and Man and ranging from 6 to 77 seats. They also have been dealing with transportation in the region for decades and they organise tourist routes through northern Italy.
The Genova Rent Company has been working in the province of Genoa since 1975, according to its website. Its founder was Renzo Balbi, and the company started with his own rental, driven by himself. Currently, the company has a varied fleet of buses and minibuses, ranging from the (classic) vintage cars for ceremonies like weddings to Irizar branded buses with up to 55 seats. Genova Rent is located in Via Ruspoli 11, Genoa.
Genoa mini-bus hire and coach rental companies with driver and minibus hire companies with driver
Company
Vehicles
Client rating
More about Genoa mini-bus and coach hires and tours
Would you like to discover more about bus rental in Genoa and coach hire with driver, tours and tourist attractions? Want to have an indication of price ranges for rentals of buses in Genoa? Check out our pages about: